« previous post | next post »
Several people have directed my attention to Stuart Cantrill, "A quantitative analysis of how often Nature gives a fuck", 2/8/2015. That's Nature the magazine, not Nature-the-material-world-and-its-phenomena. In graphical form: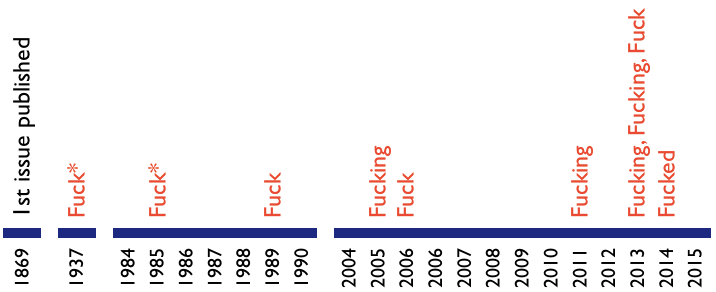 This reminded me of an interpretive problem in a novel that I read recently. Does the passage in bold below (from William Gibson, The Peripheral, pp. 62-63) have the appropriate number of negations, or not?
She got a beer, her phone dinging as Jimmy's ran a tab. Took the bottle to a little round corner table, unwiped but mercifully empty, sat down, tried to look like the meanest old lady she could. Girl who'd passed her the beer had a Viz, like Macon and Edward had, a tangle like silver cobweb filling one eye socket, but you could still see the eye behind it, watching whatever the little units strung in the tangle were projecting. Hefty Mart had to scan your socket before they fabbed you one, so it would fit, and there weren't any funny ones yet. Looked better on a black face, she thought, but most every kid here had one and it made her feel old, and more so that she thought they looked kind of stupid. It was something every year. 
"Look like you've come up short on the number of fucks you need to not give," Janice said, appearing out of the crowd with a beer of her own.
"Short a few," Flynne agreed, but no longer the oldest thing in Jimmy's. She'd always liked Janice. She automatically looked around, because Janice and Madison weren't usually very far apart. He was at a table with two boys, each one with a silver-tangled eye. He looked like Teddy Roosevelt, Madison, and most of what she knew about Teddy Roosevelt was that Madison looked like him. He had a mustache he trimmed but never shaved off, round titanium-wire glasses, and a moth-eaten wool cruiser vest, olive green, complicated breast pockets bristling with pens and little flashlights. 
"Want some company with it?"
"Long as it's you," Flynne said.
---