« previous post | next post »
Yesterday, I received this message from a young person who has been corresponding with me about ancient DNA and the movements of peoples across Eurasia during the Bronze Age and Early Iron Age:
The police reaved my computer due to I reprinted a news report of US about the National Day of China yesterday. I came back home from police department just now. They said they will check my computer exhaustively. I'm afraid about my thesises on each area. It is not constitutional to do like that. All acts in violation of the Constitution and the law must be investigated. But this is in China. I doubt [VHM: he means "I suspect / fear"] that they will install a detectaphone on my computer and destroy my essays. I feel like crying but shed no tears. The only feeling is indignation for an intellectual.
Although the young man's English is generally quite good, my immediate assumption was that the third word of his message was a typing error for "removed" or that he simply misremembered some other word meaning "seize." However, considering that quirky archaisms are rampant in Chinese use of English, a phenomenon that I have often documented on Language Log, e.g. here and here, I thought that I had better give the young man the benefit of the doubt, so I trudged over to my dictionary and looked up "reave."
Sure enough, there it was: reave "to seize and carry off forcibly". That immediately led me to think of "bereave," which comes from the same Germanic root (< IE reup- / reub- "snatch"), and then I remembered William Faulkner's novel The Reivers, based on another spelling of the same root, meaning "the robbers".
But where had my young Chinese correspondent unearthed this archaic term? Surely any Chinese-English dictionary worth its salt would offer for QIANG3ZOU3 搶走, which is the Mandarin term he must have been thinking of, something like "take away by force." However, when we turn to Kingsoft, which is far and away the most popular translation software in China, this is what we find: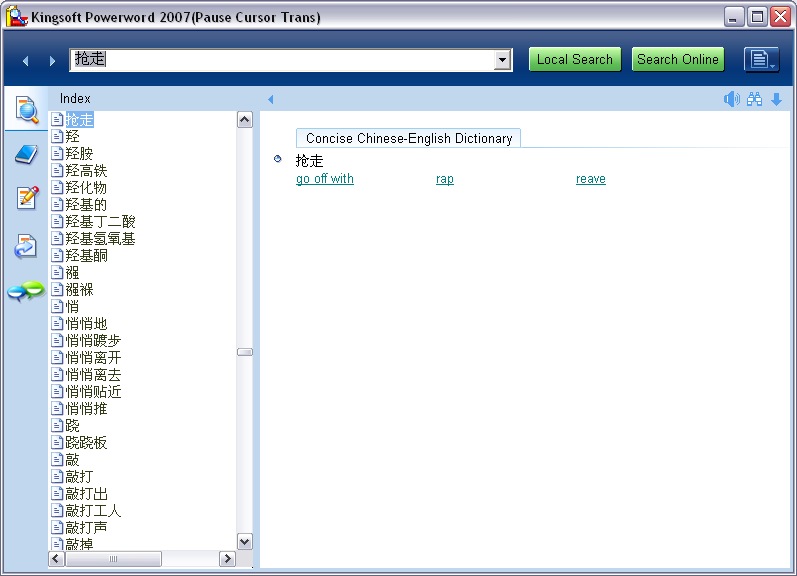 It seems that my young Chinese correspondent avoided the first definition proffered by Kingsoft, "go off with," because it didn't sound forcible enough for what the police did to his computer. Moreover, the phrasal verb "go off with" primarily means "elope" or "run away with someone," though it could also signify "leave with" or "steal." None of these are satisfactory for what my young Chinese correspondent wanted to express.
He then would have turned to "rap," the second suggested translation for QIANG3ZOU3. Being in his early twenties, he is certainly aware of rap music, which is extremely popular in China, so he would shy away from that translation too. Not what happened to his precious computer! Nor is "rap" appropriate in its primary sense of "hit or strike sharply."
"Rap" in the sense of "seize" is either the present tense or a back formation from "rapt" (past participle), which indicates that one's soul or spirit has been carried away. The American Heritage Dictionary appendix of IE roots lists "rapt" as deriving from a separate IE root, rep-, meaning "snatch," but I'd wager that it is from the same root as "reave" (IE reup- / reub- "snatch").
Poor young man! Kingsoft left him with no other choice to represent QIANG3ZOU3 in English but as "reave." Why couldn't they have given correct, accurate, appropriate English terms such as "confiscate, appropriate, seize," and so forth? Remember, this is the same ubiquitous software that spawned the epidemic of mistranslations of GAN1 ("dry") and GAN4 ("do") as "fuck."
Listen, if someone with computer skills and linguistic acumen is out of work and / or wants not only to become fabulously wealthy but perform the humanitarian service of rescuing China from embarrassment and English from abuse, I suggest that he or she create a credible, reliable alternative to Kingsoft. I'd be happy to serve on your board of advisers / trustees and invest several thousand dollars to boot — for a fair return!
[Hat tip to Stefan Krasowski for the screen shot].
[Update — The three definitions, or rather English translations (1. go off with, 2. rap, 3. reave), for QIANG3ZOU3 offered by the current version of Kingsoft must be considered by the proprietors to be an improvement over the 2002 version, which has "rend away":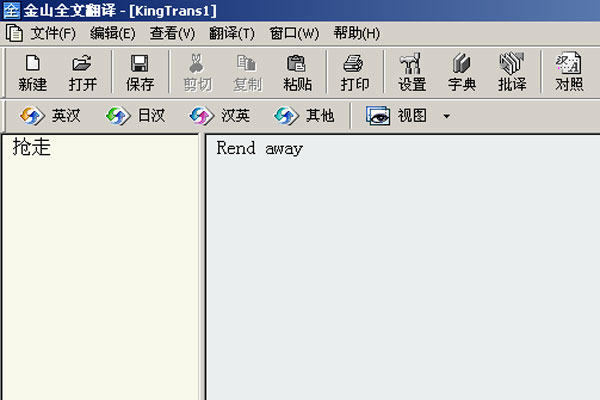 I find "rend away" primarily in Biblical contexts with the meaning of "tear away," i.e., (forcibly) detach. ]
---