« previous post | next post »
The next-to-latest xkcd: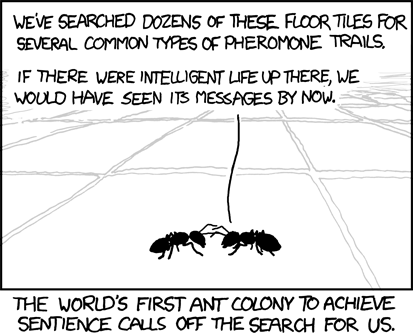 There must have been many SF stories based on the premise that searchers for ET signaling Just Don't Get It, but I can't think of any.
Probably related: I can't think of any scientifically-plausible way to cash that premise in, other than dull things like really slow-moving sentients using nanohertz-range modulation of a spectrally prominent carrier.
No doubt some readers can remedy these deficiencies of memory and imagination.
[Update — I didn't mean stories about how ETs might actively prevent us from seeing their signals, or the signals of others; nor stories about how ETs might be so alien that communication would be impossible, so that even when we find their signals, we can't make sense of them, or perhaps completely misunderstand them. Those are both good themes, found in lots of stories that I can think of, and no doubt many more that I don't know.
What I had in mind was something more strictly analogous to the plight of the ants, who have looked carefully for chemical signals, but (presumably) have failed to consider the intrinsically implausible hypothesis that an intelligent and social species might make use of frequency-and-amplitude modulation of air-pressure variation at time scales of a hundred microseconds to 10 seconds or so.]
---