« previous post | next post »
From Duncan Smith, by way of William Gibson on Twitter (ultimately from Lee Unkrich):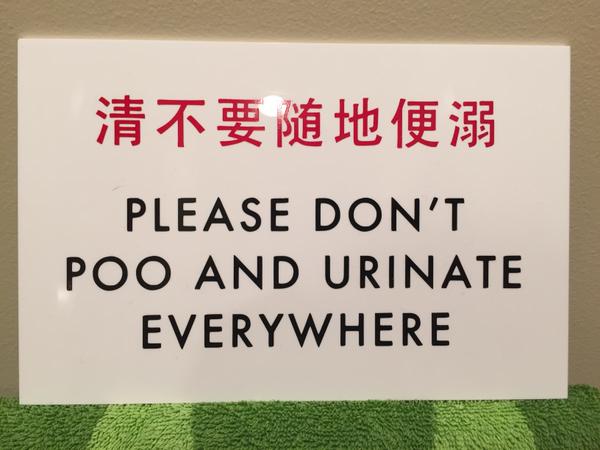 Don't laugh at the English.  Except for the use of the word "poo", it's not bad, though I must admit that the notion of pooing and peeing everywhere is a bit odd.
Strange as it may seem, this type of public notice is fairly common in China.  Indeed, we've had a whole series of such signs on Language Log:
Today's post is about a subgenre of the type, viz., those that include the adverbial phrase suídì 随地, which is one of my favorite Chinese expressions.  Suídì 随地 is usually translated as "everywhere; anywhere", but it actually conveys the notion of "any old place; wherever you please".
bùyào suídì tǔ tán 不要随地吐痰 ("don't spit all over the place / wherever you please")  167,000 ghits
bùyào suídì biànniào 不要随地便溺 ("don't urinate and defecate all over the place / wherever you please") 45,500 ghits
The problem with the Chinese on this sign is that, to soften the negative injunction — "don't" — they added qǐng ("please") in front.  In so doing, however, they mistyped the character qǐng 请 ("please") as qīng 清 ("clear; clean; quiet").
Despite the fact that both the English and the Chinese on the sign are plausible in the context of China, I have a nagging suspicion that the way the sign is displayed in the photograph above may not be genuine.  It seems to be on a rug or carpet, which would be a strange place to put a sign.  Even if such a covering were on a wall, it's not clear how the sign is affixed to the surface.  Moreover, the identical sign is shown here on a chain link fence behind which there seems to be a grassy area.  Again, though, it's not apparent to me how the sign is attached to the fence, and somehow I get the feeling that it has been photoshopped or temporarily hung on the fence (it seems to be floating in front of the fence, not securely fixed to it).  Consequently, although the sign may be real (i.e., originally made for display in a public setting), I suspect that somebody got hold of it and is photographing and circulating it for a humorous purpose.
qīng bùyào suídì biànniào 清不要随地便溺 0 ghits
qǐng bùyào suídì biànniào 请不要随地便溺 2,810 ghits
I got this far in my post and checked again on the web to see if I could find the origin of this sign, and hit paydirt on Etsy, where I found that this sign is being offered for sale by Michael Bancroft of Melbourne, Australia, with this declaration:
All of my signs are inspired by ACTUAL, REAL-LIFE SIGNS, spotted by fans of humorous translation all over the world.
I should have known.  Although it does occur from time to time, "poo" is not a common Chinglishism for feces / defecation / excrement / bowel movement.  Furthermore, it's very unlikely that a native speaker of Chinese would mistype qīng 清 for qǐng 请.
---