« previous post | next post »
Here's the first sentence of William Safire's latest On Language column, "Bending the curve":
Taking on the issue of the cost of health care, a Washington Post editorialist intoned recently that "knowing more about which treatments are effective is essential" — knowing about when to use a plural verb is tough, too — "but, without a mechanism to put that knowledge into action, it won't be enough to bend the cost curve."
The phrase in boldface blue was too much for reader Anthony Ambrosini:
Am I missing something?  Which with a plural verb just implies a plural response to the question, and I doubt he thinks that knowing should take a plural verb.  What's he on about?
I'm just as puzzled as Anthony is. Safire's parenthetical remark is true, more or less, but the maxim of quantity dictates that it should have some minimal relevance to its context. And this would imply either that the quoted phrase ("knowing more about which treatments are effective is essential") involves an error in verb agreement (surely false), or that the quoted phrase is a case where it's especially tricky to determine verb plurality (also apparently false, unless you're borderline aphasic).
So come on, LL readers, help us out. Is Safire starting to have problems with linguistic impulse control? Is he using the aleatoric compositional methods pioneered by John Cage and Price Stern Sloan? Or is there some simple exegesis that we're missing?
One thing about Safire's column remains consistent — the failure of his staffers to do the research that he pays them for (or his failure to pay attention to the research they do):
Why has curve-bending become such a popular sport? Because the language is in the grip of graphs. The graphic arts are on the march as "showing" tramples on "explaining," and now we are afflicted with the symbols of symbols. As an old Chinese philosopher never said, "Words about graphs are worth a thousand pictures."
The first straight-line challenge to the muscular line-benders I could find was in the 1960s, when the power curve was first explained to me by a pilot.
The OED has citations for power curve going back to 1908:
1908 Philos. Trans. (Royal Soc.) A. 207 441 When the pressure observations are plotted to a suitable scale they coincide with the integrated power curve. 1934 Times 27 May 8/7 This Riley engine in acceleration is rapid and clean, it never fusses or vibrates, and the power curve must be a good one, for the engine capacity, throughout its range.
And there are plenty of other cgraphical curve-collocations earlier than 1960, e.g.:
1886 K. PEARSON in I. Todhunter Hist. Theory Elasticity I. 503 There exist certain materials for which even in a state of ease the *stress-strain relation is not linear; that is to say the stress-strain curve..is not a straight line even for very small elastic strains.
Though in fairness, I don't think that stress-strain curve has ever had much of a second life as a metaphorical expression.
I imagined that bell curve was an old expression, but the OED's first citations are from 1970 and 1973:
1970 Balance Sheet Oct. 64/2 Research may be used to classify the effort into three basic methods:..(2) through use of the normal distribution hypothesis (*bell curve) [etc.]. 1973 T. PYNCHON Gravity's Rainbow I. 51 Exit doors painted beige, but with edges smudged browner in bell-curves of farewell by the generation of hands.
This strikes me as an opportunity for antedating, rather than a genuinely late coinage. And indeed, a few minutes of web search turns up Godfrey H. Thomson, "Interpretation of Threshold Measurements", Psychological Review, 1920, p. 304: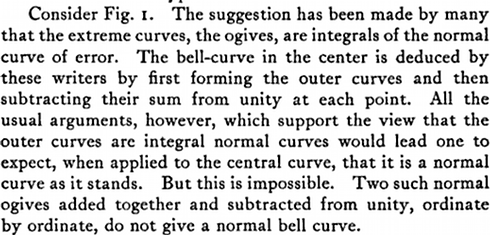 The way that the expression is used in that passage leaves the impression that it was already a commonplace expression in 1920.
The only example of bell curve in Literature Online is from Martin Espada's poem "Do Not Put Dead Monkeys in the Freezer", 1996:
15 I was a lab coat and rubber gloves
16 hulking between the cages.
17 I sprayed down the batter of monkeyshit
18 coating the bars, fed infant formula in a bottle
19 to creatures with real fingers,
20 tested digital thermometers greased
21 in their asses, and carried boxes of monkeys
22 to the next experiment.
23 We gathered the Fear Data, keeping score
24 as a mechanical head
25 with blinking red bulbs for eyes
26 and a siren for a voice
27 scared monkeys who spun in circles,
28 chattering instructions
29 from their bewildered brains.
30 I did not ask for explanations,
31 even when I saw the sign
32 taped to the refrigerator that read:
33 Do Not Put Dead Monkeys in the Freezer.
34 I imagined the doctor who ordered the sign,
35 the moment when the freezer door
36 swung open on that other face,
37 and his heart muscle chattered like a monkey.
38 So I understood
39 when a monkey leapt from the cage
40 and bit my thumb through the rubber glove,
41 leaving a dollop of blood that gleamed
42 like icing on a cookie.
43 And I understood when one day, the doctors gone,
44 a monkey outside the bell curve of the Fear Data
45 shrieked in revolt, charging
46 the red-eyed mechanical head
47 as all the lab coats cheered.
It surprised me to see no literary uses in the 1930s through 1970s of such a simple and evocative phrase for such a basic and important concept. But Herrnstein and Murray's 1994 book The Bell Curve guaranteed that this term would enter the linguistic mainstream, in a variety of more-or-less metaphorical interpretations.
---