« previous post | next post »
According to Abigail Norfleet James, Teaching the Male Brain: How Boys Think, Feel, and Learn in School (2007), p 37:
The shape of the inner ear is not the same for boys and girls. As we have seen in the previous chapter, the female cochlea responds more quickly to sound than does the male cochlea (Don et al., 1993) That means that boys are likely to respond to aural information of questions just a bit slower than girls will. Because boys don't hear soft or high sounds very well and because they don't respond to sounds as rapidly as do girls, boys may have trouble with auditory sources of information.
The reference is to M. Don et al., "Gender differences in cochlear response time: An explanation for gender amplitude differences in the unmasked auditory brain-stem response", J. Acoust. Soc. Am. 94(4): 2135-2148, 1993. And yes, there really are sex differences in cochlear response time — but the distributions for males and females overlap, as usual, and the average sex differences are less than a thousandth of a second.
There are different ways to measure the response, and different frequency bands to check — you can read the paper to survey all the differences in detail — but here's a typical figure from Don et al. showing the sex differences in cochlear latency for a two types of measurement in one frequency range: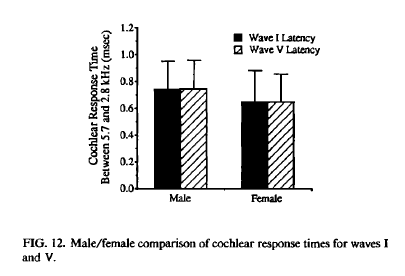 And another figure showing differences for one type of measurement in different frequency ranges: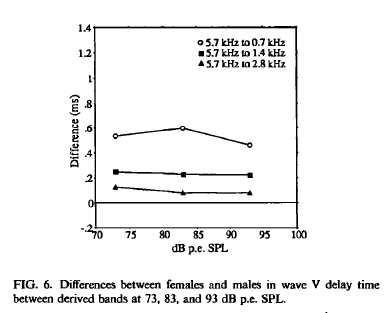 Most of the differences are in the range of .0001 to .0003 seconds (1 to 3 ten-thousandths of a second), and none are larger than .0007 sec.
In comparison, simple acoustic reaction time in adults ranges from about 120 to 300 msec. (R.D. Luce, Response times, 1986). For children, mean simple acoustic reaction times range "from 465 msec at age five to 190 msec at 15 years" (K. Andersen et al., "The Development of Simple Acoustic Reaction Time in Normal Children", Developmental Medicine and Child Neurology 26(4), 2008). "Simple acoustic reaction time" is how long it takes to respond to a sound when you know it's coming, and all you need to do is to press a key as soon as you hear it. Choice reaction times (where you need to interpret the simulus and respond accordingly) are much longer. And the time that it takes even the most attentive and cooperative child to respond to a simple verbal instruction is more like two or three seconds, if only because the instruction itself is likely to take nearly that long to be expressed.
So the average sex difference in cochlear response time of .0002 to .0006 seconds — even if this difference is preserved through the brain stem and the cortex, and translated to the interpretation of the stimulus and the formulation and execution of the response — is roughly a thousandth of children's typical simple acoustic reaction time, and about one part in ten thousand of the time that it takes them to respond to even the simplest verbal instructions.
While we're looking at the Don et al.paper, though, let's also reproduce what they found about pure-tone thresholds: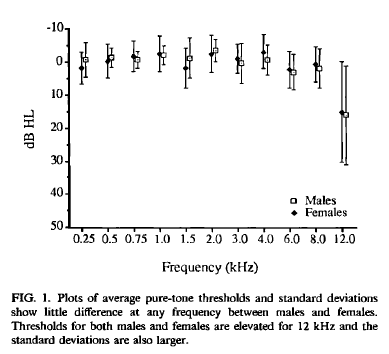 [The subjects in the Don et al. study were 17 females and 14 males aged 18-38.]
Dr. James claims that "Because boys don't hear soft or high sounds very well and because they don't respond to sounds as rapidly as do girls, boys may have trouble with auditory sources of information."
I don't know whether it's really true that boys have more "trouble with auditory sources of information" than girls do. I do know, however, that when Dr. James tries to persuade her readers of this by citing research about sex differences in cochlear response times and audiometric profiles, her argument is at best irrelevant and at worst dishonest.
And this error is not an isolated one. There is a growing popular literature on the biology of human sex differences, and the use of misinterpreted or overinterpreted "scientific" evidence is all too typical of the strand of this work that emphasizes sex differences in order to argue for sex-specific (and often sex-segregated) educational practices. For more on this with respect to sex differences in audiometric thresholds, comfortable listening levels, etc., see here, here, and here.
---