« previous post | next post »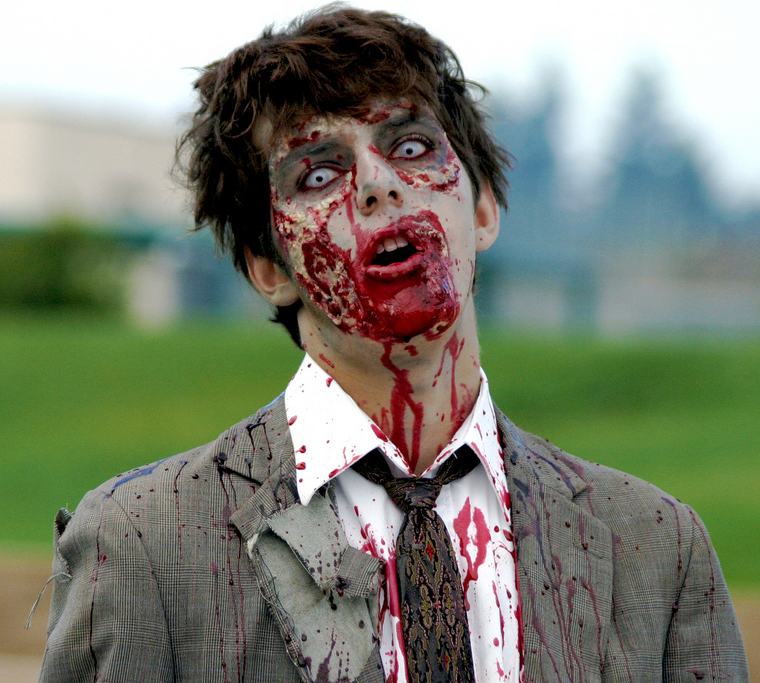 Where do zombies come from? As Wikipedia tells us, it all started with evil Haitian sorcerers using necromancy to create undead slaves. But then, Hollywood invented contagious zombification, originally attributed to radioactive contamination from Venus, but more recently understood to be due to human zombism virus (HZV).
As for zombie rules, all that we really know, in most cases, is where they don't come from. They're not based on observations of language use, even of formal writing by elite authors. Nor are they based on usage advice from knowledgeable authorities. Rather, these mutations in the meme pool seem to pop up spontaneously from time to time, in ordinary literate people who are heavily invested in the idea that some aspects of common usage are ignorant mistakes. Like sexual selection in genetics, prestige-based cultural selection can favor arbitrary and even maladaptive traits, and therefore zombie ideas like "no initial conjunctions", "no final prepositions", and "no split verbs" can spread through an intimidated population for no apparent reason at all.
But still, it's natural to want an explanation, even for weird pseudo-elitist fashion epidemics. So at the risk of post-hoc rationalization, I'll offer a theory about the origins of one zombie rule which came to my attention recently, the "titled not entitled" prescription.
Our story opens with a book review — Jeb Lund, "Marco Rubio's new book is full of the word 'innovation' and no actual policy innovations", The Guardian 1/13/2015 — which ends this way:
Marco Rubio's book is a work of surpassing laziness, possessed of the aimless, discursive prose of someone remembering what his original point was after concluding a digression he suddenly remembered he wanted to make. Its appeals and concessions to fact and its airy handwaving rationalizations of them read like the weightless ad-libs of someone reaching for anything to win an argument on a subject about which he studied little. It is the equivalent of someone taking his seminar class improvisations from all those mornings when professors called on him after he didn't do the reading, then converting them to one massive, incoherent year-end term paper for all his classes. Rubio will pass, just so his professors can be rid of him. But he will not be class president.
Demonstrating the ubiquity of grade inflation, Anna Marie Cox tweeted this review as "Rubio's A- term paper":
Rubio's A- term paper. http://t.co/gFkvr76CYn pic.twitter.com/f0QRYyiLih

— Ana Marie Cox (@anamariecox) January 13, 2015
And Dan Drezner retweeted, and then Ross Douthat responded to both with "Quite a kicker for a review that could have been entitled "I Think Rubio's Book Isn't Good Because I'm a Liberal":
@dandrezner @anamariecox Quite a kicker for a review that could have been entitled: "I Think Rubio's Book Isn't Good Because I'm a Liberal." — Ross Douthat (@DouthatNYT) January 13, 2015
At that point, a bunch of (liberal?) peevers piled on, with complaints about Douthat's used of entitled:
@DouthatNYT @dandrezner @anamariecox @mobute Odd that a conservative Harvard grad would incorrectly use the word "entitled" — #conтenт rεηεgαdε (@Bro_Pair) January 13, 2015
@Bro_Pair @DouthatNYT @Mobute man you can't even control yourself enough to use "entitled" correctly? Is that just a defensive term now? — Tyler Walker (@sportzboytjw) January 13, 2015
@Bro_Pair @DouthatNYT @Mobute "entitled" Lmfao — Fidel Cashflow (@ywnszzz) January 13, 2015
Now, this complaint is so wrong that I used it several years ago as the poster child for prescriptivist poppycock ("Why are so many linguistic corrections incorrect", 3/3/2007):
William Safire closed out 2006 with a column entitled "Incorrections", in which he defines incorrection as "a correction that is itself incorrect".It's hard not to be affected by incorrections. Thus whenever I use entitled as I did in the previous paragraph, it reminds me of a friend who feels that the only legitimate sense of entitled is "having a rightful claim (to)". When she first incorrected me on this point, I thought that she might be right — maybe this is one of those malaprop-like substitutions that we all discover from time to time in our own version of English. But a quick check of news archives showed that entitled meaning "titled" is widespread. And the OED gives with citations from Chaucer forward, e.g.
c1381 CHAUCER Parl. Foules 30 This booke..Entitled was right thus..Tullius of the dreame of Scipion.
1888 H. MORLEY Eng. Writers III. 179 A book entitled 'De Nugis Curialium'.
It's true that in some contexts, the "rightful claim" sense is much commoner these days — it's more than 10-to-1 in the recent New York Times, for example — but I don't think that my friend generalized incorrectly from her experience. Instead, I bet that a teacher or parent once incorrected her on the same point. And the entry in MWCDEU says:
Sources as diverse as Emily Post 1927 and Bremner 1980 have expressed disapproval of using entitled to mean "titled." However, this well-established usage has been common for over 500 years and is the older of the two senses.
So I concluded my friend's objection was an incorrection, and I can continue with a clear conscience to use entitled to mean "titled" — though now I know that some people will disapprove. But how often can an eager-to-please youth resist an incorrection from a confident and respected elder?
But how did the idea arise that entitled shouldn't be used to name the title of a book or article?  One clue can be found in the time course of usage between 1900 and 2000. Here the Google Books ngram viewer and the New York Times archive show a similar pattern: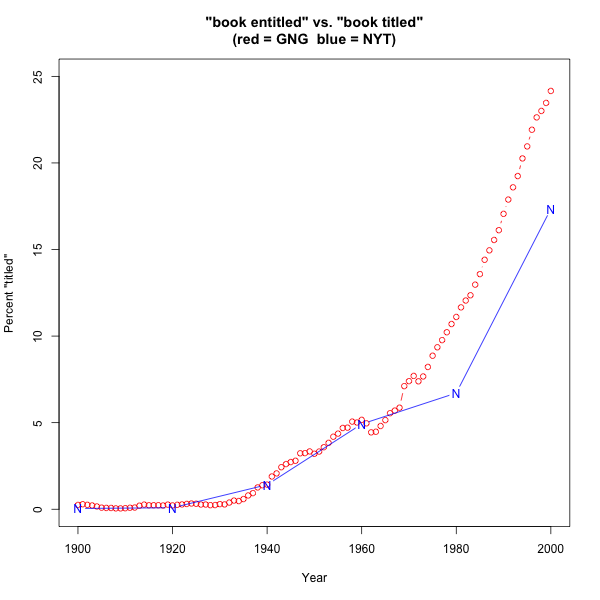 In the sequence "book (en)titled", as a proxy for all the phrases such as book/article/movie/play/piece/song etc., titled is hardly used at all before 1920, starts to rise in a significant way around 1940, and rises more rapidly after 1960. The COHA corpus shows a similar pattern — but the specific sequences "books titled" and "books entitled" are quite rare in that collection, so I've expanded the search to the pattern [n*] titled and [n*] entitled, where [n*] means "NOUN". This patterns finds some cases with the wrong meaning, like "seniors entitled to", but the results are roughly what we want, with the difference that titled now gets up to about 56% mind-share, as opposed to 24% (GNG) and 17% (NYT).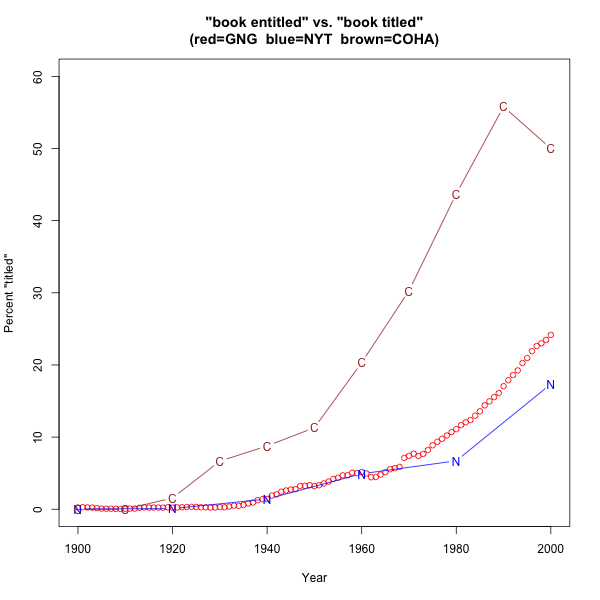 Why this change? There's a clue in a post from a couple of years ago about changes in the frequency and the connotations of entitlement ("Entitlement", 10/6/2012).  Although the core sense of entitle (as "to furnish a person with a rightful claim to a possession, privilege, designation, mode of treatment, etc.") has been around since the 16th century, the nominalization entitlement was rare until recently:

Entitlement may have been applied to depression-era government programs like social security, and it certainly was applied to post-WWII G.I. Bill benefits, and to 1960s Great Society programs. Also in the 1960s, psychoanalysts began using entitled and entitlement with strongly negative connotations, as in the term of art "narcissistic entitlement".  (See the 2012 post for examples.)
So I hypothesize that as the word entitled grew more strongly associated with these emergent (and often negatively-evaluated) senses, some unconscious pressure arose to avoid using it in the traditional "book/song/play/movie/… entitled whatever" frame. This same conflict made people more susceptible to inventing or accepting a zombie rule elevating that reluctance to the status of a Law of Usage.
If this idea is true, it would be a kind of Zombie chain shift.
---
Here are the counts from the NYT archive, which I list because it takes 18 queries to get them:
| | | | |
| --- | --- | --- | --- |
|  Time Period  |  "book titled"  |  "book entitled"  |  % titled  |
|  1851-1869 | 1 | 2401 | 0.04% |
|  1870-1889 |  0 |  3116 |  0.00% |
|  1890-1909 |  3 |  6803 |  0.04% |
|  1910-1929 |  6 |  6884 |  0.09% |
|  1930-1949 |  96 |  6690 |  1.41% |
|  1950-1969 |  265 |  5120 |  4.92% |
|  1970-1989 |  382 | 5310 |  6.71% |
|  1990-2009 |  637 |  3083 |  17.12% |
|  2010-2014 |  231 |  863 |  21.12% |
---
As evidence that the NYT is indeed a lagging indicator of this particular stylistic shift, here's a table of results from LexisNexis newspaper search for "a/an ___ (en)titled". (The columns headed "en-" are instances of e.g. "a book entitled", spelled that way to make the table fit in the available space.)
"book"
"article"
"film"
"movie"
en-
titled
%titled
en-
titled
%titled
en-
titled
%titled
en-
titled
%titled
1980-1989
650
479
42.4%
419
236
36.0%
51
61
54.5%
20
52
72.2%
1990-1999
2107
2194
51.0%
1251
917
42.4%
154
166
51.9%
63
141
69.1%
2000-2004
1891
1949
50.8%
921
856
48.2%
175
156
47.1%
56
147
72.4%
2005-2007
1598
2398
60.0%
1134
1921
62.9%
132
153
53.7%
56
173
75.5%
2008-2010
2052
2707
56.9%
1249
1334
51.6%
220
331
60.1%
45
243
84.4%
2011-2012
1468
2572
63.7%
1004
1326
56.9%
143
384
72.9%
40
249
84.6%
2013-2014
1551
2825
64.6%
1058
1611
60.4%
152
605
79.9%
42
329
88.7%
These numbers suggest that "titled" has been winning, but the rate of change is fairly slow; and that the COHA estimate of 60-65% for the current overall level in published material is about right.
---