« previous post | next post »
Whenever I fly on non-Indian carriers to India or there are Indians (South Asians) on non-Indian carriers flying elsewhere, I often encounter individuals who complain that they cannot eat the special meals that they ordered.
Steward(ess):  But, sir, you ordered a vegetarian meal, didn't you?
Passenger:  Yes, but I cannot eat this kind of vegetarian meal.
Steward(ess):  I can assure you, sir / ma'am, that our vegetarian meals have no meat or meat products in them.
Passenger:  But what you have given me has X, Y, Z in it.  I cannot eat it.  Please get me something else.
Steward(ess):  I am sorry, we do not have any other kinds of vegetarian meals.
Whereupon the passenger pulls out some biscuits from his / her carry-on bag and survives on them and whatever else he / she can scrounge up for the duration of the flight.
Stefan Krasowski recently booked a flight on India's Jet Airways.  Here are the choices he was offered for meals: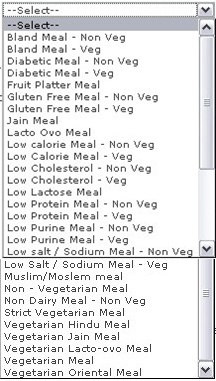 As Stefan observes, "The mind-boggling array of options demonstrates India's diversity.  I am especially curious about the 'bland meal'!"
I suppose that "bland" implies "not spicy," "spicy" being the default option for (most of the many types of) Indian cuisine.
Now, what intrigues me about this bewildering array of choices is that, although they are all in English and would seem to be fairly common fare for Indian air travelers, some of the choices may set American readers to looking things up on the web, for instance to remind themselves of what "purine" is and why someone might want a meal low in it.  Before consulting Wikipedia, I was ignorant of the difference between a Vegetarian Hindu Meal and a Vegetarian Jain Meal. Even knowing what "Lacto Ovo" means, I'm still puzzled about how a Lacto Ovo Meal can be different from a Vegetarian Lacto-Ovo Meal.  Furthermore, what can I expect to get if I order just a plain Vegetarian Meal, not a Strict Vegetarian Meal, or any of the otherwise modified vegetarian meals?  And what would Edward Said have to say about that Vegetarian Oriental Meal if he were still around to pronounce upon it?
Even with all of these possible selections, I'd bet that somebody is going to ask for a "Low Protein Low Lactose Low Purine Meal" or a "Low Calorie Low Cholesterol Bland Meal" or a….   Starbucks has figured out how to offer customers "more than 19,000 beverage possibilities", and a similar number of menu options is implied by the global combinatorics of dietary preferences and restrictions. In this context, "vegetarian" is apparently no more informative than "coffee".
If I were flying Jet Airways, after much consideration, I think my choice would be "Bland Meal – Non Veg."  Being a seasoned traveler, I always carry salt and pepper with me.
---