« previous post | next post »
Not only are the stereotypical Japanese fastidiously clean,  they are also extraordinarily polite.  They will not just tell you to be careful not to endanger yourself.  They will be sure to preface the warning with a "please" (actually the word for "please" in Japanese, KUDASAI, comes at the end of the sentence).
In today's Japan mail (from Kathryn Hemmann) come two signs, one warning, "Please Be Careful to Strong Sunlight" and the other, "Please be careful to traffic."
The first example utilizes the intriguing device of a sign within a sign, and it is all in English.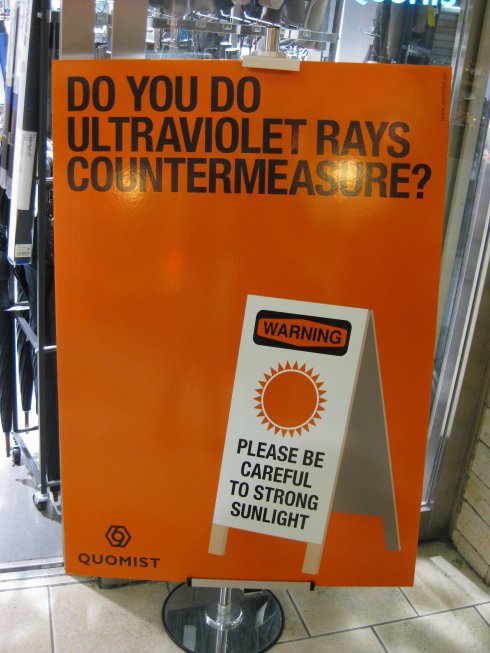 The second example in Japanese reads KURUMA NI GO-SHUGI KUDASAI (car with-regard-to [honorific]-pay-attention please; please pay attention to the cars / traffic).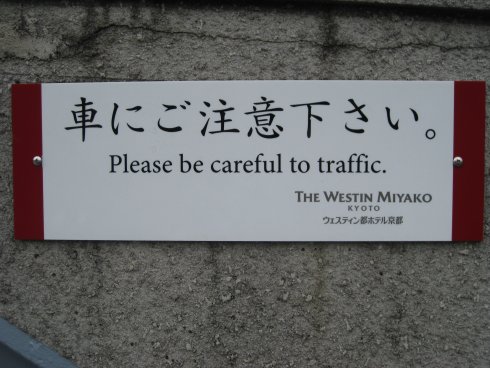 The consistency of usage leads me to suspect that this may be an established pattern in Japanese translations into English.  And using "be careful to" in order to mean "be aware of the dangers of" can create odd results, even when what follows is a verb phrase rather than a noun phrase (from here):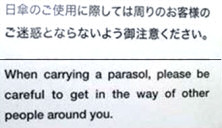 Indeed, "Please be careful to forget valuables" won the 2005 Sign Language Award of the English-Speaking Union of Japan.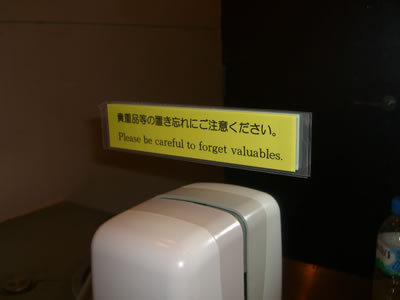 And there are many web site warnings along the lines of "This is a scratch site, then please be careful to lose your way."
---