« previous post | next post »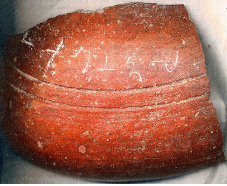 A few days ago an unusual article appeared in The Hindu. It is about the fragment of a pot shown above, a pot used for collecting toddy (palm sap, modern Tamil கள்ளு) made about 1800 years ago. The writing on the pot is in Tamil Brahmi, a writing system that only fairly recently has come to be well understood. It says: n̪a:kan uɾal, Old Tamil for "Naakan's (pot with) toddy-sap". In modern Tamil writing this would be: நாகன் உறல். As the article points out, the fact that a poor toddy-tapper would write his name on a pot is indicative of mass literacy at the time.
The article is interesting to me in part just because of the photograph. I've seen photographs of Tamil Brahmi texts before, but never in color, and having never been to India, I've never seen such a text in person. The other interesting thing about the article is the authorship. Newspaper articles are usually written by reporters. As we not infrequently note here on Language Log, there are a few good ones, but all too often they get things wrong. Well, this article is not by reporters; it is right from the horse's mouth. The authors are S. Rajagopal, retired senior archaeologist with the Tamil Nadu State Department of Archaeology and Iravatham Mahadevan, an eminent student of early Indian writing and leading authority on Tamil Brahmi, author of the Early Tamil Epigraphy volume in the Harvard Oriental Series, which belongs on every shelf. This is like having a newspaper article on physics written by Stephen Hawking. I hope it's the beginning of a trend.
---