« previous post | next post »
Half an hour before touchdown at Narita, the pilot turns on the "fasten seat belt" sign.  Because something (or some things) served during the in-flight meals on the 14-hour flight did not quite agree with your alimentary tract, you are already experiencing ominous rumblings down in your bowels.
You do your best to ignore the bouncing and jolting of the huge 747 as it descends through the various layers of stormy clouds.  Breathing deeply and slowly, you focus all of your thoughts on the first toilet you will encounter when you enter the terminal.
Finally, the plane screeches to a halt, then slowly, ever so slowly and with many pauses and turns, it taxis to the gate.  Since you know that you will have a major evacuation and it may take some time,  you  deplane along with everyone else.  But, horrors!  You are guided down lengthy hallways and escalators, then stand in line to wait for a bus that will take you to another part of the terminal to go through immigration.  After arriving at the immigration hall, you stand in line, alternating between doing a jig and exercising maximum sphincter control.  At last you pass through immigration and customs, then race to the nearest toilet you can find, open the door, dash to he only unoccupied stall you can find, enter, and come face to face with THIS.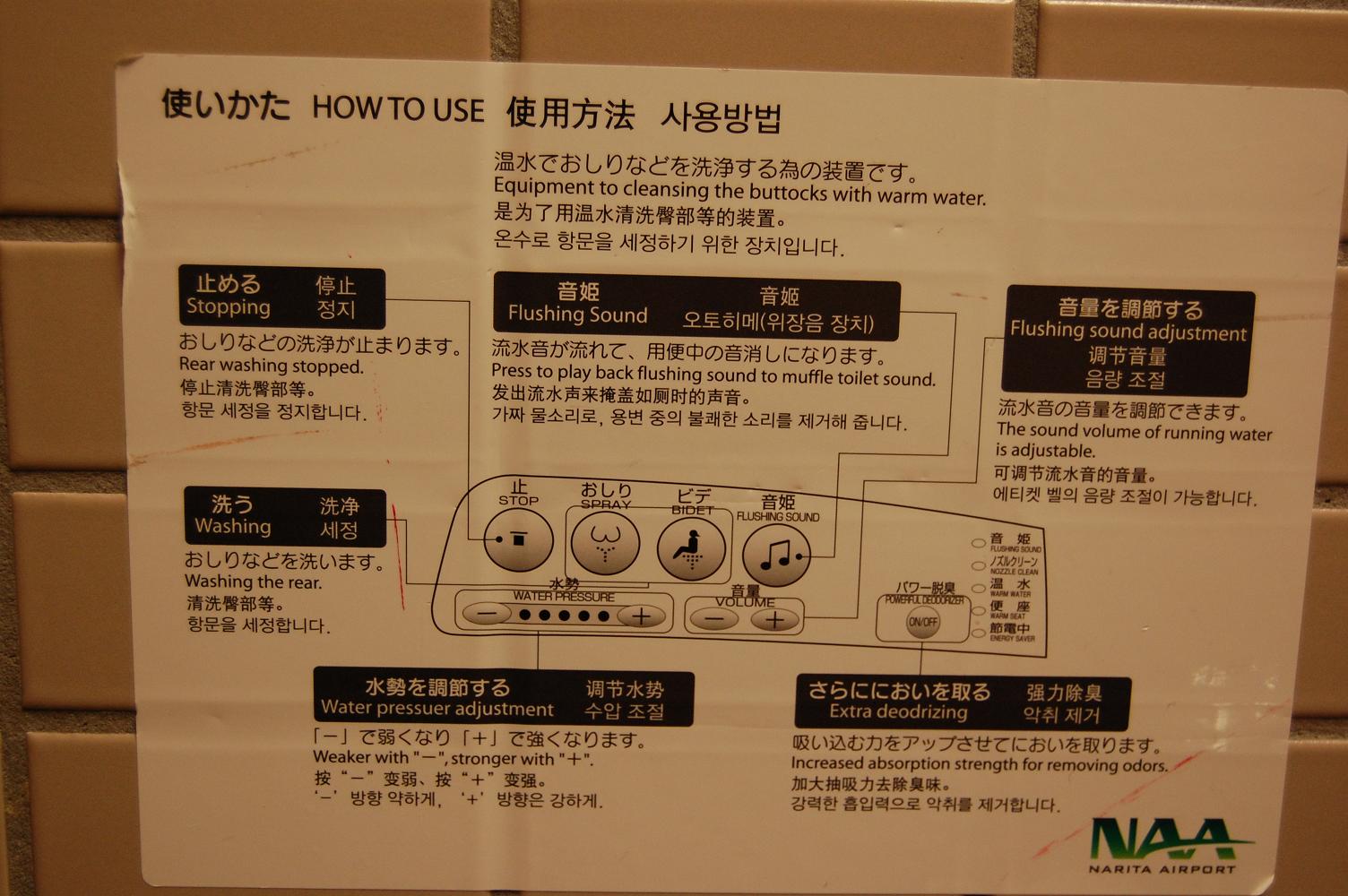 What to do?  Which button(s) to push?  You can't even spot which language to read for any given instruction.  There's no help for it but just to sit down, do your business, and read all the instructions later, hoping that such rashness will not lead to a major calamity in the WC.
In case you couldn't guess from the coinage, a "washlet" is a toilet that also washes your bottom and does all sorts of other fun things to make you feel nice and clean.  The Japanese invented washlets and have become increasingly dependent upon them.
Here are a couple of videos that demonstrate how they work.
The star of the second video is W. Hodding Carter IV (son, grandson, and great-grandson of other distinguished Hodding Carters).
He's also the author of Flushed: How the Plumber Saved Civilization.
As someone who learned to like Japanese squat toilets back in the 70s (see paragraph 5 here), I must say that I was quite intimidated the first time I encountered a top-of-the-line washlet.  But once you get used to them, you can't do without them.  I'm pretty sure that's why Mr. W. Hodding Carter IV had one installed in his house up in Maine.
My thanks to Miki Morita for sending me the photograph of the instructions.
---