« previous post | next post »
According to Tycho at Penny Arcade ("The True Face of Our Enemy", 8/17/2009)
The Think B4 You Speak campaign is basically incoherent, and operates from some deep misconceptions about how and why people communicate. These assertions have been collated and placed sequentially in today's comic offering
The strip in question: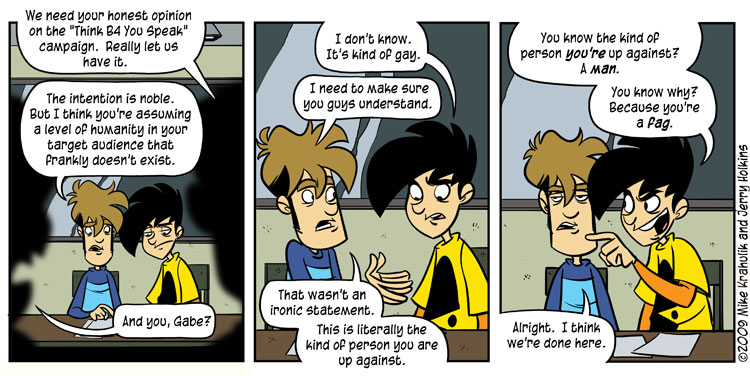 (Click on the image for a larger version.)
His conclusion:
No-one responds to this kind of diffuse scolding, least of all young men, least of all from strangers who present themselves as archwizards of prim speech and perfect morality. Bigots and stupid kids speak this way expressly to promulgate the root concepts or to provoke a reaction.  Telling them to "knock it off," as this campaign hilariously does, is like exposing your belly to these wolves.
Lexically speaking, the word Gay is a battleground of warring meanings, uses, and baggage. The fact that the slur has retained its power – for all parties involved – is evidence that the conflict is ongoing, and that its destiny is not yet established.  I have tremendous support for them in their aim: the wresting of language, which is identity, from the unworthy foe.  If you want to hunt this kind of game, you need bigger ordnance.
This is only partly true, it seems to me.
First, a lot of people do respond to such campaigns.  In some cases, they respond by complaining about "political correctness", or in other negative ways; but often, they actually try to modify their language, as complicated and confusing as that sometimes seems to be. It's true that the people who change their usage are generally not the people with genuinely offensive attitudes — but the campaign is specifically aimed at those who offend others without really wanting to do so, not at hard-core bigots.
And second, people's word choices are sometimes ignorant rather than thoughtless.  I was in my 20s before I learned that gyp (meaning "cheat") had anything to do with gypsies. It's not that I thought it didn't — I just had never given the question any thought at all, because it had never occurred to me to do so.  A friend of mine often used the expression "jew down" (as in "I jewed the dealer down to 5% over his cost"); when I pointed out to him that this reinforced anti-semitic stereotypes in an especially ironic way, since he as a WASP was a notoriously tenacious bargainer, he was taken aback, and claimed never to have realized that there was a connection between "jew down" and jews.  And I once met a college freshman who was convinced that gay as a term for sexual orientation was derived from a pre-existing word meaning "foolish, stupid, socially inappropriate or disapproved of", rather than from a pre-existing word meaning "brilliant, showy, merry, sportive".
It's true that campaigns of this kind are generally pretty ineffective. "Just say no" and "This is your brain on drugs" seem to have enriched the culture's stock of catch-phrases without having much impact on the popularity of sex and drugs.  But maybe political correctness is different.
---