« previous post | next post »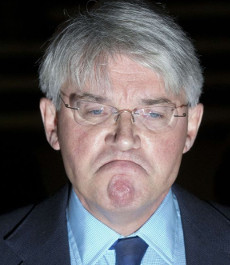 I spent Monday, November 24, in courtroom 13 of the Royal Courts of Justice in London. For a small part of that time, I testified as an expert witness; for the rest of the day, I was an interested spectator.
What was the occasion? Peter Walker explains ("Andrew Mitchell and the Plebgate affair explained for non-Brits", The Guardian 11/27/2014):
It all began on the evening of 19 September 2012 when Mitchell, then chief whip of the government – effectively the enforcer for the ruling party, the person who keeps discipline and makes sure ministers vote as they are ordered – tried to cycle out of Downing Street. He was in a rush, en route to an engagement, and wanted to ride directly out of the main vehicle gates.  
But to Mitchell's displeasure, he was told to dismount and walk his bike through a pedestrian entrance. He argued with the officer on duty, PC Toby Rowland and, according to the officer's account of the exchange, told him:  
Best you learn your fucking place – you don't run this fucking government – you're fucking plebs.  
All this was gleefully recounted in the next day's Sun newspaper, and even though Mitchell denied using the word "plebs", the continued bad publicity led him to resign just over a month later.
The row has rumbled on ever since, including minute examination of CCTV footage from the evening in question, and culminating in a legal case which finished on Thursday that saw Mitchell sue the Sun for libel over its story, while at the same time Mitchell was sued by PC Rowland for calling the policeman a liar.
I'll explain my testimony shortly, but first, let's take a look at the trial's outcome and some of the reactions in the media. Karen McVeigh, "Andrew Mitchell loses Plebgate libel trial", The Guardian 11/27/2014:
Andrew Mitchell, the Tory MP and former cabinet minister at the centre of the Plebgate row lost his high court libel trial on Thursday in a ruling which sees him facing a legal bill of millions of pounds and leaves his political career in tatters.  […]
He had sued News Group Newspapers (NGN) over a September 2012 story in the Sun which claimed he had launched an offensive and arrogant attack on Downing Street police officers who refused to allow him to cycle through the main vehicle gates, branding them "fucking plebs".
The Sun based its report on the account given in his log by PC Toby Rowland.
The judge, Mr Justice Mitting, told the court: "For the reasons given, I'm satisfied, at least on the balance of probabilities that Mr Mitchell did speak the words attributed to him, or so close to them as to amount to the same, the politically toxic word pleb."
In his judgment at the end of the £3m joint libel trial, Mitting described PC Toby Rowland, the police officer who claimed the MP had used the word, as a "rather old fashioned police officer" who was "well-suited to his job" as a member of the Diplomatic Protection Group, and that he believed him.
"He is not the sort of man who had the wit, the imagination or the inclination" to "invent in the spur of the moment what a senior cabinet minister would have said to him" Mitting said, in a ruling which took over two hours.
Oliver Wright, "Plebgate politician Andrew Mitchell – privileged upbringing and temper tantrums were his undoing", The Independent 11/27/2014:
Rugby, Cambridge, Lazard, Parliament: Andrew Mitchell's life until the evening of 19 September 2012 was one of rarefied privilege even by the standards of Conservative MPs.  
But his background, along with a fiery temper, was his undoing. Because the single word that ended his political career was one that only a man of his class and background would have used in anger.  
The police may well be capable of making things up – but "pleb" was always an unlikely word for them to fabricate.  
Contemporaries of Mr Mitchell's at Rugby – although none that knew him personally – say that "pleb" was common parlance among the boys, who used it to describe the non-teaching staff at the school.  
At Cambridge, the Latin slang was also used sotto voce by the same young adults to describe the college porters, cleaners and "townies" they came across. PC Toby Rowland – by that definition – was most definitely a "pleb." Indeed one of the problems facing Mr Mitchell in the aftermath of the original allegations was that so many of his colleagues believed it was a word he might have used. 
The verdict, like the previous stages in the affair, has been very widely covered: Karen McVeigh and Nicholas Watt, "Andrew Mitchell's career left in tatters after losing Plebgate libel case", The Guardian 11/27/2014;"Andrew Mitchell 'probably called police plebs', judge rules", BBC News 11/27/2014; Sean O'Neill, "Andrew Mitchell faces ruin as he loses 'Plebgate' libel case", The Times 11/272014; Adrian Shaw, "Andrew Mitchell plebgate: Ex Conservative chief whip has lost his libel action", The Mirror 11/27/2014;  Paul Peachey, "Plebgate: Andrew Mitchell's reputation in tatters as judge rules that he did say 'pleb'", The Independent 11/27/2014; "Plebgate: Andrew Mitchell did call policemen 'plebs,' judge rules", The Telegraph 11/27/2014; Martin Robinson and Arthur Martin, "Former Government whip Andrew Mitchell faces £3MILLION bill after libel judge decides he DID call police 'f****** plebs' – because the officer lacked the 'wit or imagination' to make it up", The Mail Online; Jim Pickard, "Andrew Mitchell faces £3m bill after 'Plebgate' case is thrown out", Financial Times 11/27/2014 ;  Paul Cheston, "Plebgate libel verdict: Judge rules Andrew Mitchell DID say 'politically toxic word pleb'" London Evening Standard 11/28/2014; Lucy Fisher, "No way back to front line for the man they called Thrasher", The Times 11/28/2014;  Archie Bland, "Class war by distant proxy: the Andrew Mitchell trail from inside court 13", The Guardian 11/28/2014; and so on.
And after the verdict, even Mr. Mitchell's friends and natural allies seem to be less than whole-hearted in their support: Simon Heffer, "My friend may be an arrogant idiot… but he's not evil", Daily Mail 11/27/2014; James Kirkup, "Plebgate: Let's try not to enjoy Andrew Mitchell's downfall too much", The Telegraph 11/27/2014.
As I understand it, Mr. Mitchell's case was mainly based on two theories: first, that he was the victim of a police conspiracy; and second, that the CCTV camera recordings of the incident demonstrated that his interaction with PC Rowland was too brief to allow for Rowland's version of the exchange to have been spoken.
The conspiracy theory was bolstered by revelations about police misconduct in the aftermath of the case, including one officer who was sentenced to 12 months in prison for "gross misconduct" because he sent an email to his MP, posing as a member of the public and claiming to have seen and heard the exchange. But Mr. Justice Mitting found it implausible that PC Rowland and the other officers on duty at the time were involved in such a conspiracy, either before or after the incident.
My involvement was in reference to the second theory, namely that the duration of the exchange, as calculated from CCTV recordings, was simply not long enough to allow for PC Rowland's version to have been spoken. My instructions were:
[Y]ou are asked jointly by NGN and PC Rowland to provide a written report opining on the length of time the exchange as reported by PC Rowland might reasonably have taken to enunciate. We expect that you will provide a range of possible timings, rather than one timing, which you consider most likely.
We would anticipate that your conclusions will take into account matters such as:
(a) the circumstances in which the conversation took place;
(b) the nature and emotional content of the exchange;
(c) variations in the speech rates of individuals;
(d) allowances for pauses;
(e) allowances for overlap.
There may of course be other variables you consider should be taken into account.
In fact I ended up writing a supplementary report as well, and exchanging a set of questions and answers with Peter French, who was hired as an expert witness by Mr. Mitchell. And in the end our estimates, which were not very different, were well within the length of time that examination of the CCTV recordings allowed.
Peter French and I arrived at time estimates by slightly different methods. He used speaking rates calculated basically by taking a stretch of recording such as a speaking turn or even a whole speech, counting words or syllables, and dividing by the elapsed time to get a rate. He cited rates from various published studies, and from his own measurement of Andrew Mitchell's speech.
I preferred to treat spoken phrases and silent pauses separately, and also to differentiate rates according to phrase length —  shorter phrases have slower average rates, due to the fact that final syllables are lengthened. I cited rates calculated from published speech corpora (e.g. Switchboard and the spoken portion of the BNC), as well as rate calculated from measurements of available recordings of Andrew Mitchell. So for example I plotted syllable count against average per-syllable duration for all of Mr. Mitchell's phrases in an 11/26/2013 interview with Jon Snow of Channel 4 News, and added a locally-weighted polynomial regression line (which is relatively close to analogous estimates taken from millions of syllables in the Switchboard corpus):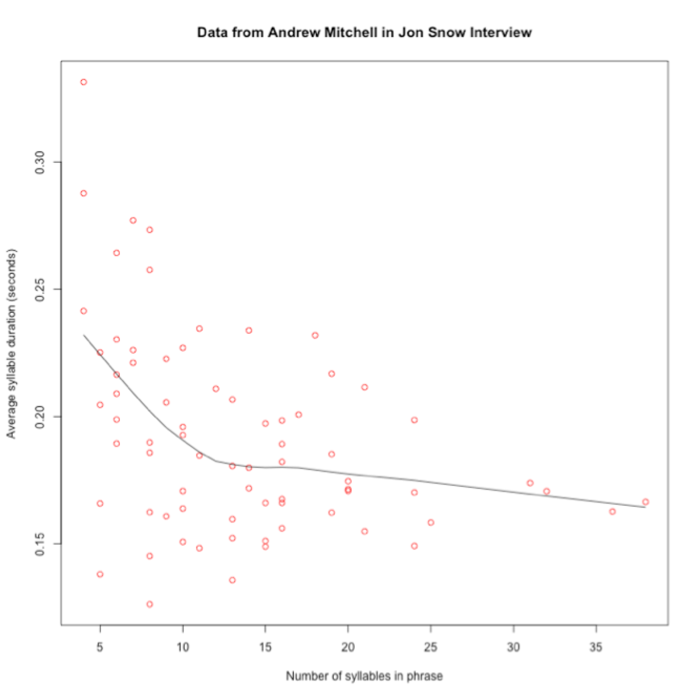 I also calculated the distribution of his (74) turn-internal pauses in the same interview — the 25th percentile was 0.186 seconds, the median was 0.303 seconds, and the 75% percentile was 0.418. Mitchell's alleged outburst was 20 syllables long:
Best you learn your fucking place – you don't run this fucking government, you're fucking plebs.
So if we assume that he produced it without an internal pause (which is not implausible, since he produced 13 phrases of 20 syllables or longer in the Jon Snow interview), then the regression-line estimate would be 20*0.177 = 3.54 seconds. If we assume that he broke it up into two phrases of 7 and 13 syllables ("Best you learn your fucking place [silence] you don't run this fucking government, you're fucking plebs"), and add a silent pause of median length, then we get something like 7*0.209+13*0.181 + 0.303 = 4.119 seconds. And for three phrases of 7+9+4 syllables ("Best you learn your fucking place [silence] you don't run this fucking government [silence] you're fucking plebs") we would get 7*0.209 + 9*0.196 + 4+0.232 + 2*0.303 = 4.761.
Eliminating spurious precision, we get something like 3.5 to 5.0 seconds as a plausible range of durations. If you try recording yourself acting out the alleged outburst, I think you'll find durations consistent with this estimate.
Here's a passage from the end of the court record of Peter French's testimony:
MR JUSTICE MITTING: One rather elementary question. If I were just considering the 20 syllables uttered, it is said, by Mr Mitchell, the broadbrush range that I get from your evidence and that of your colleague is 3 seconds to 4.5 seconds. Is that roughly right?
A. The fastest rate would be — the very fastest rate would be 2.85, my Lord.
MR JUSTICE MITTING: Yes.
A. The slowest rate would be 7.7 and the three average rates: the first one based on the Police Federation recording would be 4.1 seconds.
MR JUSTICE MITTING: Yes.
A. The second one, based on the Snow interview, would be 12.9.
MR JUSTICE MITTING: Sorry, 12.9 seconds?
A. Sorry, I do apologise: 4.2.
MR JUSTICE MITTING: Thank you.
A. 4.2. And the one based on the London club recording would be 4.4.
And from the end of my testimony:
MR JUSTICE MITTING: — if the whole things runs together at a fast-ish speed? Giving a rage of 3.5 to 5 seconds within which — with or without pauses — those words, if they were spoken, were spoken?
A. Exactly. As the scatter of points in that plot indicates, that's the expectation based on the central tendency. It's possible, of course, to speak more rapidly or more slowly than that.
MR JUSTICE MITTING: Of course. There are outlying possibilities.
A. Yes.
MR JUSTICE MITTING: But excluding those, I would be right to take the range as 3.5 to 5?
A. Yes, my Lord.
MR JUSTICE MITTING: Thank you.
As you can see, the range emerging from our two approaches, in the end, was quite similar.
Throughout the day —  which also included testimony from expert witnesses about reconstructing the events from CCTV recodings, as well as testimony from a number of police and security officials about Mr. Mitchell's language and behavior in previous encounters — I was impressed with the judge's command of the evidence and with the quality of his questions.
Update — I haven't seen the text of the judgment, but apparently our testimony played a role. From Archie Bland, "Class war by distant proxy: the Andrew Mitchell trail from inside court 13", The Guardian 11/28/2014:
You couldn't help but be lost in admiration for [Mitting's] forensic command of the detail: you'd need a memory palace to keep it all straight. And yet it almost all seemed irrelevant. A judgment that took over an hour to read boiled down to the fact that two phonetic experts judged that Mitchell would have had time to say the "toxic phrases", and that he had told his deputy that he didn't know what he had said very soon after.
Update #2 — In the comments, RP informs us that the judgment is here, and that the phonetic evidence and its implications are discussed in paragraphs 98 to 124.

---