« previous post | next post »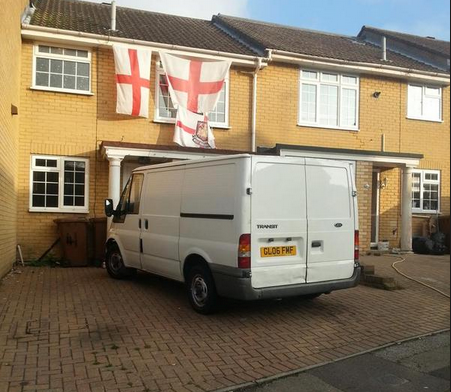 Several manifestations of verbal and visual class warfare have recently hit the mass media in Britain. The subtlest example, least transparent to outsiders, is the affair of the white van in Rochester — William James, "In class obsessed Britain, tweet of 'white van' man hits nerve", Reuters 11/21/2014:
Posting a picture on Twitter of a two-storey house, displaying three English flags of St. George and with a white tradesman's van outside, might seem innocuous to a foreign eye.
When a British politician appeared to sneer at the modest Rochester home of a 'white van' voter, she was vilified as a member of an arrogant London elite.
In a Britain where disaffected voters increasingly view politicians as snobbish, patronising and out of touch, the picture was laden with social cliches.
Translation: White van = working class. English flags = right-wing working class feeling insecure about immigration in an England that no longer exists.
The timing – coinciding with a local election that delivered victory to an anti-EU, anti-immigration party – was disastrous.
Within 7 hours of posting the photograph, Labour lawmaker Emily Thornberry had resigned as the opposition's chief spokeswoman on legal matters.
The resulting media frenzy continues. The van and the residence belong to Dan Ware, who quickly became "White Van Dan" and was recruited by The Sun (tabloid) to publish his Danifesto for a better England. The Sun also put their logo all over Dan's van and sent him to visit Emily Thornberry.
Here's the tweet that launched a thousand headlines:
Image from #Rochester pic.twitter.com/rOjTgpskmF — Emily Thornberry MP (@EmilyThornberry) November 20, 2014
Then there's the Andrew Mitchell affair, about which more later — see e.g. Donald MacIntyre, "Plebs, public school boys and politics: class war breaks out in Court 13", The Independent 11/21/2014:
Only in England. Maybe it's because so much of Andrew Mitchell's libel case against The Sun turns on whether he used the socially loaded term "pleb" about the police on that fateful evening at the Downing Street gate in September 2012, that it's hard to escape the class overtones of the hearing in the crowded, oak panelled intimacy of Court 13.
Separated only by three more junior members of their legal teams, Mitchell and PC Toby Rowlands, who is counter-suing Mitchell for saying the constable fabricated his version of the incident, both sit opposite Mr Justice Mitting, intently observing the witnesses in the box. Audio-less CCTV clips on a screen to their left show who moved where in Downing Street on that otherwise peaceful evening.
So relatively small is the courtroom that the supporters of each side could speak to each other without raising their voices, if they chose to – which they don't. Mitchell's wife Sharon, a doctor, and Tory MPs including Richard Ottaway and David Davis sit yards from stern-faced officers of the Police Federation, which is funding PC Rowlands' suit.
But the proximity cannot disguise the gulf in class which permeates the proceedings, albeit in ways that cross the boundaries between plaintiff and defendant. Two of the three QCs, James Price, representing Mitchell, and Desmond Browne, representing PC Rowland, went to Eton (the younger top counsel, Gavin Millar, acting for The Sun, didn't). At times the chasm between Price's patrician drawl and Browne's more amiably plummy tones, on the one hand, and on the other, the more or less discernible London accents and idiom of most former and serving police officers who testified yesterday, seems as wide as it might have been a century ago.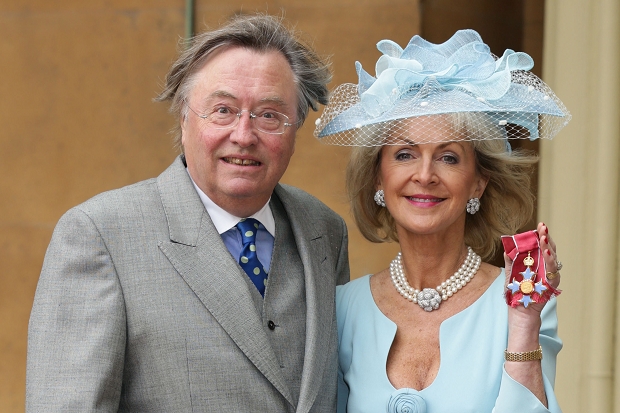 And then there's David Mellor — ""'I've been in the Cabinet, I'm an award-winning broadcaster, I'm a QC – you smart-a**** little git': David Mellor's incredible f-word rant at taxi driver", The Mail Online, 11/25/2014:
Former minister David Mellor was called a 'snob' today after he launched a foul-mouthed rant at a taxi driver over the quickest route home, calling him a 'smart-a**** little git' and a 'sweaty, stupid little s***'.
The millionaire Tory then reeled off his lifetime achievements before telling the man: 'You think your experiences are anything compared to mine?'
Mr Mellor, who was forced to abandon his ministerial career after an affair in 1992, was secretly recorded berating the cab driver after a visit to Buckingham Palace with his partner Lady Cobham, who had just been awarded a CBE.
The 65-year-old barrister and radio presenter could be heard asking the taxi driver: 'Who are you to question me?' before yelling: 'I don't want to hear from you, shut the f*** up. Smart-a**** little b******.'
---