« previous post | next post »
When a big news story is breaking, like the passing of Walter Cronkite, it's not surprising that reporters and editors might be a little hasty in getting the word out. Jan Freeman of the Boston Globe spotted a search-and-replace error in the Chicago Tribune's online obituary for Cronkite, where all instances of "Cronkite" got replaced by "Mr. Cronkite." Here's a screenshot of the uncorrected version: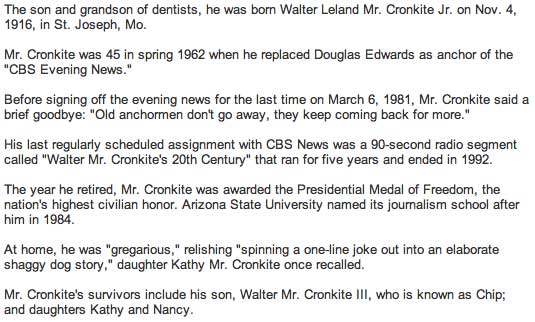 Jan writes:
I could get used to this form of address; after all, it's no weirder than "Richard, Cardinal Cushing" or "George Gordon, Lord Byron." But I think a daughter might prefer the feminine form: "Kathy, Ms. Cronkite."
Jan initially called this a Cupertino error, but since there is no spellchecker to blame, I would classify it as a more general search-and-replace error, based on an inaccurately applied style policy. In this case, the style policy is that recently deceased males get called "Mr." by the Tribune.
As I discussed in the post "Incorrections in the newsroom: Cupertino and beyond," the classic example of this is the old canard about a newspaper replacing "back in the black" with "back in the African American." Turns out this story originated as a practical joke by a prankster at the Fresno Bee in 1990, but in that post I provide a couple of real examples of search-and-replace errors — including the fascinating Reuters report that revealed, "Queen Elizabeth has 10 times the lifespan of workers and lays up to 2,000 eggs a day." (Blame that on a search-and-replace of "the queen" with "Queen Elizabeth.") And more recently, a conservative Christian news site managed to change the name of sprinter Tyson Gay to "Tyson Homosexual."
[Update: The Trib has already corrected the article. But the screenshot lives on.]
---