« previous post | next post »
E.J. Fox and Mike Spies, "Who was America's most well-spoken president?", vocativ.com 10/10/2014:
Using the Flesch-Kincaid readability test—the most well-known reading comprehension algorithm—Vocativ analyzed over 600 presidential speeches, going back to George Washington. We measured syllables along with word and sentence counts, and gave each speech a numerical grade. For instance, a grade of four means the content is accessible to a fourth-grader, while a grade of 12 corresponds to that of a high school graduate, a 15 to that of a college graduate and a 21 or higher to that of a PhD. Ultimately, we drew five conclusions, each of which was analyzed by Jeff Shesol, a historian and former speechwriter for Bill Clinton.
Here's the plot of their results: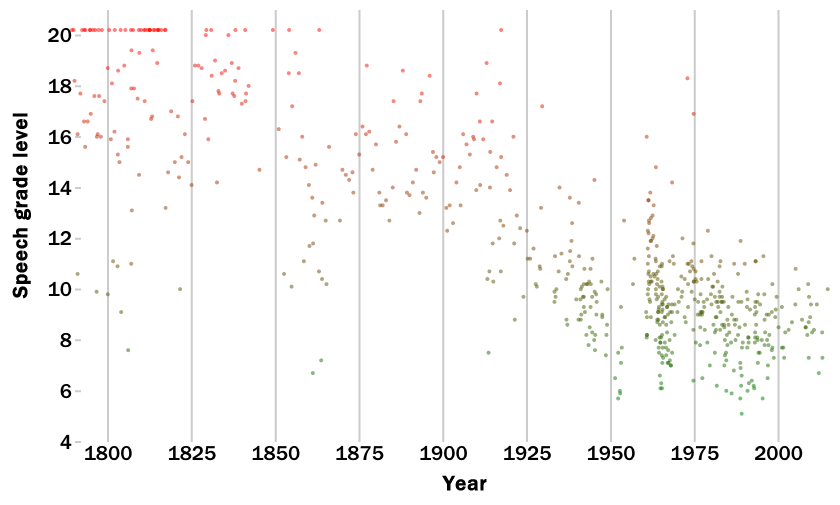 An impressive trend, right? Except that the Flesch-Kincaid readability test is just a linear combination of syllables-per-word and words-per-sentence:

And we know that there are "Real trends in word and sentence length" (LLOG 10/31/2011). The Flesch-Kincaid metric is so insensitive to actual reading difficulty that (at least as implemented in the on-line "Readability Score" apps) it doesn't even matter whether the tested material is in the English language. Thus the following poem by Goethe is rated at the 4.1 grade level by this moronic metric:
Hin und wieder fliegen Pfeile;
Amors leichte Pfeile fliegen
Von dem schlanken golden Bogen,
Mädchen, seid ihr nicht getroffen?
Es ist Glück! Es ist nur Glück.
Warum fliegt er so in Eile?
Jene dort will er besiegen;
Schon ist er vorbei geflogen;
Sorglos bleibt der Busen offen;
Gebet acht! Er kommt zurück!
And the rot13 version actually scores at the 3.9 grade level:
Uva haq jvrqre syvrtra Csrvyr;
Nzbef yrvpugr Csrvyr syvrtra
Iba qrz fpuynaxra tbyqra Obtra,
Zäqpura, frvq vue avpug trgebssra?
Rf vfg Tyüpx! Rf vfg ahe Tyüpx.
Jnehz syvrtg re fb va Rvyr?
Wrar qbeg jvyy re orfvrtra;
Fpuba vfg re ibeorv trsybtra;
Fbetybf oyrvog qre Ohfra bssra;
Trorg npug! Re xbzzg mheüpx!
Can we please have a moratorium on using the Flesch-Kincaid metric to rate political speeches?
A couple of past posts that help to make the case for this moratorium:
"News flash: Congresscritters using slightly shorter words and sentences", 5/23/2012
"Language guru runs with the journalistic pack", 6/17/2010
[h/t Victor Steinbok]
---