« previous post | next post »
Tomorrow is the U.S. release of Transformers: Revenge of the Fallen. (Warning: clicking on that link will cause Linkin Park to start playing the chorus of New Divide through your computer's sound system, which may not be what you want…)
Some parts of the movie were shot here at Penn — including one scene in the Quad, where I live: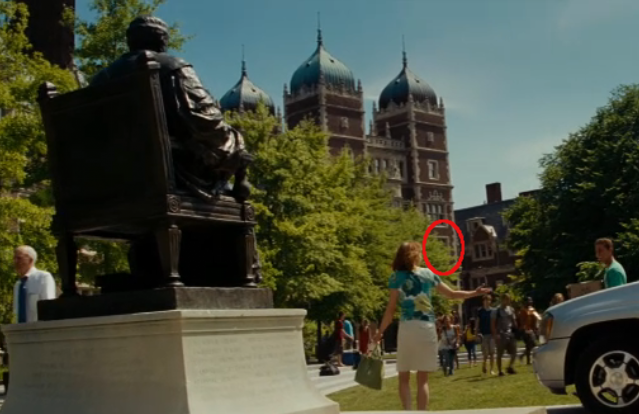 In this screenshot from the trailer, the (added by me) red ellipse marks my dining room window, next to which I generally sit while blogging at breakfast. The trailer suggests that I can expect to get cinematically blown to CGI bits along with pretty much every everything else in the movie.
This geographical accident is not the only linguistic connection. According to the Wikipedia entry's plot description, "Sam Witwicky heads off to college in an attempt to live a normal life. Whilst packing, he finds another shard of the AllSpark which fills his mind with ancient Cybertronian text."
Sam in turn carves some of this text in the turf, as shown here: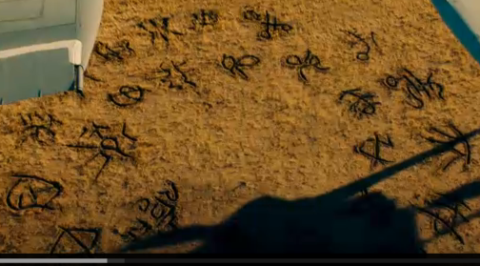 It seems that this ancient Cybertronian text is the movie's MacGuffin — "the language Sam sees is of the Dynasty of Primes, the original seven Transformers, who powered the AllSpark like a battery by destroying suns", according to Wikipedia. And the text somehow encodes "information on the location of a new energon signal", which the evil transformers want to dissect Sam's brain to find. Or something like that.
Perhaps there's a well-defined made-up language behind this text, but if so, I haven't been able to learn anything about it. Maybe that's just as well.
[Update — Roger Ebert was not impressed:
"Transformers: Revenge of the Fallen" is a horrible experience of unbearable length […]  If you want to save yourself the ticket price, go into the kitchen, cue up a male choir singing the music of hell, and get a kid to start banging pots and pans together. Then close your eyes and use your imagination.
The plot is incomprehensible. The dialog of the Autobots, Deceptibots and Otherbots is meaningless word flap. Their accents are Brooklyese, British and hip-hop, as befits a race from the distant stars. Their appearance looks like junkyard throw-up. They are dumb as a rock.
I guess it follows from this, as Michael Cieply tells us in the NYT's Media Decoder column, that "company executives were privately speculating that the new "Transformers" film had a shot at becoming Paramount's second-highest grossing film, behind 'Titanic'".  I can't wait to see it, myself. ]
[Update #2 — Cosma Shalizi, in a characteristically astute comment, points us to a review by Charlie Jane Anders, "Michael Bay Finally Made An Art Movie", which I can't resist quoting in part:
Critical consensus on Transformers: Revenge Of The Fallen is overwhelmingly negative. But the critics are wrong. Michael Bay used a squillion dollars and a hundred supercomputers' worth of CG for a brilliant art movie about the illusory nature of plot. […]
Since the days of Un Chien Andalou and The Cabinet of Dr. Caligari, filmmakers have reached beyond meaning. But with this summer's biggest, loudest movie, Michael Bay takes us all the way inside Caligari's cabinet. And once you enter, you can never emerge again. I saw this movie two days ago, and I'm still living inside it. Things are exploding wherever I look, household appliances are trying to kill me, and bizarre racial stereotypes are shouting at me. Transformers: ROTF has mostly gotten pretty hideous reviews, but that's because people don't understand that this isn't a movie, in the conventional sense. It's an assault on the senses, a barrage of crazy imagery.
]
---