« previous post | next post »
If you're in a hurry, just follow this link and (if you agree with it) add your name to a statement, hosted at Sense about Science, arguing that "The law has no place in scientific disputes".
If you've got a little extra time to spend, read on.
Back on April 19, 2008,  the Guardian's "Comment is free" section published an article by Simon Singh, "Beware the spinal trap", in which he discussed the lack of evidence for chiropractors' claims to "help treat children with colic, sleeping and feeding problems, frequent ear infections, asthma and prolonged crying".  But if you follow the link that I've given you, you'll find yourself reading a copy of Singh's text hosted in Russia, not an archived  article on the Guardian's web site. That's because under legal threat from the British Chiropractic Association — which refused proposed remedies such as the right to publish a rebuttal — the Guardian decided to step back and withdraw the article.
The BCA went ahead anyhow to sue Singh personally. And he's facing a very difficult legal situation, for two reasons. His first problem is a general one: British libel law puts the burden of proof on the defendant, who must justify the contested material, rather than on the plaintiff, as in the U.S. and many other countries. In addition, according to "A Comparative Study of Costs in Defamation Proceedings Across Europe", Centre for Socio-Legal Studies, Oxford, the costs of libel litigation in England are very high, both in absolute terms and in comparison to costs in other countries:
The data showed that even in non-CFA [Conditional Fee Agreement] cases (where there is no success fee or insurance) England and Wales was up to four times more expensive than the next most costly jurisdiction, Ireland. Ireland was close to ten times more expensive than Italy, the third most expensive jurisdiction. If the figure for average costs across the jurisdictions is calculated without including the figures from England and Wales and Ireland, England and Wales is seen to be around 140 times more costly than the average.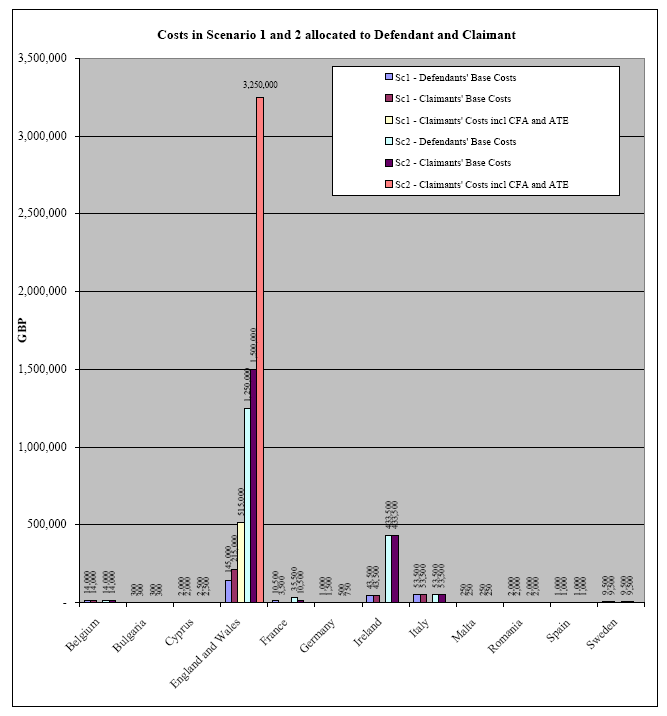 This can impose a substantial penalty on defendants even if they win, and is apparently why the Guardian decided to back down.
Singh's second problem is a 5/7/2009 ruling by the presiding judge in the English High Court, Sir David Eady.  He ruled that Singh's article was a "statement of fact", so that Singh must establish its truth, not a "comment", for which he would merely have to establish that it was "fair". Worse, he ruled on the meaning of one of Singh's words in a way that makes him responsible for a "statement of fact" — which he never intended to make and doesn't believe — that is essentially impossible to prove to be true.
What Singh wrote was
The British Chiropractic Association claims that their members can help treat children with colic, sleeping and feeding problems, frequent ear infections, asthma and prolonged crying, even though there is not a jot of evidence. This organisation is the respectable face of the chiropractic profession and yet it happily promotes bogus treatments.
Eady decided that Singh's use of the word bogus implied conscious dishonesty on the part of the BCA. (See "Knowing bogosity", Language Log 5/11/2009, and "'Evidence': a scientific word or a legal one", The Economist 5/14/2009, for some discussion of the details and the merits of this ruling.)
As a result, it's not enough for Singh to prove that that chiropractic treatments for the cited ailments have not been shown to be effective — which is what he seems to me to have written. It wouldn't even be enough for him to prove that members or officers of the BCA should have known that good evidence is lacking for the effectiveness of such interventions. Rather, he must prove that the BCA, as an organization, knew that such treatments were ineffective, and promoted them anyhow in a conscious act of fraud.
You can learn more about this from the discussion and links in Simon Singh, "BCA v Singh: The Story So Far, 3 June 2009". Another good review is Phil Plait, "I know why the caged bird Singhs", 6/10/2009. Despite the odds against him, Singh has decided to continue to contest the case. And there's some recent indication that the Streisand Effect may be kicking in — see Phil Plait, "Chirapocalypse", Bad Astronomy, 6/10/2009. Indeed, the Sense About Science statement itself can be seen as a Streisand-Effect reaction:
The British Chiropractic Association has sued Simon Singh for libel. The scientific community would have preferred that it had defended its position about chiropractic for various children's ailments through an open discussion of the peer reviewed medical literature or through debate in the mainstream media.
Singh holds that chiropractic treatments for asthma, ear infections and other infant conditions are not evidence-based. Where medical claims to cure or treat do not appear to be supported by evidence, we should be able to criticise assertions robustly and the public should have access to these views.
English libel law, though, can serve to punish this kind of scrutiny and can severely curtail the right to free speech on a matter of public interest. It is already widely recognised that the law is weighted heavily against writers: among other things, the costs are so high that few defendants can afford to make their case. The ease and success of bringing cases under the English law, including against overseas writers, has led to London being viewed as the "libel capital" of the world.
Freedom to criticise and question in strong terms and without malice is the cornerstone of scientific argument and debate, whether in peer-reviewed journals, on websites or in newspapers, which have a right of reply for complainants. However, the libel laws and cases such as BCA v Singh have a chilling effect, which deters scientists, journalists and science writers from engaging in important disputes about the evidential base supporting products and practices. The libel laws discourage argument and debate and merely encourage the use of the courts to silence critics.
The English law of libel has no place in scientific disputes about evidence; the BCA should discuss the evidence outside of a courtroom. Moreover, the BCA v Singh case shows a wider problem: we urgently need a full review of the way that English libel law affects discussions about scientific and medical evidence.
Why should residents of other countries care about the vagaries of English libel law? There are general issues here of freedom of expression and of the fight against pseudo-scientific medicine. But in fact, it's not an exaggeration to say that English legal practice in this area threatens the whole world. Anyone anywhere can be sued in England, if what they have to say sufficiently annoys someone somewhere with enough money and motivation. Even if the offending statements are entirely true, the costs of defending the case will be cripplingly high. And there's the additional risk that true statements may be given an unintended interpretation, by a judge like Sir David Eady, that makes them false or in any case almost impossible to prove.
Perhaps the most famous example of this sort of "libel tourism" is the Funding Evil case, in which an American author was sued in England by a Saudi businessman. This led to an American publisher withdrawing a book that had never been published in England, and to a judgment of $225,000 against the author (who lost by default, not having the resources to mount a defense in England). The judge in that case was David Eady, the same one responsible for the strikingly pro-plaintiff construal of Simon Singh's use of the word bogus.
Some further light on Sir David's attitude to the role of libel law in public discourse may be shed by this note in his wikipedia entry: "In his practising days, he represented Singapore politician Lee Kuan Yew in his libel suits against the late opposition politician Joshua Benjamin Jeyaretnam."
[My only qualm about the Sense About Science statement, to which I've duly added my name, is that it can be taken to urge a distinction between "the way that English libel law affects discussions about scientific and medical evidence" and the way it affects others arguments, for example about politics. ]
---