« previous post | next post »
Jack Grieve's map ("UM / UH geography", 8/13/2014) has been featured in an article by Nikhil Sonnad, "Um, here's an, uh, map that shows where Americans use 'um' vs. 'uh'", Quartz 9/15/2014. Unfortunately, the lovely map in the article reverses the UM and UH areas  (just as I did in the first version of the 8/13 post):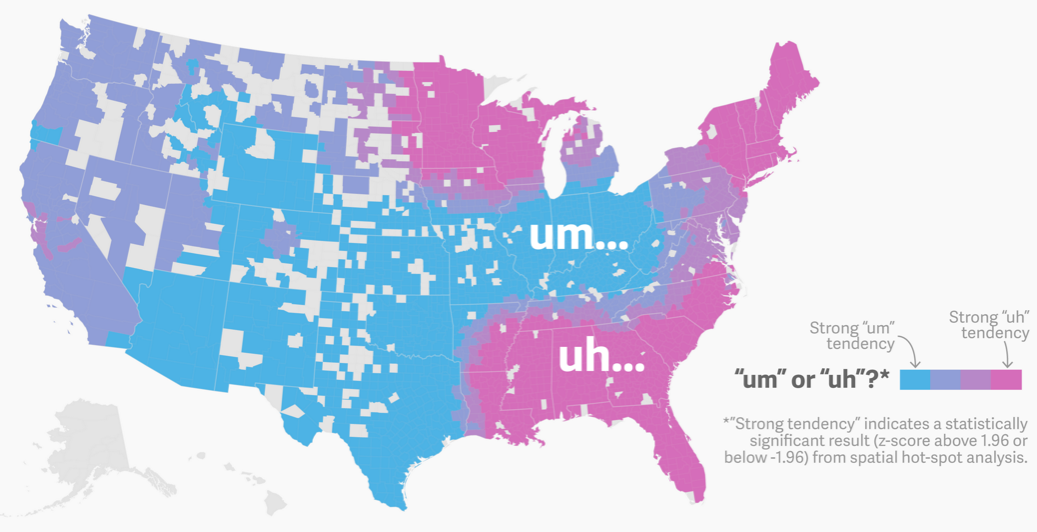 Jack has pointed this out to the Quartzites, so it should be corrected soon.
The article also misspells my names as "Lieberman" rather than "Liberman".
Why the spelling with 'i' rather than 'ie'? Apparently my father's (great-?) grandfather immigrated to the U.S. from a region of Eastern Europe that used the cyrillic alphabet, so that the name would have been spelled Либерман.  (My father knew the name of the village that his ancestors came from, but not the country it was in, apparently because the country was not salient or at least stable in the talk he overheard.)
And at some point in the late 19th century, in St. Joseph MO (where my father's family ended up), the transliterated spelling "Liberman" encouraged the rule (or analogical principle) of trisyllabic laxing, so that the first syllable rhymes with bib rather than beeb.
---