« previous post | next post »
Advertisement at a train stop in Oslo: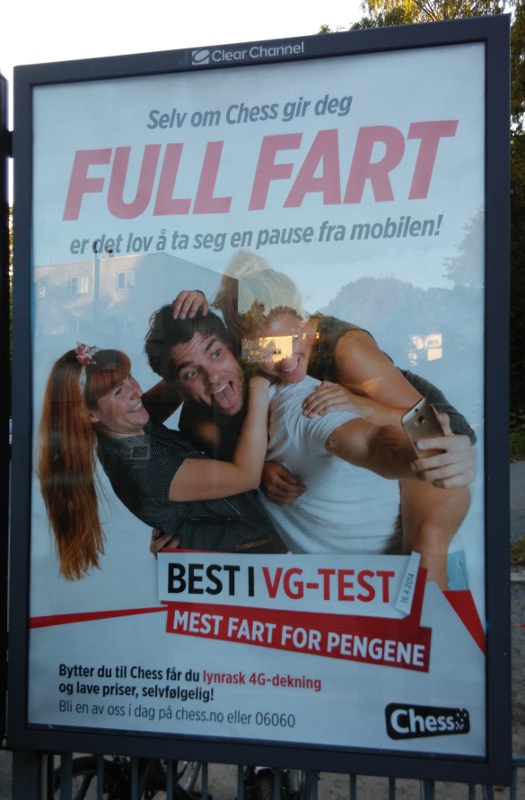 Photograph courtesy of Alexy Khudyakov

"Mest fart for pengene" means "most speed for the money". From that, you can figure out what "Full Fart" means. If you haven't already guessed, this is an advertisement for a mobile broadband service.
This reminds me of the Swedish word "fartlek" ("speed play"), a type of athletic training.
Petter Solberg, the well-known Norwegian rally and rallycross driver, is famous for his special brand of Norwegian style English, where — among other humorous habits — he uses Norwegian words that he thinks mean the same thing in English as they do in Norwegian, but are often quite different.
I can't figure out all of the Solbergisms collected in Wikiquote and copied below, but my favorite — one that I can explain — is "It's not the fart that's kill you, it's the smell." Here "fart" is "speed", as above, while "smell" is Norwegian for "bang", as when your car slams down on the road after leaving the surface upon going over a bump.
It's not only only to win this race (Norsk: Det er ikke bare bare å vinne dette løpet)
Det begynner å bli moro (artikkel i vg.no)
But but, it's not only only (Norsk: Men men, det er ikke bare bare)
When I came around the corner, it all went to hælvette
I came with a great fart and disappeared as a prick in the sky
I had a stop in the start
I drivved and then it was a sving and a sving til, så a stein and pang – I drivved rett in the juletre.
He is my wife in the car.. ehh… no sex(om kartleser Phil Mills).
I had bad pigs in my dekk (artikkel i Her og Nå)
I don't know what you call it in Egland, but in Norway we call it "air condition!"
I absolutt love Krister Bredsten Sangolt!'
The Henkini is a really vakker oppfinnels, it only shows what a man can takle and what a woman can nøye her with.
It's not the fart that's kill you, it's the smell.
The rat was loose.
In Norway we rape after dinner…… and then the girspak got broken.
It was a moose in the engine.
Can you strø her, it's very glætt!
It was a very crap swing. (sagt for å beskrive en krapp sving) (crap=dritt)
I came around a sving, and veltet on the tak.
I had a very big fart, and suddenly I fucked off the road.
We have a good kåk (cock) were we sleep!
I tried to screw the rat in the place (Han forsøkte å skru rattet på plass igjen, fordi det hadde løsnet under en etappe.)
It vås so møtch dog on the vindøv
---