« previous post | next post »
Bob Moore was taken aback by "spit and image" in Frank Bruni's 9/9/2014 NYT Op-Ed, and wondered whether it was an eggcorn for "spitting image":
I worry about the combustible tension between our abysmal regard for the Congress that we've got and a near certainty that the Congress we're about to get will be its spit and image: familiar faces, timeworn histrionics, unending paralysis.
Ben Zimmer added a note about this to the Eggcorn Database back in 2005, noting Larry Horn's argument that both "spitting image" and "spit and image" are probably re-interpretations of an original "spitten image":
Most major dictionaries report that _spitting image_ is an alteration of _spit and image_. In an article in American Speech, however, Larry Horn argues that the expression was originally _spitten image_ (_spitten_ being a now-archaic dialectal form of the past participle of _spit_), and that both _spit and image_ and _spitting image_ are later reinterpretations. (The _American Speech_ link requires a subscription to Project Muse — see also Michael Quinion's summary at World Wide Words). Horn's article also discusses various eggcornish reanalyses of _in_/_and_/_-in'_/_-en_, some of which appear elsewhere in the database (e.g., off the beat and path, once and a while).
Bob observed that the Google Books ngram viewer indicates that "spitting image" and "spit and image" ran neck and neck (neck in neck?) until about 1960, when "spitting image" began a steep rise to dominance: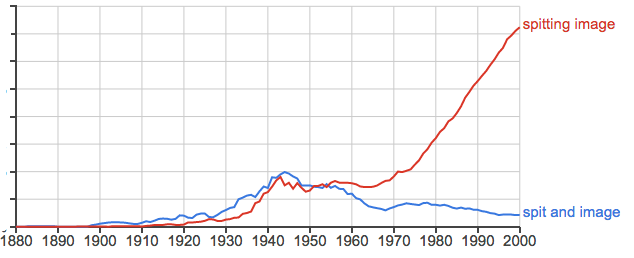 ---