« previous post | next post »
There's been a to-do over whether Hello Kitty is a cat or a human, a massive uproar of tweets and retweets:
Some folks believe that the confusion over whether Hello Kitty is a feline or a human may be based on the misapplication or mistranslation of the term gijinka 擬人化. See "Hello Kitty isn't a cat!? We called Sanrio to find out!" (Rocket News 24, 8/28/14).
According to my Kenkyusha's Japanese-English Dictionary, 4th ed., which doesn't have gijinka 擬人化, the word gijin 擬人 means "personification; impersonation" and gijinron 擬人論 means "anthropomorphism".
If you attach the suffix -ka 化 to a noun or adjective, it adds the meaning of change or transformation into whatever that noun or adjective stands for, somewhat like -ize or -fy in English. I'm sure that the Japanese grammarians among us can do a much better job of describing the function of suffix -ka 化 than I.
Sanrio is the producer and copyright holder of Hello Kitty. According to Preston Phro, the Rocket News 24 reporter, a Sanrio representative told him that Hello Kitty is not a human; rather, she is a gijinka 擬人化. But Hello Kitty is a being, a creature; she is not a process. The most precise translation of gijinka 擬人化 that I can come up with is "anthropomorphization" (the process of anthropomorphizing), not "anthropomorphism" or "personification", which some have proposed.
If you ask me to say what Hello Kitty is in English, I would describe her as a fictional cat with human attributes. In other words, Hello Kitty is an anthropomorphized (gijinka sareta 擬人化された) cat, rather than a felinized girl.
Let's backtrack a bit and find out how all of this hullabaloo got started. Christine R. Yano, the author of Pink Globalization: Hello Kitty's Trek Across the Pacific (Duke University Press) and curator of the Japanese American National Museum's retrospective on Hello Kitty, says that, when she was composing the texts for the exhibition, she — quite naturally — described Hello Kitty as a cat. According to LA Times reporter Carolina A. Miranda,
"I was corrected — very firmly," she [Yano] says. "That's one correction Sanrio made for my script for the show. Hello Kitty is not a cat. She's a cartoon character. She is a little girl. She is a friend. But she is not a cat. She's never depicted on all fours. She walks and sits like a two-legged creature. She does have a pet cat of her own, however, and it's called Charmmy Kitty."
We only have Yano's side of the story, but it does seem that Sanrio really didn't want her to call Hello Kitty a cat flat out. On the other hand, Preston Phro reports that Sanrio told him Hello Kitty is a gijinka 擬人化. So where does that leave our poor little kitten (er, non-kitten)?
Now, if we want to start from scratch, so to speak, what Japanese term should we use to refer to Hello Kitty, who (in my estimation) is a cat that has human qualities? I don't think that gonge 権化 ("incarnation; embodiment; personification") cuts it, since that is reserved for qualities (virtue, tact), not entities. For the time being, we may consult Wikipedia to reflect the current state of Hello Panic:
主人公、キティ・ホワイト(Kitty White)は、白い子猫をモチーフにした擬人化キャラクター[1][2]で、 向かって右側の耳の付け根にトレードマークである赤いリボン、またはそれに類する飾りをつけているのが特徴。サンリオを代表する長寿キャ ラクターである。通称は「キティちゃん」。
"The protagonist, Kitty White, is an anthropomorphized character in a white cat motif…. Commonly referred to as 'Kitty-chan'."
To put all of this in perspective, I would like to quote these paragraphs from a sensible young Japanese woman:
Somehow I have never been a fan of Hello Kitty, so I am not sure if I'm the right person to comment on the present controversy. However, I think there is no clear answer to this, and no need to discuss it.
I read an article with excerpts from the designers' interviews, and the first designer (i.e., the creator of Kitty) simply created this character because she likes cats and thought it would be fun if those cats around her could chat, eat ice cream, and go shopping. This explains everything. Although I have not read the original article in the LA Times, yet I think this is just an overreaction of people. There is no need to discuss whether it is a cat or a girl, because it is, in the end, one lady's imaginary character based on a cat. I don't know why the first designer's words were not quoted anywhere.
We all do this kind of gijinka in our imagination. It might have some roots in Japanese traditional culture of gijinka, such as Chōjū giga 鳥獣戯画 ("Animal Caricatures") [VHM: To which I would add the Jatakas, Aesop's fables, and animal tales in the literatures of many other nations.], but what I see here is rather a young female company worker's fantasizing about her cats at her desk. However, I think it is also interesting that nowadays Kitty is often given a modifier "shigoto wo erabanai 仕事を選ばない (e.g., here, here) ("being not selective about her works / does not choose her works"). This is because, in recent years, Kitty's design has gained more flexibility due to the "licensing" business model by Sanrio. As a result, there are a great many Kitty designs in nonsense costumes, such as Kitty as a fried chicken. To refer to this situation, people use gijinka of Kitty as a working person, and the phrase "shigoto wo erabanai Kitty" emerged. I like this expression.
Let Nathan Hopson have the last word (and picture):
The following image is my favorite meme re/ this phenomenon (and my new Facebook profile):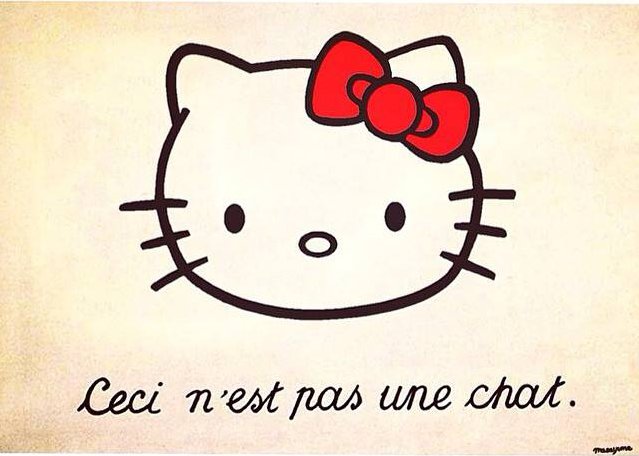 [Hat tip Ben Zimmer; thanks to Ayako Kano, Nathan Hopson, Cecilia Segawa Seigle, Hiroko Sherry, and Miki Morita]
---