« previous post | next post »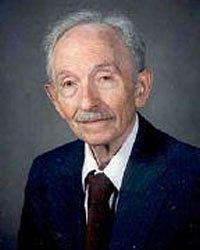 Irving John "Jack" Good, who died on April 5 at the age of 92, is best known to linguists as the author of a paper on mathematical ecology. The paper is I.J. Good, "The Population Frequencies of Species and the Estimation of Population Parameters", Biometrika 40(3-4) 237-264 (1953), and its abstract reads as follows:
A random sample is drawn from a population of animals of various species. (The theory may also be applied to studies of literary vocabulary, for example.) If a particular species is represented r times in the sample of size N, then r/N is not a good estimate of the population frequency, p, when r is small. Methods are given for estimating p, assuming virtually nothing about the underlying population. The estimates are expressed in terms of smoothed values of the numbers nr (r = 1, 2, 3, …), where nr is the number of distinct species that are each represented r times in the sample. (nr may be described as `the frequency of the frequency r'.) Turing is acknowledged for the most interesting formula in this part of the work. An estimate of the proportion of the population represented by the species occurring in the sample is an immediate corollary. Estimates are made of measures of heterogeneity of the population, including Yule's 'characteristic' and Shannon's 'entropy'. Methods are then discussed that do depend on assumptions about the underlying population. It is here that most work has been done by other writers. It is pointed out that a hypothesis can give a good fit to the numbers nr but can give quite the wrong value for Yule's characteristic. An example of this is Fisher's fit to some data of Williams's on Macrolepidoptera.
In 1953, it was not yet legal to reveal that the mathematics in question had really come out of the cryptological work at Bletchley Park during WW II, where Good had collaborated with Alan Turing on decoding German Enigma messages. The method described in Good's 1953 paper, which has come to be called "Good-Turing smoothing", was used in estimating the parameters of an n-gram model, which in turn could be used to assess the probability that a given letter sequence was really a fragment of German text.
My lecture notes on Good-Turing smoothing are here: "Statistical estimation for Large Numbers of Rare Events". Needless to say, this was by no means the only work Good ever did —  his "Shorter Publications List" runs to 61 pages — but it's the work that people like me know him best for.
A memorial page at Virginia Tech, where he worked from 1967 to 1994, is here, and a news release is here: "Virginia Tech professor, WWII code-breaker Irving Good dies".
I can recommend "A conversation with I.J. Good" from Statistical Science, 11(1): 1-19, 1996. A couple of sample witticisms:
Some statistical work by Donald Michie and myself, and my insistence that what is not checked is wrong (Good's law), led to occasional success …
When discussing complex systems, like brains and other societies, it is easy to oversimplify: I call this Occam's lobotomy.
Some obituaries: "Professor Jack Good", The Telegraph, 4/10/2009; "Jack Good", "Professor Jack Good: mathematician and wartime codebreaker", The Times, 4/16/2009; The Guardian, 4/29/2009. The NYT, the Washington Post, and other major U.S. papers don't have anything yet. If this represents an editorial judgment, it's an unfortunate one; if it's due to ignorance, that's unfortunate as well.  I'll continue to hope for the most charitable interpretation, which is that they're as far behind in writing obituaries as I am in working through my to-blog list.
---