« previous post | next post »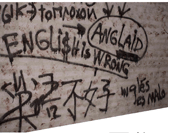 So proclaims the cover of Michel Brûlé's "Essai sociologique" Anglaid: Une langue irrémédiablement vouée à l'impérialisme et à l'ethnocentrisme ("English: A language irremediably devoted to imperialism and ethnocentrism"), in a photographed scrawl that reminds me of the shots in the movie A Beautiful Mind of John Nash's study walls during his descent into schizophrenia.
The title is a blend of the French words Anglais "English" and laid "ugly" — perhaps it could be approximately translated as "Uglish".  And M. Brûlé's argument, according to the synopsis on his web site, is a rather odd one, at least from the perspective of historical plausibility:
Longtemps, la suprématie de la France a rayonné sur le monde entier. De tout temps, les Français ont néanmoins reconnu les nombreux apports des différentes langues et sociétés au patrimoine culturel mondial.
De nos jours, la culture anglo-saxonne domine le monde. Qu'elles soient britanniques ou américaines, les élites anglo-saxonnes ne s'intéressent qu'à elles-mêmes. Musique, littérature, dramaturgie, il n'y en a que pour les œuvres de langue anglaise créées par des locuteurs anglais.
For a long time, the supremacy of France illuminated the entire world. At all times, the French nevertheless recognized the numerous contributions of different languages and societies to the cultural patrimony of the world.
These days, the anglo-saxon culture dominates the world. Whether they are British or American, the anglo-saxon elites are interested only in themselves. Music, literature, drama — there is nothing but English-language works created by English speakers.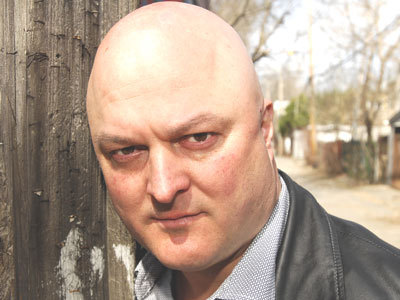 In a recent interview with Catherine Girouard ("Michel Brûlé : Celui qui a l'anglais comme ennemi", Métro Montréal, 4/21/2009), he tries a different tack:
Q: Qu'est-ce qui vous a poussé à écrire ce livre?
A: J'ai fait une observation révolutionnaire très simple, qui est que le «Je», «I» en anglais, est hypertrophié en étant toujours en majuscule. Cela change la façon de désigner l'autre. C'est un cas unique en linguistique. Et les gens sont tellement obnubilés par l'omniprésence de l'anglais qu'ils ne se sont même pas rendu compte de cette évidence.
Q: What drove you to write this book?
A: I made a very simple revolutionary observation, which is that the English "I" is hypertrophied by being always capitalized. This changes the way one looks at the Other. It's a case unique in linguistics. And people are so confused by the omnipresence of English that they don't even notice this evidence.
A multi-media version of his message is also available in the form of the remarkable music video for his song Poubelle ("Garbage"), inspired by his view that "la culture anglo-étatsunienne est devenue tellement dégénérée qu'il vaut mieux en rire" ("Anglo-UnitedStatesian culture has become so degenerate that it's better to laugh about it"). At about 1m36s into the video, you can see Brûlé and his dancing girls adding Canadian and American flags to a growing pile of hamburgers, pizza, breakfast cereals, Coca Cola, Hollywood videos, toilet overflow, and other symbols of la culture anglo-étatsunienne.
The motivation for his song Königsberg is less obvious; but for those who may be puzzled about why he's singing in German about the loss of East Prussia to the Russians, he explains that
Avant de devenir Kaliningrad, ville russe depuis 1946, Königsberg a été allemande pendant 692 ans. À noter que Königsberg veut dire Montis realis en latin d'où vient le nom de Montréal. Verra-t-on un jour Montréal devenir Montreal ?
Before becoming Kaliningrad, a Russian city since 1946, Königsberg was German for 692 years. Note that Königsberg means Montis realis in Latin, from which comes the name Montréal. Will we one day see Montréal become Montreal?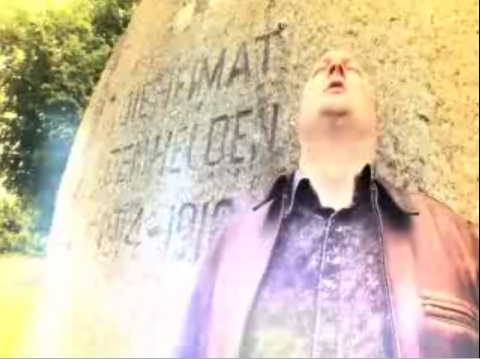 YouTube comment: "Pis cé toué qui parle de préservé notre langue gros tabarnack?"
(Though I think that would be mons regius in Latin, wouldn't it?)
The Defense Association of Anglophone Quebec wants to see him prosecuted under Canada's preposterous hate-speech laws. If this happens, it will be one more argument against those deeply misguided statutes, in my opinion. However, the distribution of competitive government subsidies is obviously a different matter, and according to this page on Brûlé's web site,
Les éditions Michel Brûlé bénéficient du soutien financier du Gouvernement du Québec — Programme de crédit d'impôt pour l'édition de livres – Gestion SODEC et sont inscrites au Programme de subvention globale du Conseil des Arts du Canada. Nous reconnaissons l'aide financière du gouvernement du Canada par l'entremise du Programme d'aide au développement de l'industrie de l'édition (PADIÉ) pour nos activités d'édition.
Michel Brûlé publications benefit from the financial support of the government of Quebec — Program of tax credit for the publication of books – SODEC administration and are registered in the program of comprehensive subsidies of the Canadian Council of the Arts.  We acknowledge the financial support of the Canadian government through the intervention of the Book Publishing Industry Development Program (BPIDP) for our publication activities.
[Tip of the hat to Jean-Sébastien Girard.]
---