« previous post | next post »
A little more than a week ago, our mass media warned us about a serious peril. "Scientists warn of Twitter dangers", said CNN on 4/14/2009:
Rapid-fire TV news bulletins or getting updates via social-networking tools such as Twitter could numb our sense of morality and make us indifferent to human suffering, scientists say.
New findings show that the streams of information provided by social networking sites are too fast for the brain's "moral compass" to process and could harm young people's emotional development.
MSNBC asked "Is Twitter Evil?". The Telegraph explained that "Twitter and Facebook could harm moral values, scientists warn". Other headlines from 4/14/2009 include "Twittering, rapid media may confuse morals", "Does texting make U mean?", "Hooked to facebook? Beware", "TV News More Damaging to Empathy Than Twitter", "The social networking, anti-social paradox","Study: Twitter erodes morals", "Twitter makes users immoral, research claims", "Twitter's moral dangers outlined", "Facebook hurting moral values, says study", "Twitter, Facebook Turn Users Into Immoral People", "Twitter could make us immoral", "Twitter can make you immoral, claim scientists", "Facebook and Twitter 'make us bad people'", "Digital Media Confuse the Moral Compass",  …
As usual when stuff that people like is shown to be bad for them, the public apparently discounted these dire warnings. According to a poll reported at the Marketing Shift blog, when asked "Do social networks and rapid updates desensitize you to sad news?", 74% said "no", 13% said "maybe", and only 13% said "yes".
In this case, the public skepticism was a good thing, because the news reports were a load of hooey.
The timing of streams of information did indeed cause some public immorality in this case — but the guilty party was not Twitter or Facebook or TV News, but rather the National Academy of Sciences, in whose Proceedings the cited reseach was published. In accord with its usual practice, PNAS released the embargo for journalists a full week before the paper was available for other scientists and the general public to read. As a result, the news media could spread nonsense-pretending-to-be-science (almost) unchallenged for seven of those famous 24-hour news cycles.
And "nonsense" is far too mild a word for the way these stories described the research of Mary Helen Immordino-Yang, Andrea McColl, Hanna Damasio and Antonio Damasio, "Neural correlates of admiration and compassion", PNAS, published online April 20, 2009.  I haven't seen such a spectacular divergence between evidence and science journalism since the infamous "email and texting lower the IQ twice as much as smoking pot" case of 2005.
Here's what the experimenters actually did, as described in their abstract:
In an fMRI experiment, participants were exposed to narratives based on true stories designed to evoke admiration and compassion in 4 distinct categories: admiration for virtue (AV), admiration for skill (AS), compassion for social/psychological pain (CSP), and compassion for physical pain (CPP). The goal was to test hypotheses about recruitment of homeostatic, somatosensory, and consciousness-related neural systems during the processing of pain-related (compassion) and non-pain-related (admiration) social emotions along 2 dimensions: emotions about other peoples' social/psychological conditions (AV, CSP) and emotions about others' physical conditions (AS, CPP).
The basic findings were nothing very new:
Consistent with theoretical accounts, the experience of all 4 emotions engaged brain regions involved in interoceptive representation and homeostatic regulation, including anterior insula, anterior cingulate, hypothalamus, and mesencephalon.
They did find "a previously undescribed pattern within the posteromedial cortices (the ensemble of precuneus, posterior cingulate cortex, and retrosplenial region)" in which "emotions pertaining to social/psychological and physical situations engaged different networks aligned, respectively, with interoceptive and exteroceptive neural systems".
They told each of their 13 subjects (probably USC medical students) 60 stories, written and produced by the experimenters, "supplemented by combinations of audio/video/still images". One kind of story centered on "social pain", a second one involved "bodily injury without social consequences", a third featured "virtuous acts", and a fourth described "virtuosic skill without virtuous implications". You can read some sample stories here.
The subjects actually viewed the narratives in a preparatory session. Then while they were in the scanner, they "viewed short [five-second] reminder versions and were asked to think about the complete narrative that they had been told earlier, to become as emotional as possible, and to report the strength of their emotion via button press".
Note that the goal of the experiment, as its title indicates, was to sort out the "neural correlates of admiration and compassion". The reason for the five-second reminder versions was not to imitate Twitter, Facebook, and TV News, but to deal with the problem of how to fit their subjects' responses to 60 narratives — 12 in each of four categories — into a single fMRI session.
One of the things that they expected to find, on the basis of common sense as well as some prior research, was that "the activity correlated with CPP ["Compassion for Physical Pain"] would peak earlier and extinguish more quickly than the other emotions". To test this hypothesis,
… we used double-gamma curve fitting to compare the ERA time courses of the BOLD effects associated with each of the conditions in the anterior insula (see Fig. 3). Duration was calculated from the width of the curves at half-height. […] CPP peaked more quickly than each of the other emotions and had a shorter duration (see Table S4 for details).
Here's their Figure 3: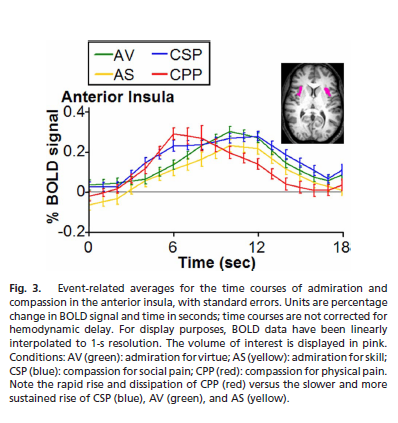 [In interpreting such graphs, keep in mind that the hemodynamic impulse response to a single neural event takes 3-4 seconds to reach its peak, and 10-15 seconds to return to baseline.]
And here's their Table S4,  slightly expanded:
| | | |
| --- | --- | --- |
| Condition | Time to peak (SE) [SD?] | Duration (SE) [SD?] |
| Admiration for Virtue | 9.81 (0.25) [3.12] | 8.79 (0.54) [6.74] |
| Admiration for Skill | 10.60 (0.32) [4.0] | 7.76 (1.01) [12.61] |
| Compassion for Social Pain | 8.73 (0.24) [3.0] | 11.89 (0.96) [11.99] |
| Compassion for Physical Pain | 7.07 (0.46) [5.75] | 7.21 (0.58) [7.24] |
Note that the differences in average time course here are on the order of one to four seconds.
They don't give us any estimates of effect size. So I've calculated the standard deviations, assuming that the standard errors they give were determined on the basis of 13 subjects times 12 narratives per category, for N=156. If this is correct, then the effect sizes for time to peak are moderate to large-ish — the average time-to-peak difference between CSP and CPP was 1.66 seconds, d=0.36; the average difference between AS and CPP was 3.53 seconds, d=0.71). The effect sizes for duration are small to moderate (a mean difference between AS and and CPP of 0.55 seconds, d=0.05, and a mean difference between CSP and CPP of 4.68 seconds, d=0.47).
But wait, how did they test the way that Twitter and Facebook and TV News "numb our sense of morality and make us indifferent to human suffering"? Um, well, they didn't.
OK, so how do these interesting but frankly underwhelming results suggest that "Using Facebook or Twitter may make you a bad person because it ruins your moral compass", as one news story put it? How did another reporter conclude from this research that "the digital torrent of information from networking sites could have long-term damaging effects on the emotional development of young people's brains"?
Well, it all started with the press release by Carl Marziali, "Nobler Instincts Take Time", USC News, 4/14/2009. Here's how he spun the research:
"For some kinds of thought, especially moral decision-making about other people's social and psychological situations, we need to allow for adequate time and reflection," said first author Mary Helen Immordino-Yang of the USC Rossier School of Education.
Humans can sort information very quickly and can respond in fractions of seconds to signs of physical pain in others.
Admiration and compassion – two of the social emotions that define humanity – take much longer, Damasio's group found.
Their study appeared online in Proceedings of the National Academy of Sciences.
"Damasio's study has extraordinary implications for the human perception of events in a digital communication environment," said USC Annenberg media scholar Manuel Castells, holder of the Wallis Annenberg Chair of Communication Technology and Society at USC. "Lasting compassion in relationship to psychological suffering requires a level of persistent, emotional attention."
It's tempting to joke that for Annenberg communications professors, "persistent emotional attention" apparently involves a time span of 1.66 seconds, the mean time-to-peak difference between insula activity in compassion for social pain and compassion for physical pain. A more realistic explanation is that Prof. Castells didn't bother to read the paper, or to learn anything at all about the underlying research, but just offered a useful sound bite in ritual response to a leading question from Carl Marziali.
And similarly, I suspect that Marziali pestered Dr. Immordino-Yang until she gave him the quote that he needed to support the preposterous spin that he'd decided to put on this story.
I can't be sure about this, of course — it's also possible that the scientists involved pimped their research to Mr. Marziali in a completely unethical way, and he naively accepted their account.
The next key contributor to the process was the anonymous editor who headlined Science Daily's reprint of Carl Marziali's press release as "Rapid-fire Media May Confuse Your Moral Compass, Study Suggests". Again, I'll bet that no one at Science Daily even glanced at the PNAS paper, even if they were given access to it. In any case, at this point the stage was set for the epic paroxysm of poppycock that inevitably followed.
Everyone involved in this process comes out badly, in my opinion. Carl Marziali, who wrote the USC press release, should go back to selling real estate, or wherever he learned the ethics that he displayed in this case. Antonio Damasio, the senior researcher and last author of the cited study, was at best asleep at the switch — he surely knows that cognitive neuroscience tends to make people tolerant of illogical reasoning, and it's shameful that he doesn't keep a more careful watch on the press releases coming out of his lab. The lead author, a junior researcher, was either naive about the ways of flacks and hacks, or complicit in pimping her study. The Annenberg professor, Manuel Castells, should be ashamed of himself for stepping up on cue to supply a spurious Moral Lesson that had nothing whatever to do with the underlying research. (Please insert an extra 1.66 seconds at this point to allow your appreciation of social pain to develop fully, while reflecting on how Prof. Castells allowed himself to be presented as a pompous fraud.) The National Academy of Science once again abetted the public dissemination of pernicious nonsense by releasing a paper to journalists a week before making it available to anyone else.
And the world's science writers, of course, swallowed the press release and regurgitated their own fermented versions of it: "Twitter can make you mean"; "Scientists from the Brain and Creativity Institute at the University of Southern California believe heavy users of Twitter and Facebook could become 'indifferent to human suffering'",; "exposure to constant news bulletins … could harm young people's brain development by not giving them enough time to process information about others' emotional pain [and] may also affect the ability to feel admiration for the good deeds of others".
Kudos to Ben Goldacre, whose BS detector went off on cue, and who managed to get an early copy of the paper by some back-channel route ("Experts say new scientific evidence helpfully justifies massive pre-existing moral prejudice", Bad Science, 4/18/2009), and to Chris Matyszczyk at CNET, who was suitably skeptical on the basis of common sense ("Oh, so now Twitter is making us immoral", 4/15/2009). Chris also wins Best Line: "Your brain might, at this point, be scanning the thought that if all the subjects of this research were from Los Angeles, it might be surprising that the scientists found any moral compass at all."
And props to the 74% of respondents in that internet survey who weren't persuaded by this fake-scientific morality play.  All the same, though, their skepticism underlines the collateral damage done by such garbage.  The media's usual motivation in cases of this type is to give pretend-scientific justification for "pre-existing moral prejudice", as Ben Goldacre observes. That's the hook for readers and viewers. But such stories also debase the coinage of rational inquiry taken as a whole, confirming the common prejudice that it's OK to act on any beliefs that take your fancy, since science is all meretricious bullshit anyhow.
---