« previous post | next post »
The following poster is circulating among students from Shanghai, both inside and outside of China: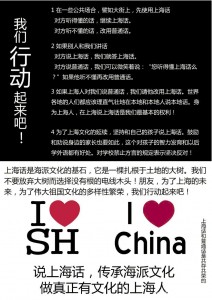 For a complete translation, go to the next page.
Let Us Take Action!
1. In certain public settings, for example on the street, if you start by using Shanghainese,
should the other party understand what you're saying, then continue using Shanghainese.
should the other party fail to understand what you're saying, then switch to Mandarin (Putonghua).
2. When others speak to us,
should the opposite party use Shanghainese, then we may answer in Shanghainese.
should the opposite party use Mandarin, we can smile and say, "Do you understand Shanghainese?" If the other person doesn't understand Shanghainese, then switch to Mandarin.
3. If Shanghainese speak Mandarin to us, we shall ask them to switch to Shanghainese. People in various localities all over the world should be able to boldly and confidently speak the local language with the local people. As Shanghainese, it is our basic right to speak Shanghainese in Shanghai.
4. For the continuation of Shanghainese culture, we should persist in speaking Shanghainese to our children. We should encourage and exhort parents around us to do likewise. This will be beneficial for the intellectual development of our children and for the subsequent learning of foreign languages. We should express our steadfast opposition to rules prohibiting the use of topolects.
Shanghainese language is the foundation of Shanghainese culture. It is a mighty tree with its roots tightly anchored in the local soil. We ought not abandon this mighty tree in favor of a rootless telephone pole. Friends, for the future of Shanghai, for the flourishing of the diversity of our great homeland, let us take action!
I Love Shanghai. I Love China.
By speaking Shanghainese language and carrying on Shanghainese culture, we are being truly cultured Shanghainese people.
(A tip of the hat to Wicky Tse for calling this very interesting poster to my attention.)
---