« previous post | next post »
Below is a guest post by Kieran Snyder, taken with permission from her always-interesting tumblr Jenga one week at a time.
About a month ago at work I overheard one woman complaining to another woman about a man's habit of interrupting everyone in meetings. Then they went further. "That's just how it is around here. The women listen, but the men interrupt in meetings all the time," one of them summed it up.
As a moderate interrupter myself – I'm sorry if I've interrupted you, I just get excited about what you're saying and I want to build on it and I lose track of the fact that it's not my turn and I know it's a bad habit – I started wondering if she was right. Do men interrupt more often than women?
Search for "do men interrupt more than women" and you will find a variety of answers. The answers loosely break into two categories: 1. no, they don't, and 2. yes, they do.
The empirical linguist in me got to thinking, and a few weeks ago I decided to figure it out.
The setup: I wanted to find situations where I could observe groups of men and women interacting without being a significant participant in the conversation myself. I am not always a talker, but when I am a talker, I am a seriously big talker and I am a definite interrupter. So I needed to find contexts where I wasn't going to be tempted to talk myself. I also didn't want to eavesdrop, so I needed to find contexts where I was a welcome listener.
I defined an interruption as any communication event where one person starts speaking before the other person has finished, whether or not the interrupter intends it.
The reality: I spend a lot of my weekday hours in the office, and in the job I have, I am invited to a lot of meetings. I started looking at my calendar to identify meetings where I was mainly going to be present as a listener, where there were at least four other people in the room, and where the gender mix was close to even. Since I work in tech, this last one is easier said than done, so I wasn't able to strictly apply it, but I got close. On average, 60% of the speakers in any given room that I observed were men, and 40% were women.
I wanted to understand four things: how often interruptions happen; whether men or women interrupt their colleagues more often; whether men or women are interrupted by their colleagues more often; and whether men and women are more likely to interrupt speakers of their own gender, speakers across gender, or some other pattern.
I took notes that covered fifteen hours of conversation over a four week period, and the conversations contained anywhere from 4-15 people (excluding me). It is totally possible that I missed some interruptions since I didn't record the meetings like I would have done in a real field linguistics study.
What I found was interesting.
People interrupt a lot.
And the more people who are in a conversation, the more interrupting there is – until some peak rate is reached and holds steady no matter how many additional people are added into the conversation.
I noted 314 interruption events spread over 900 minutes of conversation, which means that collectively people interrupted each other once every two minutes and fifty-one seconds, or just over 21 times per hour. But the actual interruption rate (y-axis) correlated closely with the number of active participants in the conversation (x-axis):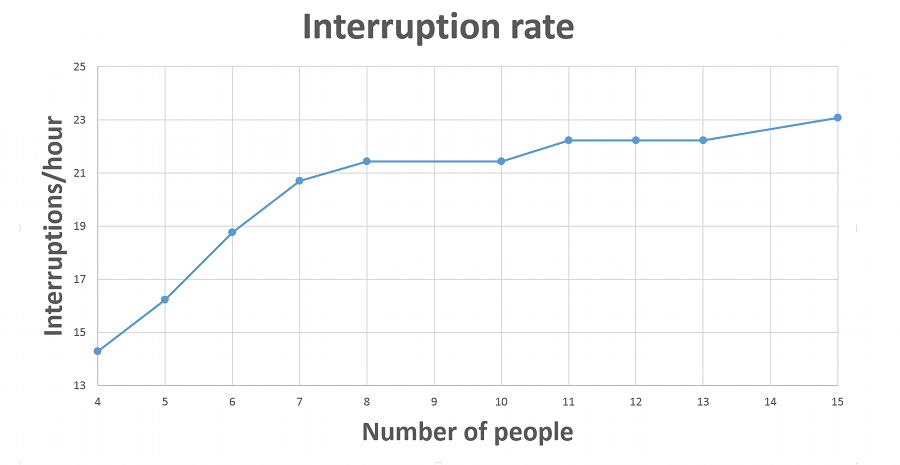 This is interesting because it suggests that there are only so many interruptions that a conversation will tolerate before it's not a conversation anymore. Keep in mind that all the conversations I observed were formal work meetings where people mostly adhered to a single conversation thread; it is very likely that in a more informal setting, many of the larger groups would have split themselves into smaller groups having multiple conversations. In fact, these results make me wonder if 7 people is the natural tipping point for that kind of splitting in social groups. Someone has definitely studied this, but I have not.
Men interrupt more than women overall.
All told and no other factors considered, men accounted for 212 of the 314 total interruptions, about two thirds of the total. The men I observed accounted for about twice as many interruptions overall as the women did.
It's worth noting that the groups I observed were not 50/50 split between men and women to begin with. Among the individuals I observed, 60% were men; I worked hard to find rooms to observe that included high representations of women, which took some doing but luckily is not as hard to do in design as it is in engineering. That means that if men and women had shown the same rate of interruption, we would expect to find that 188.4 of the interruptions came from men. We actually see 212.
So there you have it: at least in this male-heavy tech setting, men do interrupt more often than women do.
Men are almost three times as likely to interrupt women as they are to interrupt other men.
Here's where things start to get really interesting. Of the 212 total interruptions from men that I logged, 149 of them – that's 70% of the total – were interruptions where women had been previously speaking. Men do interrupt other men, but far less often.
These numbers are a little worse than they look in terms of balance since the rooms had only 40% women to begin with. Although I didn't track gender representation in overall speaking turns (I only tracked interruptions), I believe women in this setting are taking far fewer than a 40% share of speaking turns. That would make these numbers even more skewed than they already appear; whenever women take a speaking turn, they are getting interrupted.
Women interrupt each other constantly, and almost never interrupt men.
Of the 102 interruptions from women that I logged, a staggering 89 of them were instances of women interrupting other women. That is to say, 87% of the time that women interrupt, they are interrupting each other.
Let's pause and dwell on this for a sec: In fifteen hours of conversation that included 314 total interruptions, I observed a total of 13 examples of women interrupting male speakers. That is less than once per hour, in a climate where interruptions occur an average of once every two minutes and fifty-one seconds.
Does anyone else think this is a big deal?
I'm used to thinking of myself as an irritating interrupter, and I probably am. I didn't track my own behavior over the same time period because it's impossible to get that right. But looking over the data has made me wonder whether I really exhibit the pattern that I thought I did. How many of my own interruptions are directed towards female colleagues?
There's lots more to investigate here. If I were still a Real Linguist, I'd see this as an opportunity for a Real Study. For instance, how much does the male-centric nature of the tech setting bias these results? Like, if someone did the same observations during faculty meetings at an elementary school, would they find the inverse pattern? And what actually does happen in single-sex environments? And this is a whole other enchilada, but how much does sexuality play a role in interruption patterns? I didn't attempt to track that this time, but my informal observations suggest that this would be worth a study unto itself.
So there you have it, take or leave: men interrupt more than women. And when they interrupt, both men and women are mostly interrupting women.
---
Above is a guest post by Kieran Snyder.
A relevant study, whose findings are somewhat similar and somewhat different from Kieran's findings, is Jiahong Yuan, Mark Liberman, and Christopher Cieri, "Towards an integrated Understanding of Speech Overlaps in Conversation", ICPhS 2007. The abstract:
We investigate factors that affect speech overlaps in conversation, using large corpora of conversational telephone speech. We analyzed two types of speech overlaps: 1. One side takes over the turn before the other side finishes (turn-taking type); 2. One side speaks in the middle of the other side's turn (backchannel type). We found that Japanese conversations have more short turn-taking type of overlap segments than the other languages. In general, females make more speech overlaps of both types than males; and both males and females make more overlaps when talking to females than talking to males. People make fewer overlaps when talking with strangers than talking with familiars, and the frequency of speech overlaps is significantly affected by conversation topics. Finally, the two conversation sides are highly correlated on their frequencies of using turn-taking type of overlaps but not backchannel type.
Note that we looked at very different sorts of conversations — Kieran observed business meetings in a male-dominated technology company, while Jiahong, Chris & I analyzed telephone conversations among family and friends — the CallHome corpora in Arabic (LDC97S45), English (LDC97S42), German (LDC97S43), Japanese (LDC96S37), Mandarin (LDC96S34), and Spanish (LDC96S35) — and telephone conversations between strangers — the Fisher English corpus (LDC2004S13).
As Kieran notes, there are results pointing in several different directions on the question of whether men interrupt more than women. There are several obvious (and compatible) reasons for this variation: differences in types of people and types of conversations; possible failure to distinguish among the several very different sorts of speech overlaps; interactions among gender, age,  and status of interrupters and interruptees; etc.
It would be interesting to compare (for example) the ICSI Meeting corpus (speech and transcripts), which include about 75 hours of recorded and transcribed meetings held at ICSI during the years 2000-2002. These are multi-person face-to-face working meetings in a high-tech organization, and thus similar in that respect to Kieran's sample.
---