« previous post | next post »
A new advertising campaign by the cellphone company Boost Mobile is a real head-scratcher, in large part due to its creative (possibly too creative) experimentations in English morphology. Morphological innovation has driven some other recent ad campaigns, notably the creation of "Snacklish" by the good people at Snickers (discussed by Arnold Zwicky here, linking back to earlier morpholiciousness from Snickers here). Both the Snickers and Boost Mobile campaigns revolve around self-conscious neologisms, but the similarity ends there. Whereas Snickers introduces lexical blends fusing a variety of words and word-parts, Boost Mobile exploits one particular morphological frame: un____ed.
Boost Mobile's efforts are arguably too playful for their own good. For starters, the frame un____ed gets updated to UN____'D. (The trendy capitalization and vowel omission is to be expected from an industry that also gave us the SLVR, RAZR, ROKR, and PEBL — all cellphones from Motorola discussed a few years ago on Polyglot Conspiracy.) The television ads that Boost Mobile has been running end with this tagline:
UNoverage'D
UNcontract'D
UNwrong'D
All of the commercial spots (viewable here) feature provocatively "wrong" things with a high gross-out factor. As an example, see this ad featuring anthropomorphic pigs dining on ham (reminiscent of George Harrison's "Piggies"):
A February press release from Boost Mobile's ad agency 180LA explains the rationale behind the "UNwrong'D" campaign:
It's a sign of the times. Money doesn't go as far as it once did, and consumers feel helpless and frustrated. When prepaid wireless providers add in activation fees, overage charges and extra costs for services like voicemail and roaming, consumers grumble and accept it. They're wronged. They feel it. And they want a change.

Starting today, Boost Mobile is taking a stand against the abuses suffered by wireless customers and launching a new marketing campaign aimed at showcasing how its new 'Monthly Unlimited' plan offers consumers straightforward pricing and predictable payments with no additional Telecom Taxes, activation, roaming, traveling or long distance fees. An edgy nationwide campaign portraying humorous situations that most would consider 'wrong,' Boost Mobile's new 'Unwronged' marketing takes aim at its competitors' shortcomings and their negative impact on consumers.
Boost Mobile president Matt Carter is quoted as saying, "No one wants to be wronged. Everyone wants to be unwronged." (Note that the press release tones down the orthographic hipness of "UNwrong'D" by providing the more traditional spelling.)
The quote from Carter about being "wronged" and "unwronged" highlights a historical ambiguity in the prefix un- when it attaches to past participles ending in -ed. First, there's negative un- ('not'), for which the OED gives the following relevant senses:
un-, prefix1

8. The prefixing of un- to past participles, common in OE. and revived in ME., was subsequently extended until it became the commonest of all uses of the prefix. The following varieties may be distinguished in the usual formations: a. Simple past pples. in -ed. These form an inexhaustible class…

9. a. Adjectival forms in -ed, from substantives, of the type unbearded, unbodied, unfeathered, etc. … The usual sense is 'not provided or furnished with', but sometimes 'not affected by', 'not treated with', etc.; in the latter case the use is not clearly distinguishable from the purely participial.
And then there is the use of un- expressing reversal or deprivation:
un-, prefix2

8. Verbal substantives, participial adjectives, and agent-nouns are naturally formed from verbs in un- as from simple verbs. These forms begin to appear in the 14th century, and become common in the later language.

Many of the past pples. and ppl. adjs., as unbent, unbound, undressed, unfastened, etc., coincide with formations in which the prefix is UN-1, and the distinction in meaning is not always sufficiently clear to admit of an absolute separation between the forms.
In the case of unwronged, we might expect it to fit OED sense 8 of un-1, simply the negative form of wronged ('not wronged'). But when Matt Carter says "Everyone wants to be unwronged," it suggests that the reversative un-2 is at play here: the "wrong(ing)" inflicted by other cell-phone companies can be reversed by switching to Boost Mobile. The company has continued the "unwronging" theme by issuing a press release headlined "Boost Mobile Helps Unwrong the Environment." Again, the idea is to reverse or obviate a "wrong" condition (in this case, by encouraging consumers to recycle or reuse old cell-phones rather than throwing them away).
Like unwronged, the ad campaign's other fillers of the un____ed frame have their own ambiguities. UNoverage'D and UNcontract'D would seem to fall under OED sense 9 of un-1, along with unbearded and the like. Here un-X-ed can be understood as "unaffected/unburdened by X" where X is a noun: the overage charges and cumbersome contracts typifying other cell-phone plans are simply not present in Boost Mobile's unlimited prepaid plan. But if UNwrong'D is intended as a reversative, perhaps these are too: overage and contract represent conditions that can be undone (unwronged) by switching plans. But that would require understanding (un)overage and (un)contract as ad-hoc denominal verbs — something like (un)silo, to take an example from management-speak.
The muddled morphology doesn't end there. In major cities, Boost Mobile has also been plastering its message on billboards, phone booths, bus stops, subway stations, etc., all using the UN____'D template. Here, for instance, is a bus-stop ad using UNcontract'D: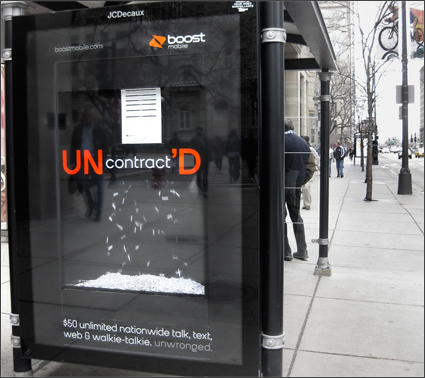 As AdFreak explains, that's an actual paper shredder "where you can shred your existing phone-company contracts." Next, here's an UNlimit'D ad (via Ask a Copywriter):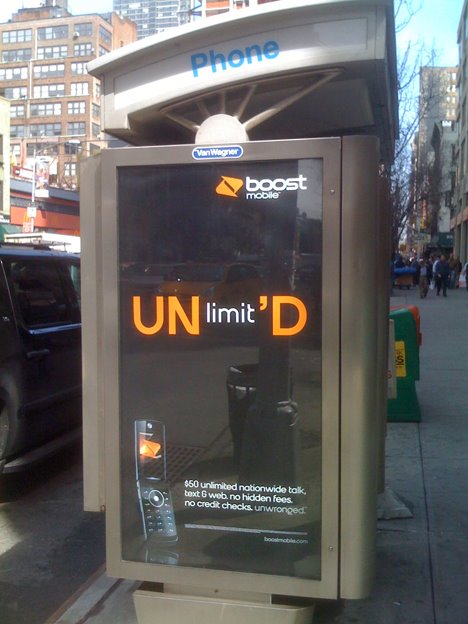 Of course, unlimited is a preexisting participial adjective of the simple negative un- variety ('not limited'). It's hard to think of this as related to a reversative example like unwronged, beyond the surface similarity.
Some of the public advertising is more rebus-like. Also from Brian Thompson's Ask a Copywriter blog, here are ads featuring UN[screw]'D and UN[hose]'D, using actual images of a screw and a hose: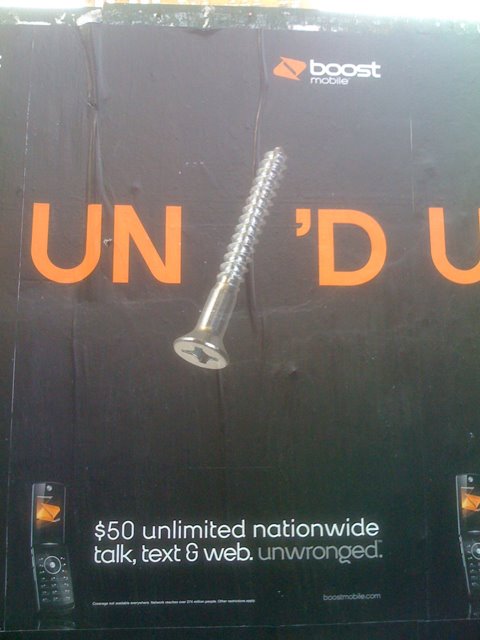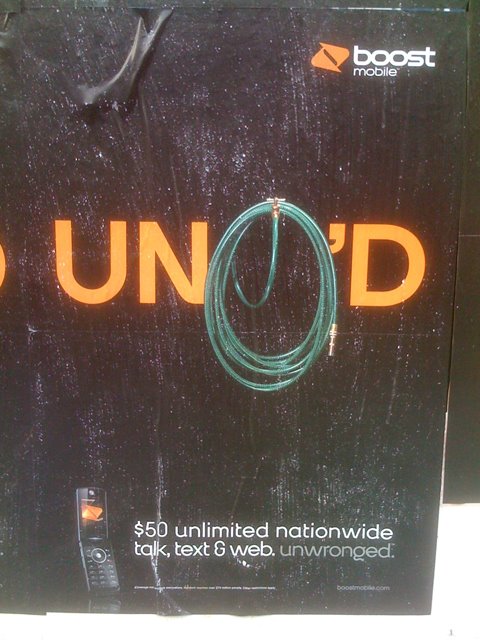 The UN[screw]'D ad reminds Thompson of the screwball rebus from the old Bugs Bunny cartoons: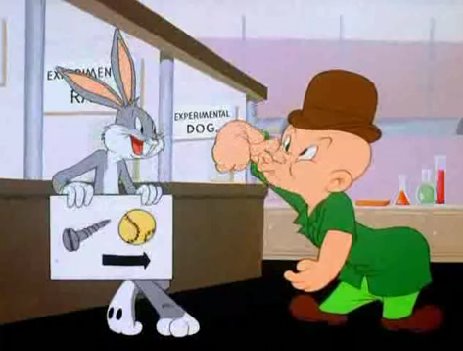 The idea here seems to be to get people absorbed in figuring out the "puzzle" of the ads. Once they get the rebus construction, they can then try to figure out what the revealed words have to do with Boost Mobile. But again we have the ambiguity seen in UNwrong'D. Are these simple negatives ('not screwed,' 'not hosed') describing the happy condition you'll be in when you sign up for Boost Mobile? Or are we dealing with more ad-hoc reversatives (Boost Mobile will unscrew/unhose you)?
Finally, taking the productivity of UN____'D to a ridiculous extreme, some ads spotted by Thompson fill the frame with elaborate gerund-participial clauses, like UNworking more hours to afford more minutes'D and UNhiding your kid's phone at the end of the month'D: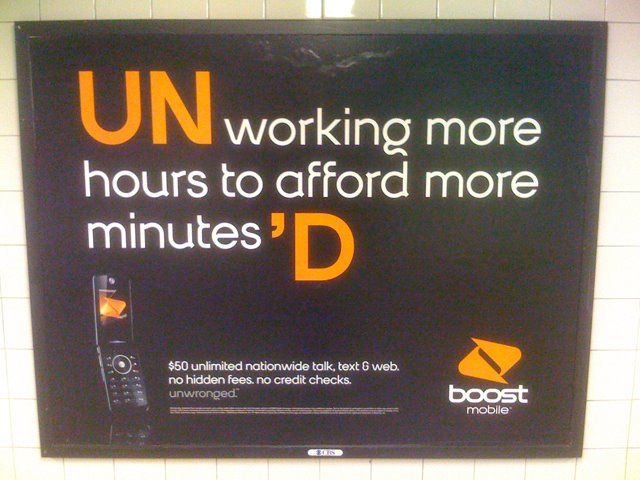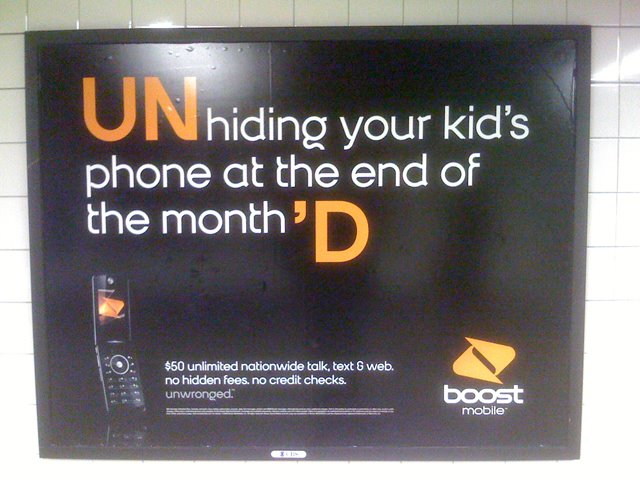 These last examples strain the limits of my analysis. I can only imagine that the ad agency team sat around in a brainstorming session, coming up with a list of "wrongs" that Boost Mobile could rectify. "Overages!" "Contracts!" "Working more hours to afford more minutes!" Sure, why not? Once you accept that any old noun like overage or contract can get pressed into service in the negative/reversative frame of UN____'D, then why not plug a massive gerund-participial clause in there just for the heck of it?
(Many thanks to negation-meister Larry Horn for help in untangling this tangle. Larry muses, "It's pretty extreme, assuming they're planning this to appeal to some potential customers who don't actually work on lexical negation.")
---