« previous post | next post »
Apparently it's a stereotype that Canadians are always apologizing. Thus Jordan Rane, "10 things Canada does better than anywhere else", CNN 7/1/2014:
In Canada, apologies happen constantly — "sorries" flying in from all sides like swarms of affable killer bees.
Apologies are issued not just for some negligible mishap, but for actually having the gall to be on the receiving end of one.
A Queen's University poll titled "Sorry … I'm Canadian," found that 90% of Canadians aged 18-25 will immediately apologize if a stranger bumps into them.
And in honor of Canada Day July 1, several serial comics took note. Questionable Content: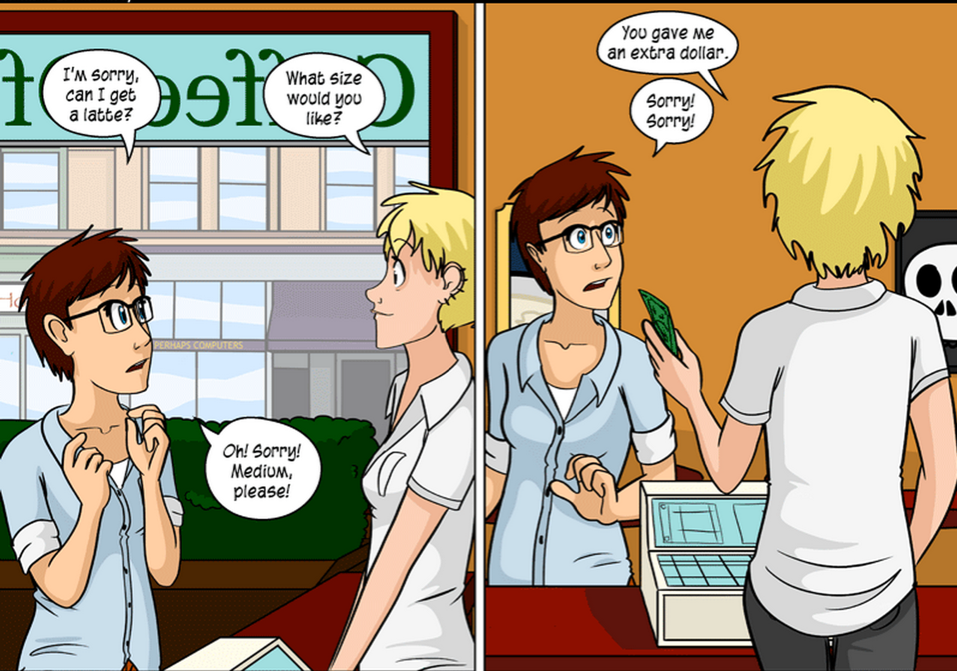 And Something Positive: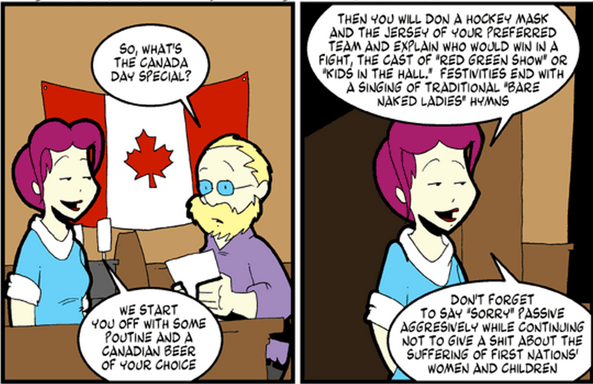 I haven't noticed this feature in the Canadians that I know — but I tend have this problem with stereotypes turning out to be not actually, like, true.  It's a failing of mine, a sort of myl-specific Observer's Paradox. Still, I'd thought I'd  look into this one further– after all, sometimes the facts support the stereotype. Maybe it'll turn out that Canadians do say "sorry" unusually often: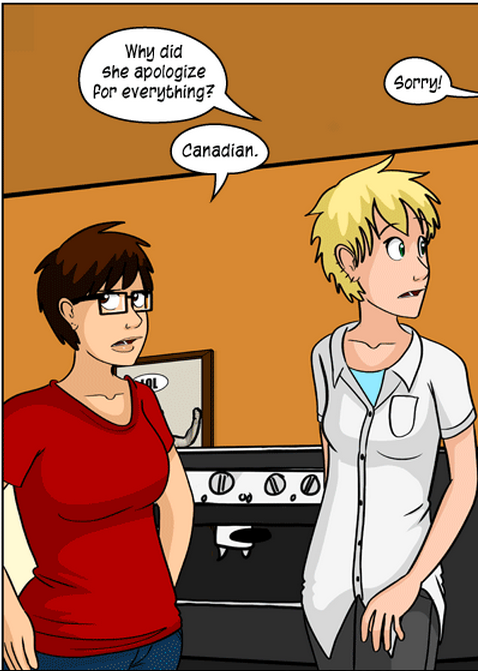 And as it happens, there's some published data that suggests a Breakfast Experiment™ testing the hypothesis that Canadians say "sorry" more than other nationalities do.
The HCRC Map Task Corpus is a set of 128 task-oriented dialogues involving 64 Glasgow University undergraduates, following a procedure documented here:
The Map Task is a cooperative task involving two participants. The two speakers sit opposite one another and each has a map which the other cannot see. One speaker — designated the Instruction Giver — has a route marked on her map; the other speaker — the Instruction Follower — has no route. The speakers are told that their goal is to reproduce the Instruction Giver's route on the Instruction Follower's map. The maps are not identical and the speakers are told this explicitly at the beginning of their first session. It is, however, up to them to discover how the two maps differ.
I used the transcripts included in the version published by the LDC in 1993, and according to my tokenization, the 128 dialogues comprised 1,370,592 words, of which 1,215 were "sorry", for an overall rate of 1000000*1215/1370592 ≈ 886 per million words.
In 1995, the Defence and Civil Institute of Environmental Medicine (DCIEM) in Ontario, Canada, joined with researchers from the Human Communications Research Centre (HCRC) at the Universities of Edinburgh and Glasgow to collect a new set of Map Task dialogues. The design of the Ontario collection was identical to the Glasgow collection, except that the subjects were 35 Canadian military reservists who volunteered for an experiment on the effects of sleep deprivation and the use of the drug Modafinil. According to Ellen Bard et al., "The DCIEM Map Task Corpus: Spontaneous Dialogue under Sleep Deprivation and Drug Treatment", ICSLP 1996:
The design permits comparisons within speakers for sleep deprivation (baseline, deprived, post-recovery), and between speakers for drug condition (placebo, d-amphetamine, Modafinil) and number of conversational partners encountered (1, 2).
OK, so there are some other issues here — we're comparing Scottish undergraduates, who were presumably no more drugged or sleep-deprived than undergraduates normally are, against variously sleep-deprived and drugged Canadian soldiers. On the other hand,  Bard et al. assert that "Effects of sleep-deprivation and drug condition are less severe than those found in simpler tasks", so I'm going to pretend for current purposes that this is a fair comparison of Canadians against Scots.
Processing the DCIEM Map Task transcripts using exactly the same programs that I used for the HCRC Map Task transcripts, I find 2,850,341 words, of which 1,768 are "sorry", for an overall rate of 1000000*1768/2850341 ≈ 620 per million words.
So the Scottish Map Taskers used "sorry" about 43% more often than the  Canadian Map Taskers did (886/620 ≈ 1.429).
Like I said, stereotypes mostly don't work out for me. Sorry!
---
Here's the source of the poll mentioned in the CNN feature — Carrie Barr and Jackie Gillberry, "'Sorry … I'm Canadian': An analysis of when Canadians use the word 'sorry'", Strathy Undergraduate Working Papers on Canadian English, 2010. The authors note that
After receiving our completed surveys, we found that we were lacking non-Canadian participants. This made it very difficult to distinguish between the way in which Canadians use the word "sorry‖"and the way in which non-Canadians use "sorry." Since there were so few non-Canadian results, we found the data insignificant. We decided to analyze the use of the word ―sorry‖ across different age groups of Canadians rather than across nationalities.
But the authors provide the text of their questionnaire, and so it would be easy for some enterprising students at an American (or British, or Australian, or …) university to replicate the study for comparative purposes. They might well confirm the stereotype — as long as I'm not involved in the process.
---