« previous post | next post »
In my role as self-appointed David Brooks watcher, I wearily contemplated his latest masterpiece of misunderstanding, and wondered whether the linguistic angles justified a post. Imagine my relief when I discovered this lovely dissection in cartoon form at chaospet (click on the image for a larger version):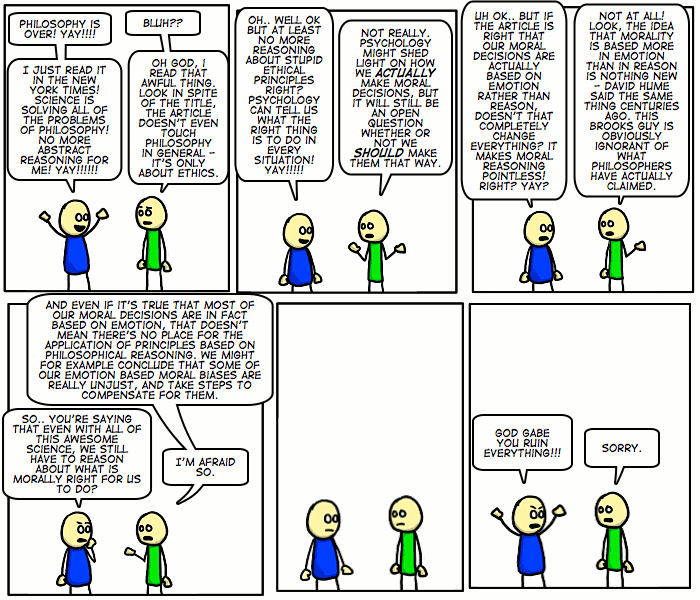 The title of this post, by the way, is taken from a work that David Hume wrote on the same general themes as David Brooks' piece — minus the bloviating about "the end of philosophy" and other sorts of  "epochal change" allegedly now being caused by the ideas that Hume discussed at length  in 1751.
I'm not a cartoonist, but I'll set up a virtual  dialogue between these two authors with their Wikipedia headshots: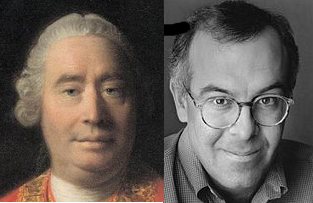 David Brooks (1961-) , whom Wikipedia a calls "a political and cultural commentator",  is now the designated conservative columnist at the New York Times. Here is the start of his column "The end of philosophy", NYT, 4/6/2009:
Socrates talked. The assumption behind his approach to philosophy, and the approaches of millions of people since, is that moral thinking is mostly a matter of reason and deliberation […]
Today, many psychologists, cognitive scientists and even philosophers embrace a different view of morality. In this view, moral thinking is more like aesthetics. […]
Think of what happens when you put a new food into your mouth. You don't have to decide if it's disgusting. You just know. You don't have to decide if a landscape is beautiful. You just know.
Moral judgments are like that. They are rapid intuitive decisions and involve the emotion-processing parts of the brain.
David Hume (1711-1776), whom the Stanford Encyclopedia of Philosophy calls "the most important philosopher ever to write in English", published An Enquiry Concerning the Principles of Morals in 1751. From its opening section ("Of the General Principles of Morals"):
There has been a controversy started of late, much better worth examination, concerning the general foundation of MORALS; whether they be derived from REASON, or from SENTIMENT; whether we attain the knowledge of them by a chain of argument and induction, or by an immediate feeling and finer internal sense; whether, like all sound judgment of truth and falsehood, they should be the same to every rational intelligent being; or whether, like the perception of beauty and deformity, they be founded entirely on the particular fabric and constitution of the human species.
The ancient philosophers, though they often affirm, that virtue is nothing but conformity to reason, yet, in general, seem to consider morals as deriving their existence from taste and sentiment.
Read the whole thing.
[Brooks' conclusion:
The rise and now dominance of this emotional approach to morality is an epochal change. It challenges all sorts of traditions. It challenges the bookish way philosophy is conceived by most people. It challenges the Talmudic tradition, with its hyper-rational scrutiny of texts. It challenges the new atheists, who see themselves involved in a war of reason against faith and who have an unwarranted faith in the power of pure reason and in the purity of their own reasoning.
The opening sentence of Hume's Enquiry:
Disputes with men, pertinaciously obstinate in their principles, are, of all others, the most irksome; except, perhaps, those with persons entirely disingenuous, who really do not believe the opinions they defend, but engage in the controversy from affectation, from a spirit of opposition, or from a desire of showing wit and ingenuity superior to the rest of mankind.
In the Valhalla of philosophers, Bertrand Russell pounds David Hume on the back and whoops "Bullseye! And from 210 years before he was born!", as they hoist a pint with their friends Adam Smith, Immanuel Kant, and Charles Darwin. ]
---