« previous post | next post »
There's a recently-fashionable construction, in which "would be" is used where plain "is" might have been expected. For example, in the imaginary Q&A below, I might respond with B2 rather than B1
A: I'm looking for Mark Liberman.
B1: That's me.
B2: That would be me.
A couple of weeks ago, our comments section featured a lively discussion of this phenomenon. (As far as I know, there isn't any common-used term for it, so pending a better idea, I'll call it the TWBM construction, for "That Would Be Me"). Opinions differed, as they often do in discussions of matters linguistic, about where to draw the boundaries of the phenomenon, as well as about its meaning, origins, circumstances of use, and so on. In particular, Bloix suggested that "The point of the 'would be' construction is that it implies doubt on the part of the speaker", while I expressed skepticism about the relevance of doubt to the meaning of this construction.
A couple of small recent experiments have tested this question. Their results suggest that effect of would on perceived speaker certainty in TWBM sentences is very small — too small to be a sensible motivation for using this construction. And also, the small effect, to the extent that it could be determined to exist at all, was positive. That is, in one experiment, the effect was not statistically significant; and in a second experiment, speakers using would be were judged, on average, to be expressing a bit less doubt than those using is.
The research in question was mentioned (though not described) in a guest post by Larry Horn that I linked to in my post of a couple of weeks ago. Larry's post was "That would be in the modal auxiliary, Bob", 1/9/2008), and it referenced a 2008 LSA talk entitled "The effect of semantic modality on the assessment of speaker certainty". That LSA talk doesn't seem to exist in any more permanent form, but the same authors offer what appears to be similar material as Augustin Gravano et al., "The Effect of Contour Type and Epistemic Modality on the Assessment of Speaker Certainty", Proceedings of 4th Speech Prosody Conference, Campinas, Brazil, 2008. Their abstract:
In an empirical study participants were asked to rate the perceived degree of certainty of utterances that contained either the modal would or main verb be (e.g. That would be me vs. That's me), and which were also variously produced with one of three intonational contours (downstepped, declarative, and yes-no question). We found that both downstepped contour and epistemic would made a significant and independent contribution to the assessment of speaker certainty. That is, participants rated utterances with the downstepped contour as most certain, followed by those with the declarative contour, while the yes-no question contour was perceived as highly uncertain. Similarly, participants rated speakers' responses with epistemic would as significantly more certain than those without it.
The paper actually describes two experiments. In the first one, 12 NWU undergraduates judged the certainty of would be and is in written scenarios, using a 5-point Likert scale (-2 = very uncertain, -1 = somewhat uncertain, 0 = neither certain nor uncertain, 1 = somewhat certain, 2 = very certain). Their judgments were transformed to z-scores:
zij = (Xij-mean(Xi))/stdev(Xi) ,
where Xij is the jth judgment by subject i,
and Xi is the set of all judgments by subject i.
In this first experiment, the paper reports that
The mean Certainty for stimuli with modal would was -0.13 (st.dev. = 1.11), and for stimuli without modal would was -0.03 (st.dev. 1.04).
This average difference of a tenth of a standard deviation, in a small experiment, was not statistically significant. More important, the small size of the average difference, and the large overlap in judgments, means that this experiment casts doubt on the idea that the dimension of speaker (or writer) certainty is relevant at all in choosing to use the TWBM construction.
In the second experiment, the same scenarios were spoken rather than written, and the TWBM-type punch lines were produced with three different intonations. A somewhat larger set of undergraduates performed as subjects. In this experiment, the average effect of would be on certainty judgments was statistically significant — and positive — though again not large enough to be practically significant: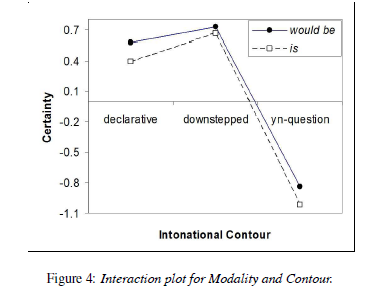 (The "Certainty" scale is in terms of z-scores again.)
There are several problems with experiments of this type. One problem is that a small set of students, typically from a single class, is taken as representative of the entire English-language speech community. Especially in matters like the TWBM construction, where there have apparently been recent changes in usage, it would not be surprising to find regional, generational, class, or ethnic differences. A second problem is that focusing on a single dimension of variation can often create artefactual patterns of judgment — participants need to create and apply, on the spot, a theory about the particular set of variants that they are hearing over and over again, in the particular set of contexts in which they're hearing them, so that the experiment may be testing their category-learning propensities rather than their pre-existing linguistic knowledge. And finally, conscious judgments about when a form would be used, or what it would mean to use it, are often strikingly different from the patterns actually observed in the linguistic behavior of the individuals making the judgments.
For all these reasons, we shouldn't take such experiments to be definitive. Still, I'm going to take this one as tending to support my view that expressing "doubt", ironic or otherwise, is not what the TWBM construction is all about.
But if the TWBM construction is not expressing doubt, what *is* it doing?  In order to address that question, I'll start with the description of would in the Cambridge Grammar of the English Language (which doesn't include any specific discussion of TWBM examples). I'll continue with a small corpus study of would, looking at the distribution of the CGEL categories, and noting the existence of a common usage that seems to have been left out, or at least under-emphasized. And I'll end by observing that the TWBM construction can be seen as a special case of this common use of would.
I won't do any of that today, however — tune in again tomorrow.
---