« previous post | next post »
Gloria Bien sent in this scan of an airsickness bag that she found on Air New Zealand: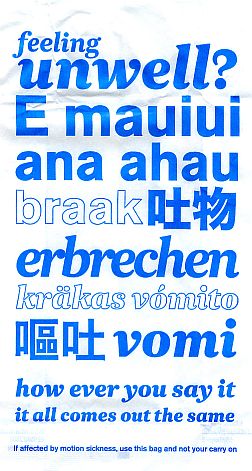 "Feeling unwell" is a very polite way of saying that one is about to retch.
Proceeding on to the second language, it looks Maori to me, but I have trouble with it because I don't know what to make of the "E" at the beginning. Moreover, in a number of dictionaries and Maori Bible translations that I quickly scanned, māuiui seems to mean "labor; sick; ill", and so forth. Perhaps it may also be construed to mean "vomit" as well, but I wonder about that, since in Cook Islands Maori māuiui is defined as "v.i. Stiff, aching, sore and weary after exertion (of the body)." My suspicions deepen when I find that most online Maori dictionaries and other sources translate "vomit" as "ruaki".
Not feeling very confident after that less than successful encounter with the Maori on the bag, I decided to leave the identification of the other languages to Language Log readers, though I think I know about half of them. Two that I'm sure of are Japanese ōto 嘔吐 and Mandarin tùwù 吐物.
It is surprising how many different ways there are to say "vomit". In English, we have:
be sick, spew, heave, retch, gag, get sick, throw up, puke, purge, hurl, barf, upchuck, ralph; regurgitate, bring up, spew up, cough up, lose, throw up, puke, spit up, toss one's cookies
You can find many more here and in the thesaurus section here. Neither of these sources list a favorite synonym for vomit that I learned back in high school: reverse peristalsis.
I wonder if other languages are blessed with so many possibilities for describing this revolting bodily phenomenon.
My colleague, Arthur Waldron, is wont to say "please pass the sick bag" when he confronts something that is particularly nauseating. Perhaps contemplating the Air New Zealand bag and the knowledge that the Air Sickness Bag Virtual Museum has collected 2,522 other unique specimens will make him feel better the next time he has the urge to….
[Thanks to Michael Carr]
---