« previous post | next post »
In today's Get Fuzzy, Bucky's exploration of English compound-noun semantics continues: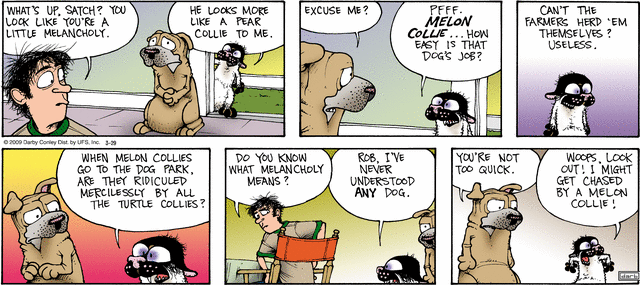 ---
15 Comments
Reminds me of the Birmingham greengrocers' inspired name, Melon Cauli.

Aaron Davies said,

just out of curiosity, did you deliberately misuse the apostrophe since it's a greengrocer, or are you really considering them plural?

Dan Lufkin said,

Comments are off in the Zippy posting above, so I'll have to announce here that Zippy will no longer appear in The Washington Post's paper edition, just on-line. Hell of a note! Gresham's Law at work again.

Is it worth pointing out the allusion to melon farmers? Quick, call Zwicky!

did you deliberately misuse the apostrophe

To me "greengrocers" has always been singular (i.e. for the shop operated by a greengrocer). Maybe it's a regional thing: for example, see Greengrocers opened:

A Borough Green couple are thwarting the credit crunch and supermarket culture by opening a greengrocers in the village's High Street.

PS: Google News – "a greengrocers" – confirms abundantly. I'd never thought about it before.

Robert said,

Melancholy is to do with the four humours, of course, referring to black bile, a body fluid that doesn't seem to exist.

Paul said,

Life, as they say, is butter melon cauliflower.

WindowlessMonad said,

When my daughter was one, we had any number of 2am renditions of 'Come to me, my melon colic baby…'

Terry Hunt said,

"Come to Me, My Melancholy Baby" is, of course, the punchline of a shaggy-dog story involving the escape of Dr Frankenstein's early experiment in gourd-dog hybridisation.

gourd-dog hybridisation

Nasty. If that got into the gene pool it could cause widespread mutation, and we'd be melon-collie too.

Bloix said,

In the US, we don't use the word greengrocer, so we don't have any greengrocers. We do, however, have dry cleaning establishments, which we call "cleaners," singular, as in:

My recommendation for a cleaners? Abe's on Broadway. They are awesome, family-owned, and nice as can be.
http://www.yelp.com/biz/uptown-fabricare-cleaners-portland

And that's the only example I can think of.

Joel said,

Stephen: Yippie-ki-yay, melon farmer.

Merri said,

Speaking of compounds of Greek origin, would you accept the claim that 'diplomatic' comes from Greek :
diplous = folded, bent up, bowing, two-faced
mataizo = to talk at random

The translations of both components are right, but I think the word in fact comes from 'diplomata' = things folded (documents, in order to remain unseen).