« previous post | next post »
Passive voice is a grammatical term whose first use in English, according to the OED, was about 600 years ago:
a1450 (a1397) Prol. Old Test. in Bible (Wycliffite, L.V.) (Cambr. Mm. II. 15) xv. 57 A participle of a present tens either preterit, of actif vois eithir passif, mai be resoluid into a verbe of the same tens and a coniunccioun copulatif.
I haven't been able to find an image of the original passage, but EEBO produces an image of a version published in the 16th century, from p. 122 of John's Purvey's "The true copye of a prolog wrytten about two C. yeres paste by Iohn Wycklife",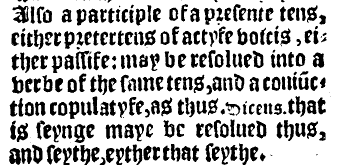 The cited example clearly refers to the grammar of Latin, where the cognate term was passiuus.  Whether in Latin or in English, the meaning of this term, the OED explains, is "Denoting, relating to, or using a voice of a transitive verb in which the subject undergoes the action of the verb".
In English, the passive voice usually consists of an auxiliary (freq. be; occas. also get, become, etc.) plus the past participle of the verb; comparable formations are found in other modern European languages.
In passive constructions, the word which would logically be the object under a corresponding active construction functions as the grammatical subject, while the logical subject either is absent or is represented in a prepositional phrase (e.g. the food was eaten or the food was eaten by them rather than they ate the food).
But despite this long history, I'm afraid that the traditional sense of passive voice has died after a long illness. It has ceased to be; it's expired and gone to meet its maker, kicked the bucket, shuffled off this mortal coil, rung down the curtain and joined the choir invisible. It's an ex-grammatical term.
Its ghost walks in the linguistics literature and in the usage of a few exceptionally old-fashioned intellectuals. For everyone else, what passive voice now means is "construction that is vague as to agency".
We've documented this development in many previous posts. The latest evidence is from Kent Scheidegger, "The Passive Exonerative Voice", 3/11/2009:
I propose a new rule. A person caught in a misdeed should get zero or negative credit for an expression of remorse if expressed in the passive voice.
Baystate Medical Center in Springfield, Mass. has acute pain from its former chief of acute pain, Scott S. Reuben. Keith Winstein and David Armstrong report in the WSJ that the "prominent Massachusetts anesthesiologist allegedly fabricated 21 medical studies that claimed to show benefits from painkillers like Vioxx and Celebrex…." Faking data is the cardinal sin of science.
"Dr. Reuben deeply regrets that this happened," said the doctor's attorney, Ingrid Martin.
Excuse me, Dr. Reuben and Ms. Martin, but how did "this" just "happen"? Did fabricated data grow spontaneously on your flash drive?
"Dr. Reuben deeply regrets that this happened" is certainly an attempt to evade responsibility. But there's no passive voice in sight, in the traditional sense of that term. In particular, the subordinated sentence "this happened" is the active-voice preterite form of the intransitive verb happen. However, in the contemporary sense of "construction that is vague about agency", Ms. Martin is clearly guilty of using the passive voice.
If you've read any of the earlier posts cited above, you will have noticed that we've repeatedly been guilty of ordering this particular linguistic tide to retreat. This was foolish of us. As usual for such gestures, the only effect is to make us feel virtuous and superior in a depressive sort of way. We should know better.
So I'll simply point out to Mr. Scheidegger that he could sharpen up his proposed rule by phrasing it so as to withhold credit for expressions of remorse that fail to accept responsibility, whatever the grammatical structures used.  This will avoid unfairly negative treatment of candid — if passive-voice — expressions of remorse like "I should be held fully responsible for trying to change the way people use the phrase passive voice, and I'm mortified by the realization that I have been so foolish as to suppose that mere informative protest would affect anyone's linguistic behavior". This will also prevent legalistic cavils about whether to give credit to things like Ingrid Martin's active-voice — though evasive — statement that Dr. Scott Reuben "deeply regrets that [fabrication of 21 medical studies] happened".
As an extra — though tiny — benefit to Mr. Scheidegger personally, this modification will also prevent linguists and a few other pedants from feeling depressively superior to him.
---