« previous post | next post »
At the site of ICASSP 2014 to register yesterday evening, this is what I saw: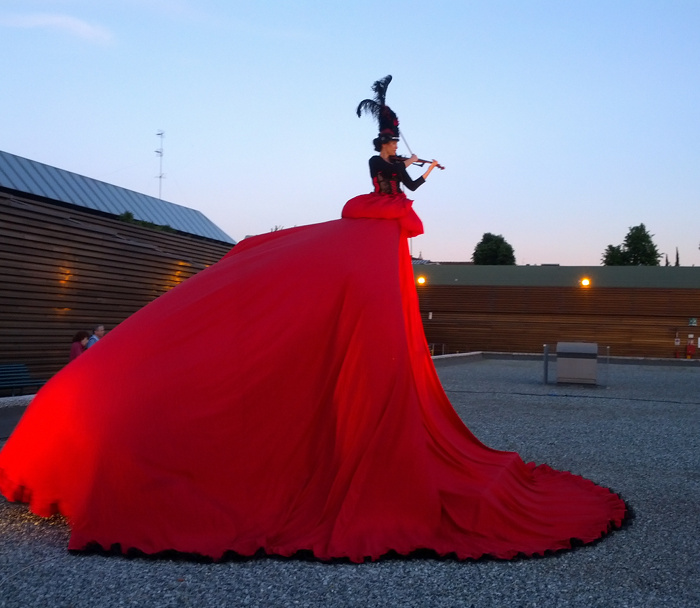 At first I thought she was on stilts, which would have been amazing, but she's standing on a column-like structure. It's still striking.
So far this trip, I've learned two other things worth passing on.
First, changing planes at Frankfurt airport can be kind of like a Nouvelle Vague movie about the endless sterility of modern life.  After we landed, the plane taxied for a half an hour to some remote district of the airport, where we boarded buses for a 20-minute drive to Terminal 2. Then to get to a connecting flight in Terminal 1, I followed the signs through half a dozen long bleak corridors set off from one another at random angles, through passport control, through another batch of long bleak corridors at random angles, through an enormous airport mall, down to a baggage claim area, up to another set of long bleak corridors at random angles, through a security screening, through another enormous airport mall, along another half a dozen long bleak corridors, … 45 minutes of vigorous walking in total. Then we got on a bus and drove for 20 minutes out to another remote district of parked planes.
Since I had 75 minutes between planes, this was perfect from the point of view of time; and after sitting for seven hours across the Atlantic, the exercise was good, though it would have been nice to have had some better views along the way. But the experience was unsettling, since after the first 20 minutes of walking, I wondered whether I might be following the signs around in circles. And I suspect that the first airplane parking lot was just a stone's throw from the last one…
I don't remember previous transfers in Frankfurt being nearly this complex. And everything was on time. Still, I think I might try for other transfer points in the future.
The second thing I learned was that the semantics of English noun-noun compounds is even more elastic than I thought. In a compound [X Y], X can be in almost any semantic relationship to Y, as a few minutes reflection will illustrate. But it had not previously occurred to me that negation might be involved — and in fact it usually isn't. So [X oil] can be oil made from X (safflower oil), or oil used on X (hair oil), but it would be unexpected for [X oil] to mean "oil that doesn't contain any X", or "oil that can't be used on X". So when I chose a hotel in Florence on the basis of proximity to the conference center and also the prominence of the word internet in its advertising, it didn't occur to me that "internet hotel" might mean "hotel where the internet doesn't work"…
The theme is repeated throughout the establishment: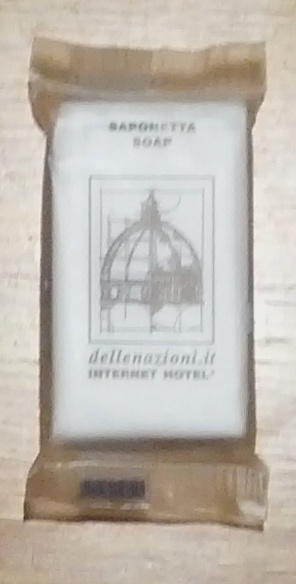 I guess that I should have been wary, as always when someone boasts about a feature that should go without saying. A hotel that tells you proudly that it supplies sheets and running water is communicating something worth paying attention to. (Though working internet access is not yet in the "running water" category in many places…)
Update — for those people who experienced difficulty in seeing the image using Firefox, I believe that this is yet another consequence of the uniformly poor internet access I experienced in Florence. (OK, not "uniformly poor" — it varied between "completely nonfunctional" and "fair", but the median experience was "poor"…)  I attempted to send the picture from the ICASSP conference center. As usual, it took me three or four tries to actually get connected. Then the attempt to transfer the picture timed out twice, without actually sending anything, requiring me to disconnect and reconnect to the local ISP each time. Finally it sort of worked, I thought, but apparently it didn't quite finish the transfer, resulting in odd results for some people. I'm now in London, and have re-sent the picture — I hope it will display in all browsers now.
---