« previous post | next post »
Michael Johnson took this picture in Hong Kong between Queen's Road Central and the escalators: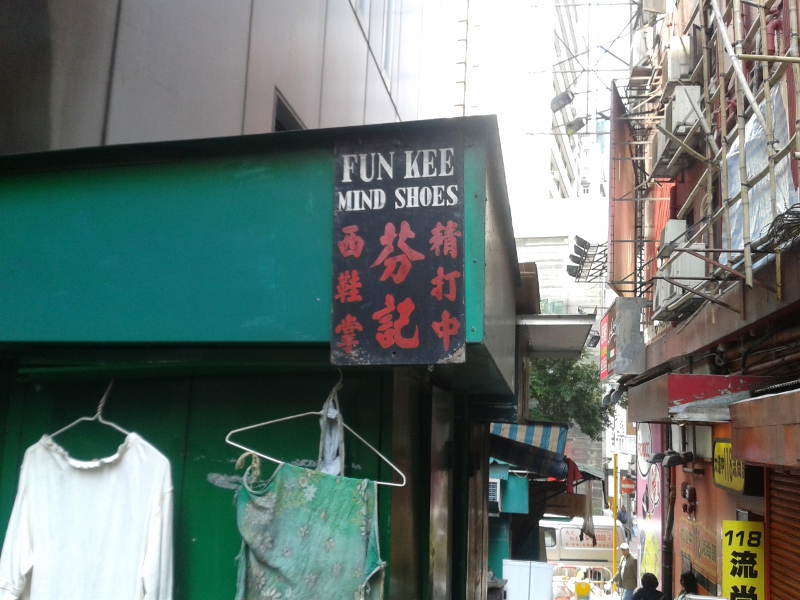 FUN KEE
MIND SHOES
What??? Even when you read the Chinese, it doesn't immediately help appreciably to understand this MIND-boggling sign.
芬記
精打中西鞋掌
Fan1 Gei3
zing1 daa2 Zung1-Sai1 haai4-zoeng2
Expert repair of Chinese and Western shoe heels
Notes:
Fan1 Gei3 芬記 (lit., "fragrant mark / sign / brand") is just the name of this shop, though it doesn't seem to fit the cobbler business particularly well. I note, however, that it appears to be a favorite of small establishments in the Hong Kong-Macao area.
The first character on the right side of the sign is probably 精, though not clearly written. It means "proficient; skilled; fine; refined", etc.
The last two characters on the left side are haai4-zoeng2 鞋掌. Normally that would mean "shoe heel; heelpiece; heeltap", and this shop undoubtedly specializes in fixing heels, but may also work on soles, etc.
Now comes the big question: what in the world does "mind shoes" mean? Shoes for the mind? A couple of my correspondents who are native speakers of Hong Kong Cantonese and Hong Kong English thought that it might signify "attend to" or "take care of", hence "mind your shoes". Having spent a lot of time in Hong Kong, the first thing that crossed my mind, so to speak, was "mind the gap" (where "mind" means "pay attention to"), which is printed on the floor at the entrances to subway and train cars. (In Philadelphia, the train stations have "watch the gap" instead.) But that doesn't really make sense in this context.
Finally, when I wasn't even thinking about the problem, it came to me all of a sudden: "mind" = "mend"! This Fun Kee shop mends shoes.
[Thanks to Stephan Stiller, Abraham Chan, and Mandy Chan]
---