« previous post | next post »
Calvin Men, "Police investigate Santa Cruz pedestrian's death", Santa Cruz Sentinel 4/4/2014:
A 49-year-old Santa Cruz man died late Thursday night while crossing Mission Street after being struck by a car.
G.A., who sent me the link, added "Pretty plucky of him to cross the street after he had been hit, I thought".
The Stanford parser similarly embeds "after being struck by a car" inside "while crossing Mission Street" (and the Berkeley parser does too):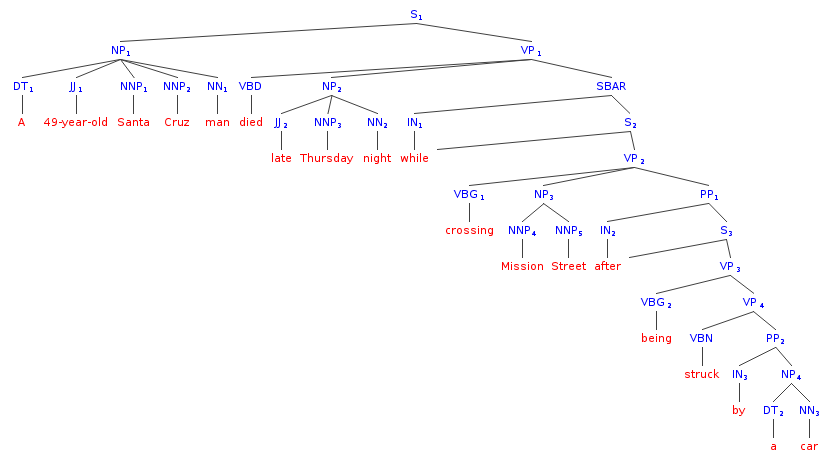 The attachment of phrase-final modifiers in English is notoriously hard for parsers, but in this case the odds are against the writer of the Sentinel's lede, who needs us to understand somehow that the unfortunate pedestrian [[died after being struck by a car] while crossing Mission Street], not  that he [died while [crossing Mission Street [after being struck by a car]]].
This might seen to be impossible given the order of the while and after clauses, but out of nine examples in COCA with a similar structure, one does imply attaching "after VERBing" at the level of the matrix verb phrase, in parallel with "while VERBing", permitting a pragmatically coherent reading:
Peter L. Picknelly, who built Peter Pan Bus Lines into the nation's largest privately owned and operated bus company, died Monday while vacationing in Portugal after suffering an apparent stroke, a company spokeswoman said.
I don't have any problem with the temporal logic of Mr. Picknelly's demise, which clearly involves suffering a stroke while vacationing in Portugal, not vacationing in Portugal after suffering a stroke. But still, for some reason, I'm unable to construe the sentence about the Santa Cruz pedestrian except in the way implied by G.A.'s somewhat callous quip. Maybe I've just been primed.
The obligatory screen shot: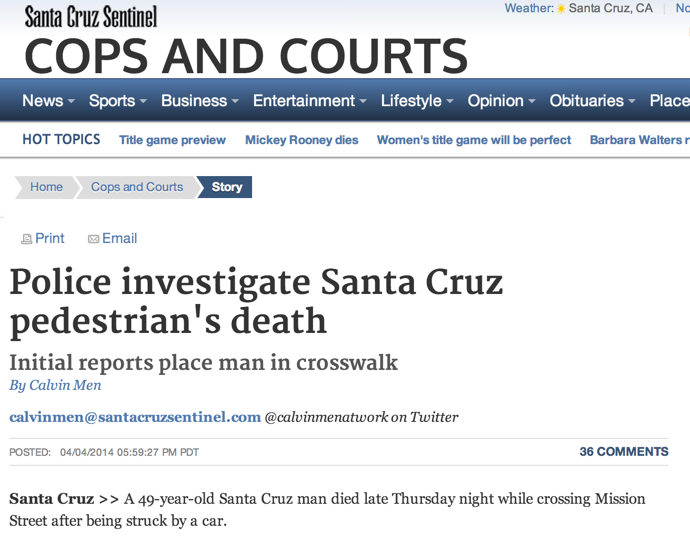 ---