« previous post | next post »
From Fangyi Cheng: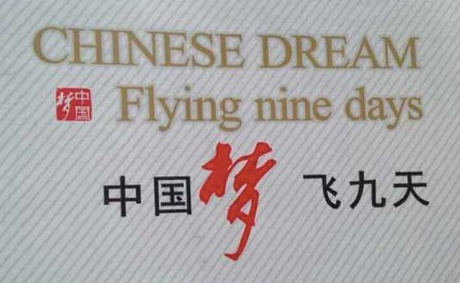 Zhōngguó mèng fēi jiǔtiān 中国梦飞九天
("China's Dream soars beyond the highest heaven")
The Chinglish translation on the sign is from Baidu Fanyi or Bing Translator.
tiān 天 has a multiplicity of meanings: day, sky, heaven(s), God. weather, nature, season, celestial, overhead.
Here jiǔtiān 九天 means not "nine days", but "the Ninth Heaven; the highest of heavens; the empyrean".
In the context of the PRC space program, tiān 天 may be thought of as "skies" or even "outer space".
Thus, "The Chinese dream (or: China's dream) soars into (or: beyond) the skies (or: into outer space)."
Other possibilities: "China's dream soars beyond the skies / heavens / highest heaven / empyrean."
[Thanks to Pan Da'an and John Rohsenow]
---