« previous post | next post »
Today's Pearls Before Swine: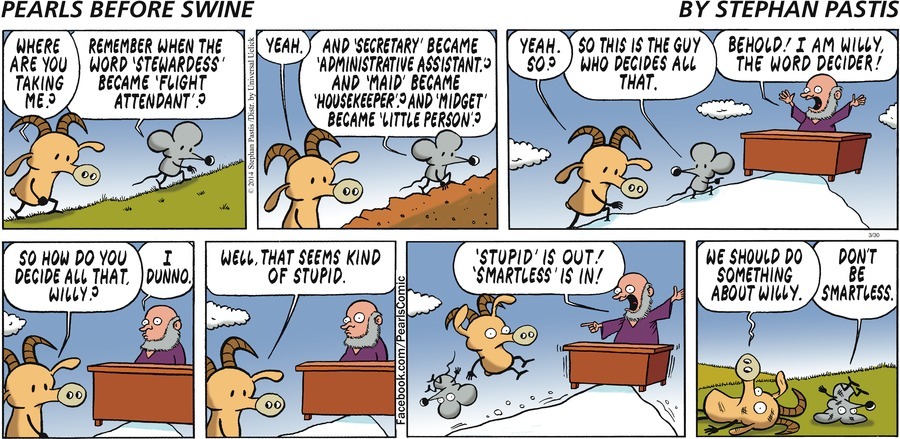 The treatment of words for "stupid" has a been a serious problem for at least two millennia, as discussed here ten years ago ("The S-word and the F-word", 6/12/2004).
It's interesting that three of the strip's four initial examples involve words for stereotypically female jobs. It's true that this has been a major source of term-replacement candidates in recent decades, but there are plenty of examples on the other side of the gender ledger, like "garbageman" to "sanitary engineer", and also plenty of essentially ungendered examples, like "personnel" to "human resources".
An interesting community-specific euphemism is "neurotypical" for "normal".  The OED defines neurotypical as "Neurologically typical; spec. exhibiting ordinary, as opposed to autistic, thinking and behaviour". The earliest citations are
1994 Clarification in bit.listserv.autism (Usenet newsgroup) 5 Dec., This goes for a neurotypical child, as well as an autistic child.
1996   Re: TS: Disorder of Disinhibition & Overcontrol? (Part 1) in alt.support.tourette (Usenet newsgroup) 12 Apr.,   The autistics speak about 'Neurotypicals' being a totally alien culture.
I was able to antedate those references slightly with a quick Google Books search, which yielded this example from Toni Flowers, Reaching the Child with Autism Through Art, 1992: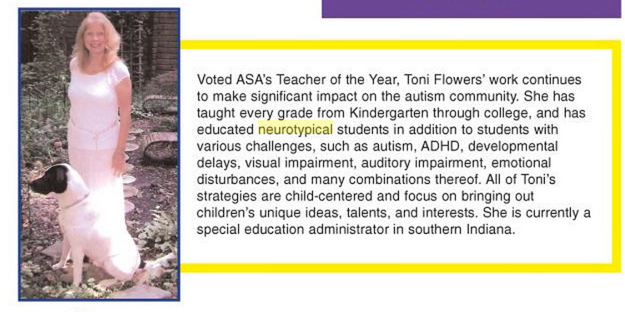 This example suggests that the term was already in common use as of 1992, so others will no doubt be able to find substantially earlier citations.
Wikipedia says that
Neurotypical (NT) is a term coined in the autistic community as a label for people who are not on the autism spectrum. The term eventually became used for anyone who does not have atypical neurology, however, in other words, anyone who does not have autism, dyslexia, developmental coordination disorder, bipolar disorder, or ADD/ADHD. The term has been replaced by some with "allistic", which has the same meaning as "neurotypical" did originally. The concept was later adopted by both the neurodiversity movement and the scientific community.
The National Autistic Society's page on How to Talk about Autism puts normal in its "Don't say" column, with the corresponding entry in the "Do say" column being
neurotypical (Note: This term is only used within the autism community so may not be applicable in, for example, the popular press.)
The same page also suggests that "normally developing children" should be replaced by "typically developing children", reinforcing the idea that normal is a word to be avoided as far as this community is concerned.
It's plausible that at some point in the future, the connotations and implications of  typical might lead to it being rejected as well — and here's one mild example of such an argument: Savannah Logsdon-Breakstone, "Autistic, Allistic, Neurodiverse, and Neurotypical: Say what?", 4/13/2013.
[I should make it clear that I support these terminological substitutions in many cases. One of the benefits is to bring up for discussion the connotations of the terms at issue, and therefore a larger set of related issues. It's also worth noting that the changing linguistic norms of this kind serve as a signal of community membership, just as other sorts of culture do — and the people who object to "political correctness" have their own shibboleths.]
---