« previous post | next post »
"Exclusive Interview at Wazobia FM 95.1FM With Lolo 1 and the United States Ambassador to Nigeria", 1/30/2014:
NPR's Weekend Edition covered this interview a couple of days ago: "U.S. Ambassador Speaks Pidgin English; Nigerians Love It", 3/15/2014.
Wazobia FM is the first Nigerian media outlet to broadcast in Pidgin English, also (according to Ethnologue) known as "Broken English, Brokin, Brokun, Nigerian Creole English, Nigerian Pidgin English", described as "A creole with native speakers; also a pidgin between Africans and Europeans, and Africans from different languages".
Ethnologue classifies it as one of five "Krio" languages of West Africa: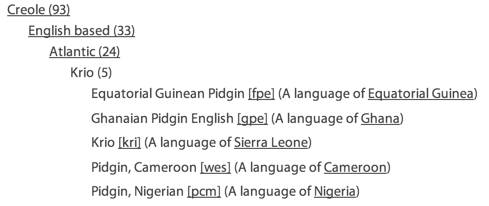 OLAC's list of resources doesn't have a lot of content to offer — the Wikipedia article actually does a better job,  even though many of the external links are dead. The live ones include a reference to the Pidgin English School on YouTube, and a draft of Roger Blench's Dictionary of Nigerian English.
---