« previous post | next post »
Last Sunday's Get Fuzzy: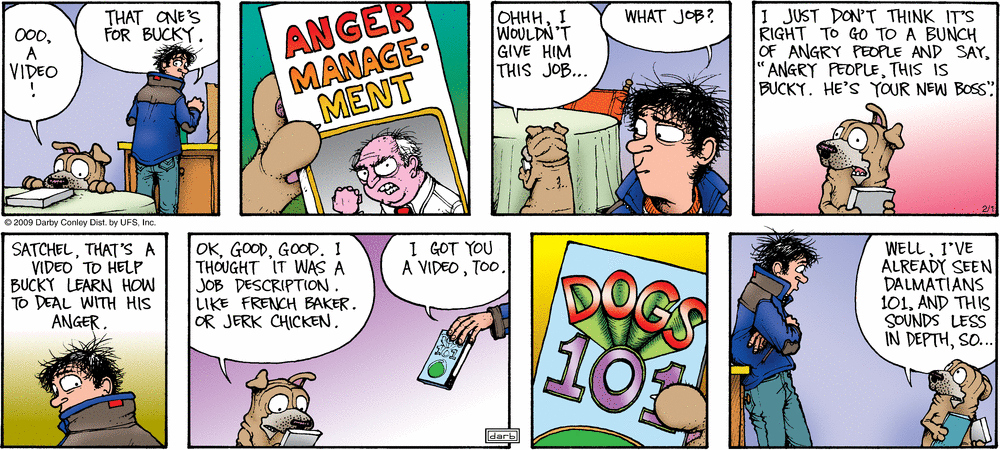 As we've often observed, the semantic relationship between the elements of English complex nominals is very variable — consider for example olive oil, hair oil, and midnight oil. But my intuition, FWIW, says that "anger management" can't mean "management of angry people" — and not just because the phrase is already taken for another meaning. (Of course Satchel, who thinks that "jerk chicken" is a job description, is an amusingly unreliable lexicographer.)
Meanwhile, in other nominal news from unreliable sources, Daniel Schaefer in the Financial Times recently warned us about a German compound noun bubble ("The German language goes long"):
At first glance, Germany has avoided the sort of bubbles that have burst elsewhere. There was no house price inflation in a country lacking homeowners. Neither did the nation of savers have a decent credit bubble.
But beware. A dangerous bubble is taking over a country famed for its steadiness. The financial crisis and the notorious German Angst have combined to form an explosive boom: in compound nouns.
This verbal euphoria appears innocent when it comes to words such as Rettungsschirm ("rescue umbrella"), Rettungspaket ("rescue package") or Kapitalspritze ("capital injection"). But it takes on ear-bursting brutality with words such as Abwrackprämie ("scrap premium") – recently offered for trading in old cars to stimulate the automobile industry.
More worryingly, this passion for joining up nouns, albeit unlikely to spread around the world as fast as a subprime mortgage bond, is growing quickly in Germany.

Schaefer's premise is, of course, a silly excuse to poke fun at Germanic compounding, and in particular the German spelling convention of writing many compounds without hyphens or spaces, which people have been finding funny at least since Mark Twain's 1880 essay "The Awful German Language":
In my note-book I find this entry:
July 1.–In the hospital yesterday, a word of thirteen syllables was successfully removed from a patient–a North German from near Hamburg; but as most unfortunately the surgeons had opened him in the wrong place, under the impression that he contained a panorama, he died. The sad event has cast a gloom over the whole community.
That paragraph furnishes a text for a few remarks about one of the most curious and notable features of my subject–the length of German words. Some German words are so long that they have a perspective. Observe these examples:
Freundschaftsbezeigungen.
Dilettantenaufdringlichkeiten.
Stadtverordnetenversammlungen.
These things are not words, they are alphabetical processions. And they are not rare; one can open a German newspaper at any time and see them marching majestically across the page–and if he has any imagination he can see the banners and hear the music, too. They impart a martial thrill to the meekest subject. I take a great interest in these curiosities. Whenever I come across a good one, I stuff it and put it in my museum. In this way I have made quite a valuable collection. When I get duplicates, I exchange with other collectors, and thus increase the variety of my stock. Here are some specimens which I lately bought at an auction sale of the effects of a bankrupt bric-a-brac hunter:
Generalstaatsverordnetenversammlungen.
Alterthumswissenschaften.
Kinderbewahrungsanstalten.
Unabhaengigkeitserklaerungen.
Wiedererstellungbestrebungen.
Waffenstillstandsunterhandlungen.
Of course when one of these grand mountain ranges goes stretching across the printed page, it adorns and ennobles that literary landscape–but at the same time it is a great distress to the new student, for it blocks up his way; he cannot crawl under it, or climb over it, or tunnel through it. So he resorts to the dictionary for help, but there is no help there. The dictionary must draw the line somewhere–so it leaves this sort of words out. And it is right, because these long things are hardly legitimate words, but are rather combinations of words, and the inventor of them ought to have been killed. They are compound words with the hyphens left out. The various words used in building them are in the dictionary, but in a very scattered condition; so you can hunt the materials out, one by one, and get at the meaning at last, but it is a tedious and harassing business. I have tried this process upon some of the above examples. "Freundshaftsbezeigungen" seems to be "Friendship demonstrations," which is only a foolish and clumsy way of saying "demonstrations of friendship." "Unabhaengigkeitserklaerungen" seems to be "Independencedeclarations," which is no improvement upon "Declarations of Independence," so far as I can see. "Generalstaatsverordnetenversammlungen" seems to be "General-statesrepresentativesmeetings," as nearly as I can get at it–a mere rhythmical, gushy euphuism for "meetings of the legislature," I judge. We used to have a good deal of this sort of crime in our literature, but it has gone out now. We used to speak of a things as a "never-to-be-forgotten" circumstance, instead of cramping it into the simple and sufficient word "memorable" and then going calmly about our business as if nothing had happened. In those days we were not content to embalm the thing and bury it decently, we wanted to build a monument over it.
As Twain points out, the German morphology, syntax, and sylistics of compounding — relative to English — go beyond mere omission of hyphens and spaces:
But in our newspapers the compounding-disease lingers a little to the present day, but with the hyphens left out, in the German fashion. This is the shape it takes: instead of saying "Mr. Simmons, clerk of the county and district courts, was in town yesterday," the new form put it thus: "Clerk of the County and District Courts Simmons was in town yesterday." This saves neither time nor ink, and has an awkward sound besides. One often sees a remark like this in our papers: "MRS. Assistant District Attorney Johnson returned to her city residence yesterday for the season." That is a case of really unjustifiable compounding; because it not only saves no time or trouble, but confers a title on Mrs. Johnson which she has no right to. But these little instances are trifles indeed, contrasted with the ponderous and dismal German system of piling jumbled compounds together. I wish to submit the following local item, from a Mannheim journal, by way of illustration:
"In the daybeforeyesterdayshortlyaftereleveno'clock Night, the inthistownstandingtavern called 'The Wagoner' was downburnt. When the fire to the onthedownburninghouseresting Stork's Nest reached, flew the parent Storks away. But when the bytheraging, firesurrounded Nest ITSELF caught Fire, straightway plunged the quickreturning Mother-Stork into the Flames and died, her Wings over her young ones outspread."
Even the cumbersome German construction is not able to take the pathos out of that picture–indeed, it somehow seems to strengthen it. This item is dated away back yonder months ago. I could have used it sooner, but I was waiting to hear from the Father-stork. I am still waiting.
Anyhow, I'm afraid that Schaefer has not improved on Twain, even in respect to an alleged compound-length record:
German wordsmiths have long contemplated ways of constructing ever larger compound nouns. A high point came with the coming of Donaudampfschifffahrtskapitän ("Danube steam ship captain"), widely presumed to be the longest compound noun on record.
But Schaefer's Donaudampfschifffahrtskapitän is a paltry 29 letters (or, I think, 28 after the spelling reform). Twain's Generalstaatsverordnetenversammlungen is 37 letters. A small internet search turns up Fernsprecherteilnehmerverzeichnis, Einhandmotorkettensägenführerlehrgangsteilnahmebestätigung, and a BBC article citing a compound of either 79 or 80 letters, depending on how you count.
The premise of Schaefer's joke — that "this passion for joining up nouns" is "growing quickly in Germany", in a way that's analogous to the housing bubble elsewhere in the world — is too feeble to bother debunking. Still, if I could find a German morph analyzer that did a decent job of detecting compound words, I'd try a quick test of the hypothesis that there's been a recent increase in the number, size or novelty of compound nouns in German texts, just for fun. Who knows, maybe there's really a change in one direction or the other?
---