« previous post | next post »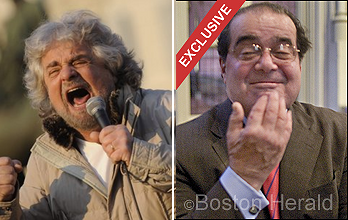 Victor Steinbok sends in an example of pan-European taboo avoidance at the BBC ("Profile: Beppe Grillo", BBC News Europe 2/26/2013):
Time magazine chose him as a "European Hero" that year, saying he used "over-the-top humour to probe the serious social issues that leaders don't want to touch".  
In 2007 he organised "V-Day" – the V stands for a well-known Italian obscenity – when a petition demanding clean politics in Italy gathered 300,000 signatures in the space of a few hours.
I wonder what fraction of the BBC's readership knows the "well-known Italian obscenity" that Auntie avoids mentioning? Anyhow, as discussed in an earlier post ("Everything is too appropriate these days", 4/5/2006), Associate Justice Antonin Scalia certainly knows this word, and is not afraid using it:
[Peter] Smith was working as a freelance photographer for the Boston archdiocese's weekly newspaper at a special Mass for lawyers Sunday when a Herald reporter asked the justice how he responds to critics who might question his impartiality as a judge given his public worship.  
"The judge paused for a second, then looked directly into my lens and said, 'To my critics, I say, 'Vaffanculo,' " punctuating the comment by flicking his right hand out from under his chin, Smith said.
 The Wiktionary entry for vaffanculo gives the etymology as
Contraction of "vai a fare in culo"; literally: "go to do it in the ass".
and glosses it as "(vulgar, slang) Fuck off! Get lost!"
---