« previous post | next post »
Heidi and I both posted recently about the job market in linguistics (my post, and her collaborative post with Shannon Bischoff). There was some discussion in the comments about whether the numbers were truly comparable and whether we should base conclusions on just one year of data. This post attempts to make amends, as it were, by setting Linguist List job data from the last five years alongside the Proquest dissertation data that Shannon collected:
Update (2009-06-09): See this post for arguably more accurate counts for dissertations.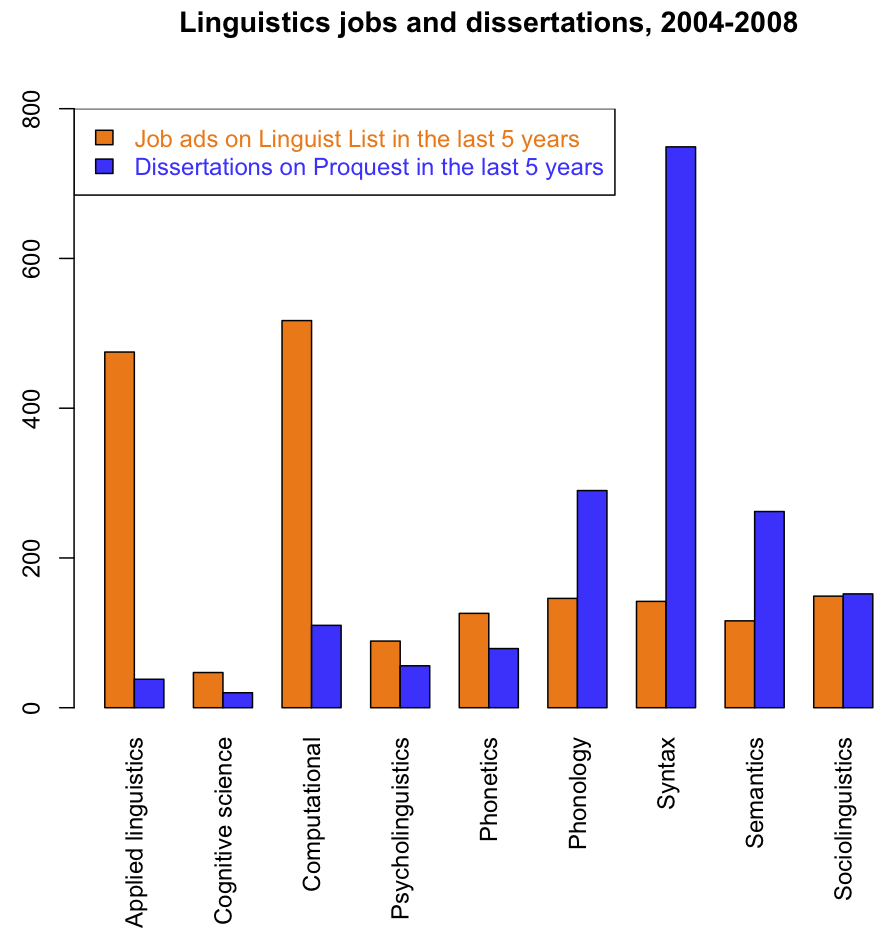 A few comments:
For syntax, phonology, and semantics, the disparity between the number of dissertations and the number of jobs is somewhat troubling, but we should not read it as an indication that these fields are hopeless to get into. Rather, it suggests that such students would do well to combine their work with experimental or computational research, to put themselves in the running for a wider range of jobs. This interdisciplinary approach is likely to produce stronger research too!
For the leftmost three fields, the disparity runs in the opposite direction, making them look like paradise for new graduates. This could be misleading, though. If Proquest encourages more specific categorization for these very general fields, then that could drastically affect the counts we have.
The orange and blue bars are close for a number of fields. My take on this: those fields don't have enough researchers. Increased competition might do them good.
Here are the numbers:
| Field | Jobs ads | Dissertations | Ratio of ads to dissertations |
| --- | --- | --- | --- |
| Applied linguistics | 475 | 38 | 12.5 : 1 |
| Cognitive science | 47 | 20 | 2.35 : 1 |
| Computational | 517 | 110 | 4.7 : 1 |
| Psycholinguistics | 89 | 56 | 1.6 : 1 |
| Phonetics | 126 | 79 | 1.6 : 1 |
| Phonology | 146 | 290 | 0.5 : 1 |
| Syntax | 142 | 749 | 0.2 : 1 |
| Semantics | 116 | 262 | 0.4 : 1 |
| Sociolinguistics | 149 | 152 | 1 : 1 |
---