« previous post | next post »
Robert Browning never had to apologize for his mistake, and no one asked him to resign. But he made it in a poem, and this was all before Twitter was invented, and he wasn't an American politician. (See "Twat v. Browning", 1/19/2005, for details.) Bob FitzSimmons, Virginia GOP treasurer, wasn't so lucky: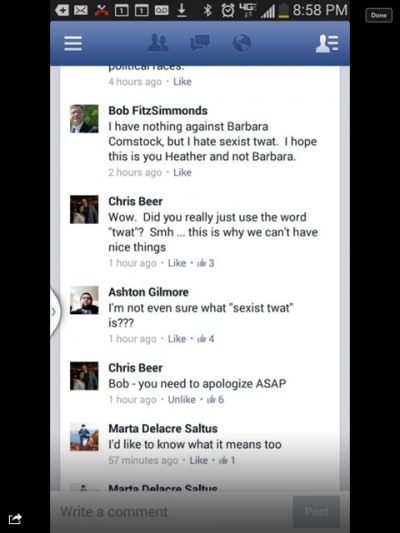 Julian Walker explains ("Update: Va. GOP official apologizes for genital slang 'error'", Pilot Online 2/2014):
In an email, Bob FitzSimmonds said he thought the word he used had the same meaning as "twaddle," which is defined as foolish speech.
"The minute I found out my error, I deleted the post and apologized," he told Pilot on Politics. "I don't use that kind of language."
"Also to be clear, " he added, "my post was not about Barbara Comstock. It was relating to the sexist stereotypes being used by the woman posting."
Hanover County Del. Chris Peace is asking Virginia GOP leadership to make FitzSimmonds resign his party post and to censure him for his comments, according to a draft of a letter obtained by The Pilot.
Peace's letter calls FitzSimmonds' remarks "disgusting and highly offensive," degrading to women, and "unbecoming of a party official."
"His public comments do not represent my values nor the party I represent," the letter adds.
 The OED's etymology for twattle suggests that people have been fiddling with its consonants and vowels for half a millennium or more, though the deletion of the final -le is apparently new:
The verb and noun (known in 1573 and a1639 respectively) were perhaps altered < tattle n.; the earliest appearance of twattle yet recorded being in the reduplicated twittle-twattle n. (1556), apparently < tittle-tattle n. (evidenced a1529).
The group of words tittle, tittle-tattle, twittle, twattle, twittle-twattle, and twaddle, being primarily colloquial and largely echoic, is probably far from fully represented in written remains, so that dated evidence for the chronological order of these shows many lacunæ; the important data are that tittle, to whisper, is known from 1399, and tattle (in tattler) from c1450, and that tittle-tattle, twittle-twattle, twattle, and twaddle, and their derivatives, appear successively later. No reason for the suggested change of tattle to twattle has been found, but the passage of twattle into twaddle seems certain.
 And maybe no one asked Browning to resign, but the OED did put his mistake into its entry for twat, right up at the top — a slower but more durable rebuke:
Erroneously used (after quot. 1660) by Browning Pippa Passes iv. ii. 96 under the impression that it denoted some part of a nun's attire.
---