« previous post | next post »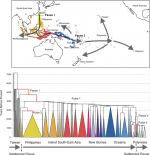 Published today: R. D. Gray, A. J. Drummond, and S. J. Greenhill, "Language Phylogenies Reveal Expansion Pulses and Pauses in Pacific Settlement", Science 323(5913):479:483, 23 January 2009. The abstract:
Debates about human prehistory often center on the role that population expansions play in shaping biological and cultural diversity. Hypotheses on the origin of the Austronesian settlers of the Pacific are divided between a recent "pulse-pause" expansion from Taiwan and an older "slow-boat" diffusion from Wallacea. We used lexical data and Bayesian phylogenetic methods to construct a phylogeny of 400 languages. In agreement with the pulse-pause scenario, the language trees place the Austronesian origin in Taiwan approximately 5230 years ago and reveal a series of settlement pauses and expansion pulses linked to technological and social innovations. These results are robust to assumptions about the rooting and calibration of the trees and demonstrate the combined power of linguistic scholarship, database technologies, and computational phylogenetic methods for resolving questions about human prehistory.
An unusually clear explanation of the project, along with a great deal of background information, is available on the web here.

This work follows up on a preliminary study published in 2000 (R.D. Gray and F.M. Jordan, "Language trees support the express-train sequence of Austronesian expansion", Nature 405:1052-1055), as well as earlier work on Indo-European (Russell Gray and Quentin Anderson, "Language Tree Divergence Times Support the Anatolian Theory of Indo-European Origin", Nature 426: 435-439, 2003).
A complete list of publications on related matters from Gray's lab is here. An especially interesting recent paper discusses the web-accessible database that underlies today's Science paper: S.J. Greenhill, R. Blust, and R.D. Gray, "The Austronesian Basic Vocabulary Database: From Bioinformatics to Lexomics", Evolutionary Bioinformatics 4:271-283, 2008. The abstract:
Phylogenetic methods have revolutionised evolutionary biology and have recently been applied to studies of linguistic and cultural evolution. However, the basic comparative data on the languages of the world required for these analyses is often widely dispersed in hard to obtain sources. Here we outline how our Austronesian Basic Vocabulary Database (ABVD) helps remedy this situation by collating wordlists from over 500 languages into one web-accessible database. We describe the technology underlying the ABVD and discuss the benefits that an evolutionary bioinformatic approach can provide. These include facilitating computational comparative linguistic research, answering questions about human prehistory, enabling syntheses with genetic data, and safe-guarding fragile linguistic information.
LL discussions of the 2003 work include "Dating Indo-European" 12/10/2003; "Glottochronology revisted, very carefully" 4/25/2004; "More on Gray and Atkinson" 4/28/2004; "Gray and Atkinson – Use of binary characters".
More on all this later — meanwhile, there are plenty of links here to enjoy! I'm leaving comments open, but I'd like to urge people to read about the work before sounding off.
---