« previous post | next post »
Eric Zorn, "The 'gubernatorial' war", Chicago Tribune 2/12/2014:
Does your eye stop and and stumble, as mine does, on such phrases as "the four Republican governor candidates"? Or "Governor candidate Bill Brady"?  
If so, you are a fellow casualty of the war on the word "gubernatorial," an admittedly odd, Latinate word that every four years I feel duty bound to remind readers comes from the Latin verb "gubernare" means to steer or lead.  
Consistency would demand that the state leader be the gubernor, not governor (from the Old French "governer"), or that we refer to the "governatorial race," but we don't.  
Instead we are adopting "governor candidate" and even — horrors! — "governor race" ("governor's race" seems OK, though) in order to avoid the goober.
In an unusual and praiseworthy move, Zorn supplements his lexical plaint with some data from  Chicago newspapers. See his column for more detail, but here's a representative table of story counts from the Chicago Tribune in recent election years:
| | | |
| --- | --- | --- |
| YEAR | gubernatorial | governor candidate |
| 1998 | 616 | 2 |
| 2002 | 383 | 7 |
| 2006 | 216 | 35 |
| 2010 | 184 | 61 |
But this leaves me with a new question. Sure, "gubernatorial" has declined by 432 stories, and "governor candidate" has increased by 59 stories — but what happened to gubernatorial's other 373 lost stories? Did "candidate for governor" and other other phrases pick up the slack? Or is the Trib just less interested in the office of the governor? Or just publishing fewer stories altogether?
Gubernatorial is part of a larger system of -ial forms, whose fortunes seems to be varied, at least judging by Google Ngrams evidence. Presidential is thriving:

Senatorial saw boom times in the 1950s and 1960s, and still holds its own against the alternatives (though all of them seem to have declined in ngrammatical wordshare):



Judicial is holding steady: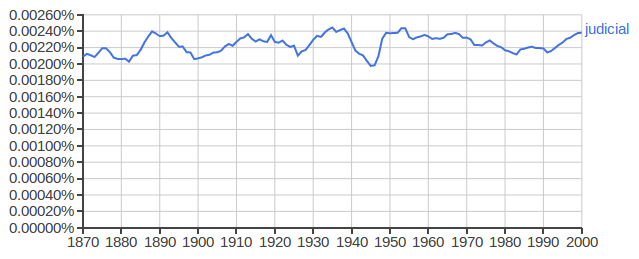 And congressional, though not quite the same derivational pattern, seems to be prospering:


Gubernatorial, by this metric, has not declined nearly as much as "candidate for governor", and is still holding its own — the biggest historical change was not its fall (from 1967 to 1987) but its rise (through the 20th century to 1967):


This plot shows gubernatorial candidate holding steady over the period where Zorn's tables show gubernatorial falling. Is this a difference between books and newspapers? Between the Chicago Tribune and the rest of the world?
I'm not sure — but story counts from the New York Times suggests that Zorn's Chicago counts may not be representative of the journalistic world at large, and in any case omit the 800-pound gorilla of candidate-for-governor phraseology, "candidate for governor":
| | | | |
| --- | --- | --- | --- |
| YEAR | gubernatorial candidate | governor candidate | candidate for governor |
| 1998 | 53 | 1 | 374 |
| 2002 | 27 | 3 | 1360 |
| 2006 | 57 | 8 | 9910 |
| 2010 | 108 | 6 | 1500 |
More evidence for surprising differentiation in local linguistic culture, I guess…
---