« previous post | next post »
"EU rules 'mean children can't get life-saving cancer drugs'", Euractive 2/11/2014. Death panels in the Nanny State? As Ali G said to Sir Rhodes Boyson, "Wikkid, man."

Of course, this is not actually a misguided attempt to teach good manners in extremis, but rather an instance of lexical ambiguity in headlines.
Screen shot: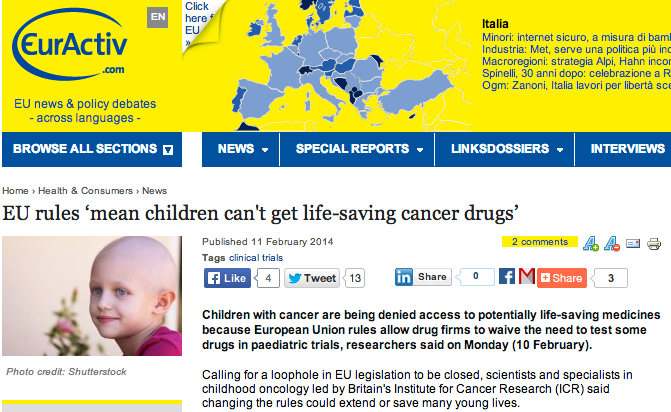 [Tip of the hat to David Donnell]
Update — It occurs to me that there may still be a UK/US difference in the strength of the sense of the adjective mean that the OED glosses as " Of a person, a person's actions, etc.: disobliging, uncooperative; unpleasant, unkind; vicious, cruel", and calls "colloq. (orig. U.S.)". If so, this would make the "deny drugs to mean children" interpretation more accessible to Americans than to Brits.
The sequence "mean children" specifically occurs 19 times in COCA, and three of these are the "unpleasant, unkind, vicious, cruel" sense, with mean being a verb in the other cases. There are 6 instances of "mean children" in the BNC, and all of them have verbal mean. This is suggestive but not statistically reliable.
COCA has 195 instances of "mean people", of which 30 are adjectival (all with the "unpleasant, unkind, vicious, cruel" sense). BNC has 74 instances of "mean people", all of which are verbal mean. By Fisher's Exact Test (two-tailed), the null hypothesis (that both outcomes reflect the same underlying process) has probability less than .0001. (The method of inter-ocular trauma gives the same result in this case…)
Q.E.D.
---