« previous post | next post »
In the New Yorker for February 10, 2014, a poem by Anne Carson: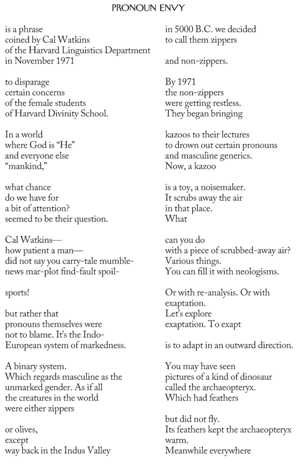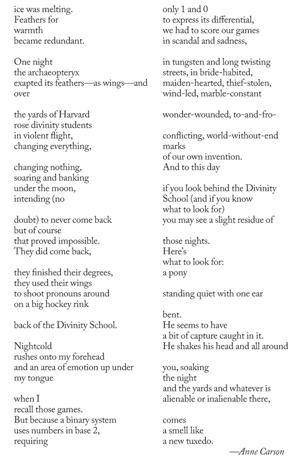 It's nice to see Cal Watkins in a poem, since he contributed so much to the study of Indo-European poetics. And according to Ian Rae's article on Anne Carson in The Literary Encyclopedia, "Despite her success as a poet, Carson maintains that the study of ancient Greek culture is her main life's work."
The poem offers first-person memories of hockey games where Harvard divinity students
used their wings
to shoot pronouns around
on a big hockey rink
back of the Divinity School.
Nightcold
rushes onto my forehead
and an area of emotion up under
my tongue
when I
recall those games.
It's not clear whether this is purely poetic imagination, or the residue of a couple of years that Carson took off between matriculating at the University of Toronto in 1968 and graduating in 1974:
Initially […] Carson was frustrated with the compulsory courses required to complete an undergraduate arts degree – in particular the study of Milton – and she dropped out after first year. She returned to university a year later, but dropped out again after second year. Perhaps inspired by the pragmatic values of her ancestor Egerton Ryerson (the 19th-century Ontario educator for whom Ryerson Polytechnical University is named), Carson attended commercial art school for one year. However, she grew tired of designing cereal boxes and returned to the University of Toronto, where she completed her Bachelor's degree in 1974.   [Ian Rae, "Anne Carson", The Literary Encyclopedia]
I suspect that it's poetic imagination, because I'm having trouble placing a real-world hockey rink "back of the Divinity School". I was far away from Cambridge in 1971, but I don't think things changed all that much after 1969, when I was drafted, or before 1972, when I started grad school.  Then again, I never spent much time back of the Divinity School. And I never saw the pony either
standing quiet with one ear
bent.
---