« previous post | next post »
Yuval Pinter writes:
When an English speaker doesn't understand a word one says, it's "Greek to me". When a Hebrew speaker encounters this difficulty, it "sounds like Chinese". I've been told the Korean equivalent is "sounds like Hebrew".
Has there been a study of this phrase phenomenon, relating different languages on some kind of Directed Graph?
Well, there's a Wikipedia article on the topic "Greek to me" with a table of correspondences, a page at Omniglot "It's all Greek to me" with a similar table, and a forum thread at wordreference.com. Michael Quinion has a Q&A on the origins of the English expression, which includes the suggestion that the Spanish-American word gringo comes from the expression "hablar en griego".
And here's (some of) the information in the Wikipedia and Omniglot tables, presented as a directed graph courtesy of graphviz: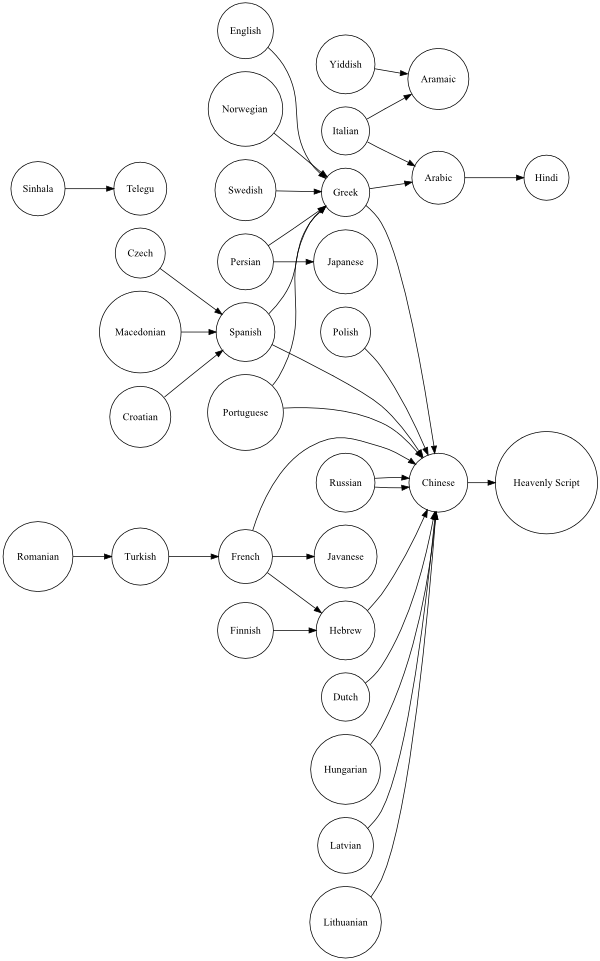 (Click for a larger version — depending on your screen resolution, you may need to right-click >> "View image" to see a readable 600×961 version.)
But I couldn't find any serious scholarly study of this interesting topic.
[Update: I've added to the graph, based on the work cited in the comments below — Arnold Rosenberg, The Hardest Natural Languages, Lingvisticae Investigationes, III:2, pp. 323-339, 1979. The result in .png form is here; the DOT file used to create it is here. Again, unless you have a very high-resolution screen, you'll probably have to use the right-click >> "View image" trick to see a large enough version. ]

---