« previous post | next post »
I was struck by a linguistic aspect of the picture accompanying Ellen Barry's NYT article, "Latvia Is Shaken by Riots Over Its Weak Economy", 1/14/2009: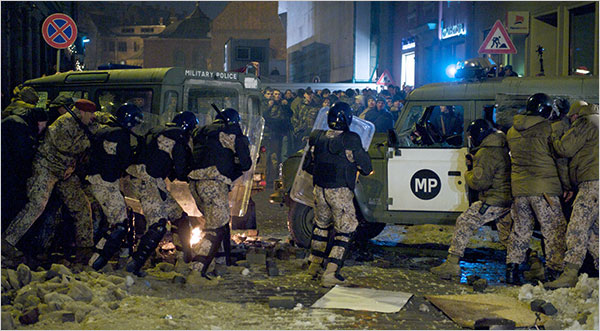 The vehicle visible in the left center of the picture is labelled, in English, "MILITARY POLICE". I wonder about this history of this inscription.
The article contains another irrelevant but familiar linguistic note — an opposition politician, quoted at length in the article, is a linguist, Krišjānis Kariņš, who got his PhD from Penn in 1996. I was his dissertation advisor.
Krisjanis Karins, a member of Parliament and former leader of the opposition New Era party, said the violence showed that financial woes had injected a new vehemence into old political complaints.
Protests in Latvia, he said, tended to follow a pattern of "standing, singing and just going home," but the young protesters who showed up on Tuesday evening "seem to think the Greek or French way of expressing anger is better," he said.
"In our neck of the woods, this just doesn't happen," he said. "But it did this time. Everyone is trying to figure out how much of this was provoked. Who are these people? Where did they come from?"
Whatever the answer, he said, Tuesday's protests seem likely to force political change.
"In six months, we're going to look back and yesterday will be a watershed," he said. "I would be deeply surprised if it were not."
Kris's accomplishments in linguistics include a dissertation on The Prosodic Structure of Latvian, and some research on vowel deletion in Latvian that (IMHO) deserves more attention that it's gotten. (The fault here is partly the inaccessibility of the archives of the journal that it was published in — another argument for Open Access.) His accomplishments in politics include being one of the founders of the New Era party and serving as economics minister from 2004-2006.
From the title of this post, you might have thought that it was going to be about Language Policy in Latvia; but it isn't. However, I do have an indirect personal connection to that issue — my maternal grandmother was the principal of a Russian-language school in the city then known as Dvinsk, later Daugavpils, before the Russian revolution of 1917. My grandfather had been in the Czarist army, wounded in WW I, and sent to a hospital in Dvinsk to recover. My mother was born there in 1918. After 1920, the newly-independent state of Latvia encouraged the use of Latvian to an extent that led my grandmother to lose her job, and the family emigrated to the U.S. in 1921, settling first in Norfolk, VA, and later near Saranac Lake, NY.
It would have amused Tema Yoffe, I think, to learn that her grandson's student later became the economics minister of a Latvian state that had meanwhile been absorbed and freed again from a Russian empire. And she would have been genuinely pleased to learn that the level of violence represented by some thrown cobblestones and a few molotov cocktails is now viewed as something that "just doesn't happen" in that "neck of the woods". No doubt she would have found a quotation from Pushkin to fit the occasion.
---